As a Russian citizen, whenever you want to travel to Kenya for tourism purposes, you can skip the trip to the embassy to get your visa. That is because you are eligible for an electronic visa, meaning that you can apply for a Kenya visa online. iVisa can help with the application process so that you get your travel document in just a matter of hours.

Frequently Asked Questions (FAQs)
What is an eVisa?
A Kenyan eVisa is an official document that allows travelers to enter Kenya.
What are the requirements for the citizens of Russia?
First of all, you need to make sure that you have everything necessary for a successful application process. However, you should not go through too much trouble acquiring all that you need, which is as follows:
Valid passport – you cannot go through the online application process to obtain a Kenya visa unless you have a valid passport that maintains its status for at least another 6 months from the date of arrival in Kenya.

A scan of your passport's information page – iVisa will ask you to upload it when you fill in the application form.

Digital passport photo – please make sure that the picture is taken recently and that it follows all the other guidelines for a valid passport photo.

Return flight ticket – this just goes to show that you plan to go back to your country of origin before your visa expires.

Proof of accommodation – a hotel reservation confirmation is enough, and if you plan to stay with family or friends, have them write a letter of invitation.

Travel itinerary

E-mail address – when you apply online, you receive your visa via e-mail in PDF format. Remember to print out at least one physical copy before your departure.

Means of payment – iVisa will ask you to cover the costs during the application process. You can use one of the multiple available methods of payment, such as credit/debit card, PayPal, Alipay, or WeChat.
What are the fees and processing times?
iVisa gives you three options:
Standard processing – the slowest option you have at hand is also the cheapest. You receive your Kenya visa within 6 Business Days, but you pay only USD 0.00.

Rush processing – things move a bit faster if you choose this option. Your application is processed within 4 Business Days, but you will be charged USD 0.00.

Super Rush processing – this is the most expensive option you have at hand, but the fastest as well. Your travel document is ready within just 2 Business Days, and you will pay USD 0.00 for it.
How's the online application form?
There is one more thing left for you to do, and that is to fill in the application form. You should spend approximately 20 minutes completing this task, but if you need any help, you can reach iVisa's customer support via online chat or phone. The service is open 24/7, and it is entirely free of charge.
When you access the application page, you will notice how the form created by iVisa is split into three steps.
The first one asks for your personal information, passport info, as well as arrival/departure dates. You must choose a processing time as well but remember that your choice determines the cost of your Kenya visa.

The second step requires you to handle the payment and review your form so that you do not submit inaccurate information.

The third will give you instructions on how to upload your application's supporting documents.
When you are finished, you can click on the submit button, and iVisa will take care of everything from that point on.
How long is the eVisa valid for?
This eVisa is valid for 90 days after issued.
How many times can I entry the country with the eVisa?
This eVisa allows you a Single Entry. Meaning you can only enter once.
How long can I stay with this eVisa?
You can stay a maximum of 90 days in Total in your stay.
What happens if I want to stay longer in KENYA?
You can apply for an extension inside Kenya at the Immigration Headquarters in Nairobi. But remember that as a visitor you may only stay a maximum of six months.
What reasons are acceptable for applying to this eVisa?
If you are going for tourism, business, education, employment, medical, religion, settlement/family and "other", you can apply for an eVisa.
May I see an Kenya eVisa sample?
Here it is: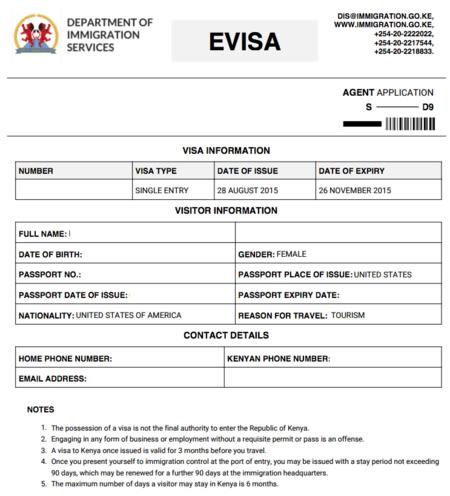 Do I have to apply for my kids?
Yes. Every traveler needs to apply for a Kenya eVisa regardless of their age.
Do you have more doubts?
Feel free to contact our customer service anytime. They will gladly help you fill in your questions. If you want more FAQs you can click here.
The bottom line is that the citizens of Russia enjoy a short and straightforward application process when it comes to getting a Kenya visa. iVisa will help you make this process less hassling. Just focus on your new adventure!