The Republic of Kenya is a top destination for nature and adventure lovers. In this beautiful country, tourists can witness teeming savannas, impressive volcanoes, and of course, the Big Five: lions, leopards, elephants, African buffalo, and rhinoceroses.
If you're planning to visit Kenya, you're probably wondering which visa applies to your case. In this article, we'll tell you all you need to know about the different Kenya visa types and how you can get some of them online. Let's go!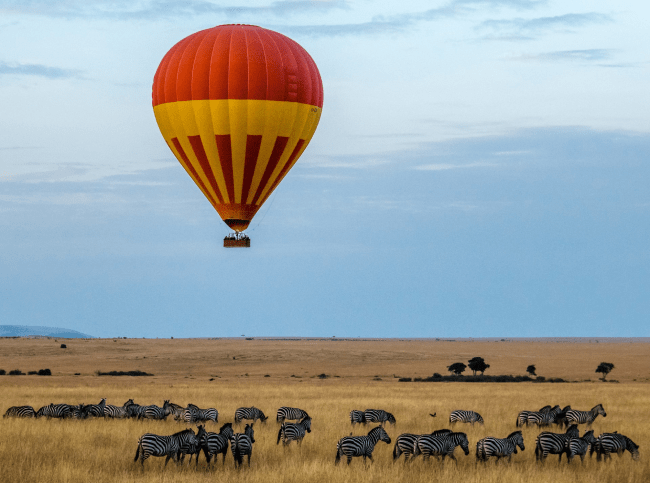 What are the available visas to visit Kenya?
Depending on your nationality and the length and reason for your trip, you might need to apply for a different Kenya visa.
Kenya Tourist Visa
The Kenya Tourist visa is an electronic travel authorization granted by the Kenyan government so that you can visit this country legally and safely for tourism purposes.
It is a Single Entry that allows a maximum stay of 90 days in Total. Travelers can obtain this visa online without stepping into an embassy or consulate. At iVisa, we can help you get it.
You should contact the nearest embassy or consulate to apply for a multiple-entry visa.
Kenya Visa on Arrival
The Kenya Visa On Arrival is stamped directly at the airport by immigration officials. There's no need to process this visa in advance. You only need a valid passport and at least two blank pages to get your visa stamped.
This visa is only available for some nationalities. To confirm if your nationality is eligible for the Kenya visa on arrival, take advantage of our visa checker tool.
Kenya Transit Visa
If you have a connecting flight through Kenya, you might need a Kenya transit visa. The visa is necessary for those travelers who will exceed the 72-hour transit time or who have a shorter transit time but wish to leave the transit area at the airport. This Kenya single-entry visa is valid for 3 days. You'll need to provide an onward ticket and a valid passport to obtain it.
iVisa does not currently facilitate the application process for a Kenya Transit Visa, but we will be able to help you soon. Please contact the nearest Kenyan Embassy or Consulate if you need to apply for a Kenya Transit Visa.
East Africa Tourist Visa
The East Africa Tourist Visa is an electronic document that allows travelers to visit Kenya, Rwanda, and Uganda on a unified visa. This visa exists through a partnership among these countries to boost regional travel and enable tourists to explore East Africa's diverse culture, nature, and wildlife.
You can apply for this visa online through iVisa's simplified visa application. To learn more about how to obtain this visa, check out the product page.
Who can apply for the Kenya Tourist Visa?
Citizens of these countries can apply fully online for the Kenya Tourist Visa:
Albania

Algeria

Andorra

Angola

Antigua and Barbuda

Argentina

Australia

Austria

Bahrain

Bangladesh

Belarus

Belgium

Benin

Bhutan

Bolivia

Bosnia and Herzegovina

Brazil

Bulgaria

Burkina Faso

Cambodia

Canada

Cape Verde

Central African Republic

Chad

Chile

China

Colombia

Comoros

Congo

Costa Rica

Croatia

Cuba

Czech Republic

Democratic Republic of the Congo

Denmark

Djibouti

Dominican Republic

Ecuador

Egypt

El Salvador

Equatorial Guinea

Estonia

Federated States of Micronesia

Finland

France

Gabon

Georgia

Germany

Greece

Greenland

Guatemala

Guinea

Guinea-Bissau

Guyana

Haiti

Honduras

Hong Kong

Hungary

Iceland

India

Indonesia

Iran

Ireland

Israel

Italy

Ivory Coast

Japan

Jordan

Kazakhstan

Kuwait

Kyrgyzstan

Laos

Latvia

Liberia

Liechtenstein

Lithuania

Luxembourg

Macau

Macedonia

Madagascar

Malta

Marshall Islands

Mauritania

Mexico

Moldova

Monaco

Mongolia

Montenegro

Morocco

Mozambique

Myanmar

Nepal

Netherlands

New Zealand

Nicaragua

Niger

Nigeria

Norway

Oman

Pakistan

Palau

Panama

Paraguay

Peru

Philippines

Poland

Portugal

Qatar

Reunion

Romania

Russian Federation

Sao Tome and Principe

Saudi Arabia

Serbia

Slovakia

Slovenia

South Korea

South Sudan

Spain

Sri Lanka

Sudan

Suriname

Sweden

Switzerland

Taiwan

Thailand

Timor-Leste

Togo

Tunisia

Turkey

Turkmenistan

Ukraine

United Arab Emirates

United Kingdom

United States

Uruguay

Uzbekistan

Vatican City

Venezuela

Vietnam
How do I apply for a Kenya Tourist Visa?
To apply for this visa, you need to complete these three simple steps:
First: Fill out the online application form with your details, as stated in your passport, and select your preferred processing time and fee.

Second: Review all the information, make sure it is correct and pick a form of payment. We accept both credit and debit cards.

Third: Upload all the required documents and apply.
Once it is ready, you will receive your visa via email in PDF format. Even though this is not a visa card, we still recommend that you print a hard copy of your visa to present to immigration services upon arrival.
What are the Kenya Visa requirements?
You will need the following documents to obtain your Kenyan Tourist eVisa
Minors Passport Bio Data Page (if applicable).

Applicant Photo and passport cover.

Passport Personal Details Scan.

Airline Confirmation and proof of accommodation (if applicable).

Cover Letter (if applicable).

Host's ID (if applicable).

Hospital Letter (if applicable).

Appointment letter from a Kenyan hospital (if applicable).

Organization's Certificate of Registration in the justice authority (if applicable).

Work ID of the host (if applicable).

Scan of host's passport personal details (if applicable).

Employment Proof (if applicable).

Previous Visas (if applicable).
If you need assistance or guidance in your application process, reach out to our excellent customer support team.
What are the costs and processing times for the Kenya Tourist Visa?
With your comfort in mind, we have different visa fees depending on how quickly you need your visa.
Standard Processing: 6 Business Days - USD $118.19.

Rush Processing: 4 Business Days - USD $170.19.

Super Rush Processing: 2 Business Days - USD $170.19.
If you're in a hurry and can afford a higher visa fee, take advantage of the rush and super rush processing times.
Do I need any other documents to enter Kenya?
Yes, besides your visa, you will need to apply for a Health Surveillance Form. You can include your health form in your visa application.
Kenya Travel Advice
If you're planning a trip to Kenya, there are many things that you should know before you leave. Here is some information about the country and what you can expect when visiting:
Kenya is located on the east coast of Africa; its capital city is Nairobi. It has an area of 1,000,000 square kilometers (386,400 sq mi).

The climate is generally arid, with two rainy seasons: one from March to May and another from October to December.

The economy is based on agriculture, tourism, and trade.

There are over 250 ethnic groups in Kenya.

The main language is English.

The official currency is the Kenyan Shilling (KES), but US dollars are widely accepted by hotels, tour operators, restaurants, and shops.

The national flower is the Kikuyu rose, which blooms between April and June.

The national bird is the African gray parrot.

The national tree is the baobab.

The national animal is the giraffe.
Kenya's most popular tourist attractions include Mount Kenya, Lake Nakuru National Park, Diani Beach, Mombasa Old Town, Tsavo East National Park, Samburu National Reserve, Masai Mara Game Reserve, Amboseli National Park, Kakamega Forest, Hells Gate National Park, etc.
Where can I find more information about the Kenya Tourist Visa?
If you still have questions about the Kenya Tourist Visa, you can reach out to our customer service agents via email at [email protected].