When you need photos for a passport renewal or visa for the Philippines, you need to make sure that your photo meets their specifications. Check out the Quick Facts below and allow iVisa.com Photos to process your correct photographs. iVisa.com Photos has produced thousands of passport photos, and we know how to get it right.
If you plan to travel to or from a country, make sure you click here to confirm whether you need a visa. iVisa.com can process most visas online very quickly which will save you aggravation and money.
What are the passport photo dimensions and requirements for Philippines?
Photo Specs
Size: 2" x 2"
Color: Your photo must be in color
Head size and position: Look directly into the camera at a straight angle, face-centered.
Background: White
Smile: Neutral
Eyes: Visible and open
Glasses: You can wear reading glasses but not sun or dark glasses
Headgear: No, except religious headgear
Quantity needed: One (1)
Philippines Passport Photo Size Requirements Guide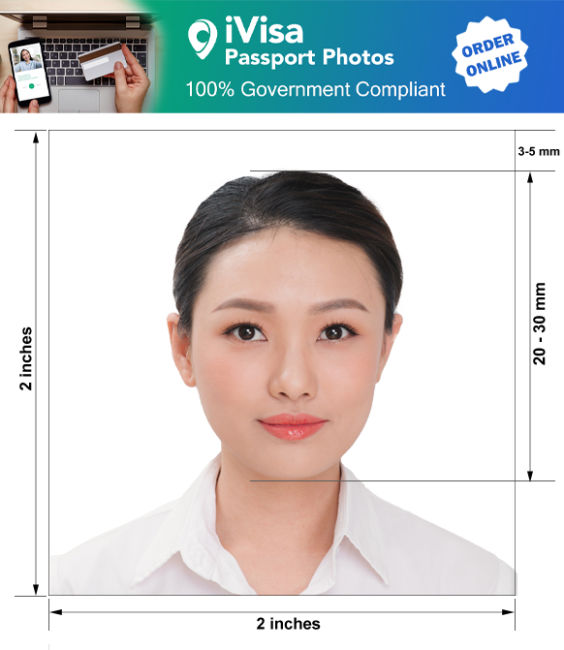 Don´t wait more and get your passport photo now
Philippine Passport Photo and Visa Photo Requirements, Rules, Guidelines, and specifications
The photograph must have a white background
Size specifications: 2" x 2"
The photo should have been taken in the past 6 months
Show your entire face, do not wear a hat that may cover your face. You can use your everyday glasses as well as headgear for religious purposes
You have to submit one (1) photograph together with the application
Rules and requirements for babies, infants, and newborns Passport and Visa photos
The rules for the visa photographs for adults, babies, and infants are the same. See tips for taking pictures of a baby.
The baby´s eyes need to be open. Moms out there suggest that you take the photo after the baby took a nap.
The background has to be white.
If the baby is angry take the photo again at a later stage.
If your baby is very small, then you can the baby and lay him/her in his car seat and take the photo that way.
It's a good idea to use some toys to entertain the baby in the photo session.
Take a lot of photos so that you will have a few to select from.
Price and Cost
iVisa.com Photos offers competitive prices that start at $3.99. You can select home delivery, pick up your photos the next day at Walmart, CVS and Walgreens throughout the United States.
How to get the Philippine Passport Photos or Pakistani Visa Photos Online
iVisa.com Photos offers customers photo services that are 100% compliant with the Philippine Government´s regulations. No need to be worried about getting your photo, you can simply do it from the convenience of your home.
The app is available for iOS and Android.
See More Tips on Taking a Photo
Use a white background like a wall, door, or fridge
Your head must be centered and face the camera directly
No smiling or frowning, face should have a neutral expression
Select a room where there is a lot of windows or light for good lightning
Do not wear sunglasses, wide-rimmed glasses, and hats.
Here is What you Need to Know About Getting Started
It will take you less than 5 minutes to complete your order with the app.
Your Philippine visa photo selection will be required as regulations regarding visa photos are different for all nationalities.
Take a photo with a smartphone, tablet, or camera.
iVisa.com Photos has a special service to review your pic to ensure that it's 100% alright for an extra fee
Once the photo is approved, select to download your photo, select home delivery, or select a store near you for the pickup. Stores include Walmart, CVS, and Walgreens in the USA.
Remember that iVisa.com Photos also do passport photos.
The process to take your passport photo is very similar, you just have to select a passport under "Photo Type."
To find out if your country is on our list, simply click on the "Take Photo Now" button.
Contact us anytime if you need help. We offer an affordable and convenient service guaranteeing to give you peace of mind when it comes to the bureaucracy of applying for a visa. Start planning your trip to the Philippines.
References