A vacation is always more enjoyable when you are traveling with friends or family, which is why you may be interested in a visa group application. Now, if you choose Australia as your destination, the first thing you need to check out is which type of travel document you need to be able to cross the border. While multiple types of visas are available, we suggest that you look into whether or not you are eligible for an electronic visa. It would be a lot easier when it comes to the application process.
And to complement the whole information, we brought you this article so you can know what to do before applying.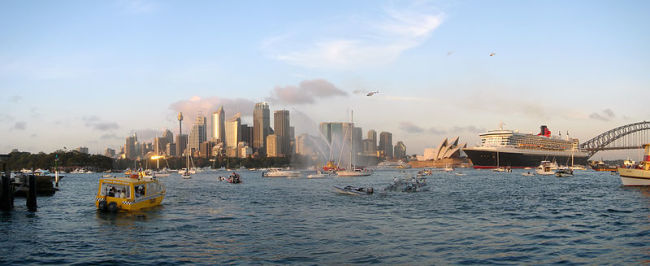 Frequently Asked Questions (FAQs)
How many tipes of Australian e-Visas are there?
When we say 'electronic visa' we are either referring to an [Australia e-Visitor] or an Australia ETA. Which one you can apply for depends on your nationality. While some nationalities are eligible for one or the other, it is possible to qualify for both, in which case you choose the one that is most convenient for you.
How do I check if I'm elegible to apply for an Australian visa?
To check out if you and your friends or family qualify for an electronic visa, you can use iVisa's Visa Checker Tool. You can find it on the homepage. Access the tool, and you will see two drag-down menus. In the one on the left, you have to select your country of origin while in the one on the right, you have to choose Australia. If you are eligible for an Australia e-visa, you will be redirected to the application page. If not, you will be provided with contact information for the nearest Australian embassies.
As far as the Australia visa group application goes, iVisa allows multiple applicants on the same application. However, you need to keep in mind that each applicant is analyzed separately. Just because you and your friends apply using the same application process, it does not mean all of you will be approved. The requirements are checked for each individual. Not for all of you as a group.
What is an Australian ETA?
This is the type of visa that offers Australia, and is based in the ETA system, which was introduced in 1996. It provides you authorization to travel to Australia and is electronically linked to your passport.
What are the requirements to apply for the Australian ETA?
If you are not familiar with iVisa, you should know that we provide a smooth and fast application process. But before you engage in that, you should make sure that you and your travel companions meet the requirements. We assure you that there is nothing to be concerned about since they are all easy to get your hands on. Here is what you will need:
Valid passport – each applicant needs to have a valid passport that maintains its status for at least another 6 months from the date of arrival in Australia. Failure to comply leads to a denied application.
E-mail address – you will receive a copy of you Australia e-visa in your e-mail inbox, which is why you need to submit a valid address. Even if you undergo an Australia visa group application process, one address will suffice.
Means of payment – you need to pay for your visa and for iVisa's services using one of the approved methods. You can use a credit or debit card, but PayPal, Alipay, and WeChat are accepted as well. Again, one set of payment details is enough.
After you and your travel companions make sure that you fulfill all the requirements, you can move on to the application form. This process is not very different than the one for a single applicant. The only different is that you must push the 'Add applicant' button and then insert the personal information of your travel companion. The bigger the group, the more applicants you have to add.
What are the processing times and cost for this Visa?
As you might know, getting a visa from a consulate takes a lot of time, acquiring one online is faster than ever. The maximum period you have to wait is 24 hours, but that is for the Standard Processing time. There are two more available processing times: the Rush, and the Super Rush. Here we will explain you more about these processing times and fees.
As for the costs, you should know that the visa itself is free. All you have to pay is the service fee, which is not much. It depends on the processing time you select. To give you a simpler way to calculate, here are the options:
Standard - With this option you can get yor eVisa in 24 hours for only USD $75.99. As you can guess, it's the most affordable yet comfortable option.

Rush - If you choose this service you'll get your visa in 12 hours, but paying a bit more in this case, which is USD $129.99.

Super Rush - This is the last and obviously most expensive option of the three, but you'll have your visa as soon as you can imagine. And by soon we mean you'll have to wait only 4 hours, that's the reason why it costs USD $196.99.
How can I apply for a Australia e-Visa?
This process is effortless and simpler than you can imagine. The only thing you have to do is to apply online with iVisa. Once you complete your online application form, which shouldn't take you more than 20 minutes, you just have to wait for your e-Visa to arrive in your email.
This application process has only three easy steps:
The first step is only to fill in general information. You also have to select here the processing time from the options that we mentioned before.
The second step is impotant since it asks you to revise all the information from step one.
The last step is simply to make the payment and finish the entire processing form.
Click here if you want to start your online application. After you complete it, you just subtmit and wait for your visa to arrive. In case you need some help to fill your application, iVisa has a great support service that you can contact anytime from anywhere.
After you handle the form, you can submit your application, and iVisa will deliver the travel documents in the timeframe you agreed on. Keep in mind that even if you choose an Australia visa group application, each applicant receives their own document. It is not possible for the same e-visa to contain more than one name.
Is there a place to read more information about Australian visa?
Yes, you can read more about Australian Visas and also its tourism, or even other FAQs that you could need here. On the other hand, you can also contact our customer service center in case you prefer something more personal.
As you have already seen, the requirements for an Australian Visa Group Application are nothing out of this world. With due diligence, you can finish them in a few minutes. Just make sure that you check all the Australian e-Visa requirements before you apply. With that in consideration, your online application process will go a lot easier.