Belgium is the leading country in finance and offers non-EU applicants the chance to obtain a residence permit and even Belgian citizenship by investing in its economy. Here's all you need to know about the Belgium golden visa, including how to apply and the investment requirements.
European golden visa programs are a popular way for foreign investors to access better living standards, retirement, tax breaks, and business opportunities. The schemes are also known as investment programs or residency programs. Belgium is one of the countries that offer this visa. Our guide to the Belgian golden visa explains everything you need to know.
If you need another visa to visit Belgium, such as a Schengen visa, please use our handy iVisa visa checker widget.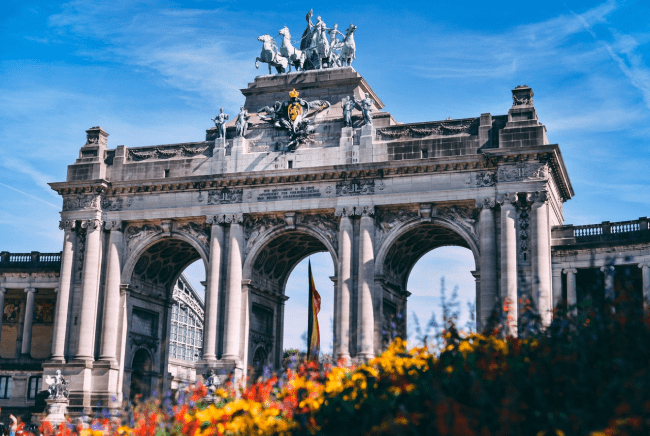 What is the Belgium residence program?
Foreign nationals interested in investing in the Belgian economy can apply for the Belgian golden visa, also known as a Belgium investor visa. You must form a company to become a temporary resident in Belgium which can then lead to a permanent residence. After five years, you can apply for Belgium citizenship by investment through naturalization.
Unlike other investment schemes such as the Portugal golden visa scheme, this EU country reviews applications on a case-by-case basis, with no specific requirements.
Benefits of obtaining Belgium citizenship through investing
Belgium is home to the headquarters of the European Union and is a very business-friendly country. Its stable economy enables investors interested in obtaining Belgian citizenship (and EU citizenship) to set up a business easily. Belgium offers individuals an excellent standard of living and affordable real estate prices, making it the perfect place to live, work, and study.
The numerous benefits of Belgian citizenship justify the initial investment. The:
The right to live, work, and study in Belgium

No previous relevant business experience is needed

You won't have to reside in the country to obtain a Belgian residence permit (only for citizenship)

Belgian permanent residence or citizenship possible after five years

Dual citizenship allowed

Visa-free travel in the 26 Schengen member states

Access to an excellent health and education system

Open to nationals from any country

Include family members in your application
How to apply: Belgium golden visa investment requirements
The Belgium permanent residency program does not state a minimum investment required. A general rule of thumb is to invest at least EUR 200,000 to start or run a business, including running costs. For citizenship by naturalization to be achieved, another EUR 100-200K must be invested.
Business investment in Belgium
Investing in an existing business or creating a business is Belgium's only residency by investment program. There are no options for real estate or other passive investments. Investors are therefore required to apply for a business visa.
Here are the options in detail:
Opening a public limited liability company: The most common is forming a Belgian BVBA company, similar to a limited liability company in Belgium. The Belgian company must have an office and create jobs.

Investing in an existing Belgian company: This is similar to investing by opening a business, except that you can invest a substantial amount in a Belgium company that creates jobs and has an office in Belgium.
Application process for the Belgian golden visa
Follow these steps once you've made your investment decision:
Submit your document to prove your investment to the Belgium Embassy or Consulate.

Gather all paperwork and submit your application in your home country. You must have a business plan and prove that you have the funds for the investment.

Register your new business in Belgium and submit all documents to obtain your Belgian residence permit, such as your company registration agreement.

Pay all visa and admin fees.

Obtain permanent residence and citizenship after five years. Citizenship is only granted if you have lived in the country and are integrated into Belgian society.
The application process takes around three months, with each application being considered individually.
Documents need to apply for Belgium's Golden Visa
While the documents required for the Belgium Investor Program and Belgian citizenship vary depending on the investment you made, it generally includes:
Valid passport

Proof of sufficient funds to make and maintain the investment

Health insurance

Proof of accommodation in Belgium, either by renting or purchasing property

Proof of family relationships such as a marriage certificate or birth certificate, if you're including family members in your application

Proof that children under the age of 21 years and parents are dependent on the applicant

Certificate of a clean criminal record

Medical certificate showing you are in good health issued by a doctor recognized by the Belgium Embassy or Consulate
Costs of the Belgium Investment Program
The Belgian citizenship by investment program costs on top of the investment amount include:
EUR 95,000 for a one-year residence permit for the main applicant and EUR 20,000 for each family member

Renewal costs EUR 25,000 annually and EUR 10,000 for each family member

After living in Belgium for five years, you can obtain Belgian citizenship, which costs EUR 35,000 and EUR 20,000 for each family member

The costs to open a company in Belgian encompass roughly EUR 20,000 in the first year and EUR 5,000 in the following years
Also, consider any extra fees, such as legal fees, consultation costs, renting office space, company maintenance, and buying or renting accommodation in Belgium.
Obtaining Belgian citizenship or permanent residence
A Belgian golden visa allows successful applicants to become permanent residents or citizens of the country. While you don't have to live in Belgium to become a resident, to become a permanent resident or citizen, you must reside in Belgium at least 180 days per year.
To qualify for permanent residency in Belgium, one must have lived there uninterruptedly for three years. After five years, you can apply for citizenship and get a Belgian passport. You will have to do a language test to show that you are integrated into Belgian society. However, you can still maintain dual citizenship with your current home country.
Golden Visa and citizenship eligibility for family members
You can include direct family members in the Belgian Golden Visa application including your spouse or partner, dependent children under 21 years old, and parents or grandparents. Moreover, every member of your family is eligible for Belgian citizenship and a Belgian passport.
How to renew the Belgium Golden Visa
You can renew your residence permit personally in Belgium if you can provide all the necessary documents. It is essential to apply for a renewal of the residence permit at least 30 days before it expires. You will receive a decision about your residence permit extension in about 21 days.
Plan a trip to Belgium
The process of obtaining a Belgian Golden Visa is definitely worth the effort. Belgian citizenship effectively makes you an EU citizen, with full rights to the region. So why not take a trip to check if it is a good fit for you? Remember to apply for your Schengen Visa before your trip.