Due to the coronavirus outbreak, many countries have decided to strengthen their borders with certain travel restrictions, like a COVID-19 test or travel documents that are available online. One example is Australia, as its government recently launched the Australia Travel Declaration.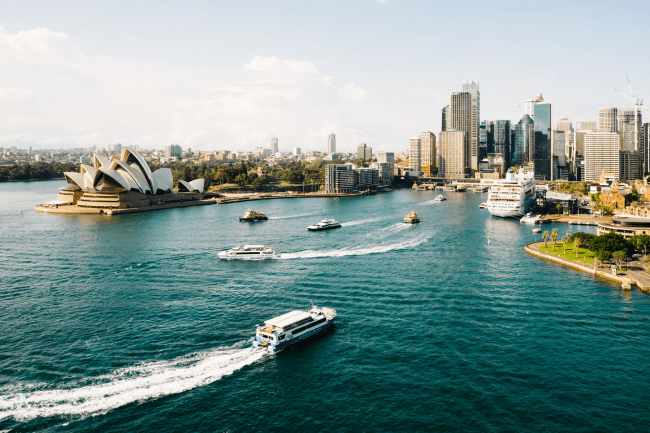 Before planning your travel to Australia, you must apply for the Australia Travel Declaration online. You might also need to self-isolate on an authorized Australia Covid Quarantine Hotel, but it'll depend on your country of origin.
Applying for the travel declaration is easy with iVisa.com, but we invite you to read the questions below to learn more about this process.
How can I apply for the Australia Travel Declaration online?
Enter our application web page.
Complete our online application form with your private details.
Select a processing option according to the urgency you have with the document.
Wait for our response once we review the document to make sure there are no errors or mistakes with the information.
After you complete the process, wait for your document, which will be delivered via email.
You might have to hand-sign and print the travel declaration, as it's a general recommendation to avoid issues at the airport.
Frequently Asked Questions
What documents do I need to enter Australia during coronavirus?
Depending on your country of origin, you might be able to enter Australia with an Australia Travel Declaration. However, to apply for this document you must have the following list of items on hand.
A passport that shouldn't be expired once you travel to Australia.
An email address to get your document.
Paypal or a debit/credit card to proceed with the payments.
A PCR COVID-19 test. It must have been taken within 72 hours before your travel.
NOTE: Travelers from New Zealand (only designated 'green safe travel zone' flights), Kiribati, Myanmar, Niue, Samoa, Solomon Islands, Tokelau, Tonga, Tuvalu, Vanuatu are exempt from the PCR pre-departure testing requirement (the list is subject to change).
Click on this link to apply for your travel declaration.
Do I have to self-isolate in an Australian Covid Quarantine Hotel?
Most travelers will have to self-isolate for two weeks. They must complete this self-isolation in an authorized Australia Covid Quarantine Hotel, and they must also follow all the Australian government's travel protocols.
Learn more about this process here.
How much does the Australia Travel Declaration cost?
The price for this document changes depending on how fast you want to receive it. There are three processing options on our website, and these are:
Standard Processing Option:

5 days

-

USD 20.00

.
Rush Processing Option:

3 days

-

USD 35.00

.
Super Rush Processing Option:

24 hours

-

USD 60.00

.
Please notice that we charge a fee to process your document. You might be able to get the document on official websites for free, but in that case, you'd have to depend on their availability. Besides, we offer our services in many languages.
To start the process, click here.
If you want to read more information about the Australia Covid Quarantine Hotel, click on this link.
How to apply for the Australia Travel Declaration
To process your document quickly, you'll only have to follow this 3-step system:
First, complete the online application form carefully by giving your private details and selecting a processing speed.
Second, check all the information you previously gave to avoid mistakes. Pay for the fees once you're ready.
Third, attach the items required to the form and finish the process by clicking on the submit button.
After you finish the process, wait for our response via email inbox. We will also send you the Australia Travel Declaration this way.
Click here to start the online process.
How safe is it to use iVisa.com's services?
Our company has created an online software that's constantly updated and supervised, to ensure that to ensure that our database is never is never at risk. If you're not sure, feel free to take a look at our reviews.
Where do I get more information?
You can read more information about the Australia Covid Quarantine Hotel, on this link. Don't forget that we have a customer service center at your disposal, and you can always count on them if you want to receive personal help.
iVisa.com Recommends
Australia is the most popular country in the Pacific region thanks to its large territory. It is home to amazing cities known all around the world, such as Sidney, Brisbane, Melbourne, Perth, and Adelaide. However, this country is also famous for the misunderstanding of its capital city, as many people think is Sidney, but it's actually Canberra.
Australia is also home to the Sidney Opera House, as well as the Great Barrier Reef and Outback. Thanks to its biodiversity, it is possible to see many unique wildlife species in its territory, including the koala, the kangaroo, the quokka, the wombat, and the echidna.
Sydney is the first stop on many Australian itineraries because it's an exciting city full of blended cultures. Here, you can hit the golden sands of popular beaches like Bondi and Manly, but you can also visit the many museums and galleries that display interesting pieces of Australian art. Besides, this is the best city to learn more about Australian culture and history.
You can plan a pleasant trip to Australia if you consider the travel restrictions and the documents required.
Don't forget to apply for your Australia Travel Declaration with us!