According to the visa policy of Australia, all citizens from European Union countries can travel to Australia with an Australia eVisitor visa. Since Italy is a member of the EU, as an Italian citizen, you have the benefit to apply online for an electronic visitor visa, which dismisses the need to go to the Australian embassy. iVisa can help you with the process so that you receive your travel document in just a few hours!
To know more about this eVisitor document, keep reading.

Frequently Asked Questions (FAQs)
What is an Australian eVisitor for Italian Citizens?
It's a travel visa that allows citizens from the European Union to travel to Australia.
Remember! you must be outside Australia the moment you apply. It is advisable not to make any travel plan until you receive your eVisitor.
How Long can Italian citizens stay in Australia with the eVisitor Visa?
The maximum time of stay in the country is 90 days Per Entry.
What are the requirements?
The requirements for an Australia eVisitor visa for the citizens of Italy are the same as for every other eligible nationality. The list is short, and you may already have some of them. Here is what you need:
Valid passport – you cannot apply for an Australia eVisitor visa if you don't have a valid passport. It has to remain valid for at least six months from your arrival date.

E-mail – you will receive the confirmation of your Australia eVisitor visa through your e-mail, which is why you need to give iVisa a valid and correctly spelled e-mail.

Means of payment – since this is an online application process, the payment must be made also online. iVisa accepts multiple methods for your convenience. You can use a credit/debit card, or also PayPal as well.
When you have all the documents required, you can complete the application form.
In case of any help, you can contact iVisa's support service if you have any questions. They are available 24/7 and it's free of charge.
How long is an Australian eVisitor valid for Italian citizens?
This eVisitor is valid for 1 year after arrival.
What are the fees and processing times for Italian Citizens?
With iVisa, the fees you will pay for your Australian eVisitor depends on the processing time. The Australia eVisitor itself is free, what you're paying is for iVisa's service since the eVisitor can take a lot of hours or days to get by yourself.
iVisa has three excellent options for Italian citizens, and you can select the one that suits you best:
Standard Processing – people mostly select this option because it is the least expensive. It just costs USD $38.49. With that, your visa will arrive in 4 days.

Rush Processing – this option is faster, and it will give you the Australia eVisitor in 2 days. As for price, you will be charged USD $64.99.

Super Rush Processing – this is the fastest choice available iVisa can offer you. Your eVistor will be processed within 24 hours, and it cost USD $99.99.
How much time do I need to apply?
If you apply with iVisa's services, you'll be happy to know that you will take 20 minutes or less to complete the application.
How do I apply for this?
The application form you are asked to complete is divided into 3 parts:
In the first step we request general information about yourself and your trip. You will also have to select the processing time of your preference. That decision will determine how much you will spend on your Australia eVisitor visa.

When you get to the second step, you have to cover the payment and review carefully your form. The revision is very important because any mistakes that you make can and will make your visa invalid. Make sure that does not happen before submission.

The third and final step is the moment when iVisa asks that you upload all the documents that are supposed to support your application.
Once you do that as well, hit the submit button, and iVisa will process your request in the chosen timeframe.
How does an Australia eVisitor Visa look like?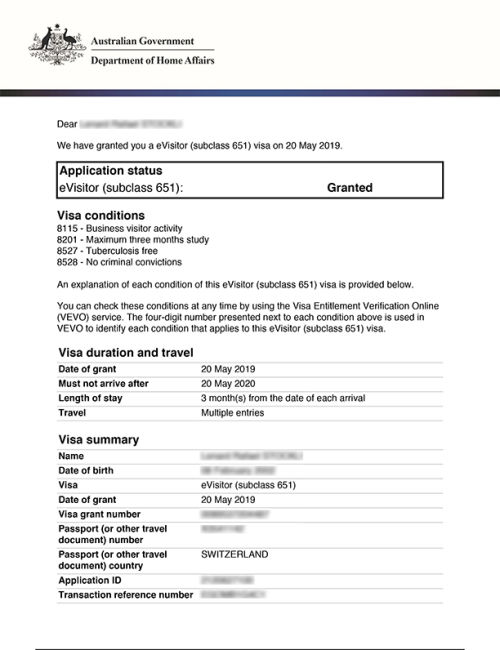 What can I do with the Australian eVisitor?
This document lets you travel for both tourism and business purposes only. If you are traveling as a tourist visitor, this visa gives you permission to do a cruise or spend with your family or friends.
Remember that you cannot work with this visa.
How safe is using iVisa's services to obtain my Evisitor?
Totally safe! We provide the maximum safety to protect your personal information. We invest a lot of money and resources in the security of our database to make you feel safe. You can revise what thousands of happy customers say about us in our testimonials.
Where can I find more information?
In case you still have questions, click here and you can start chatting with our customer service staff. Find more information and FAQs here too.
As you have probably noticed, getting an Australia eVisitor for Italian citizens is very simple. It requires almost no effort or time commitment on your part. It sounds like a far better alternative than to visit the Australian embassy, doesn't it? Choose iVisa and make this trip happen!