Australia's ETA (subclass 651) system appeared in 1996, but the last ETA version was launched in 2013. Under this new system, more nationalities are able to apply, as same as the Portuguese. If you have a Portuguese passport and want to visit Australia, you need to apply for an eVisitor.
The ETA system upgrade is very simple. Travelers from many countries can access online to make their visa application and get it right away. Another update for the 2013 ETA is that it allows you to visit Australia for business as well as for tourism purposes.
iVisa decided to answer all your doubts about this electronic visa so you get ready for your travel.

Frequently Asked Questions
What is an eVisitor Visa?
This document is a new travel visa version available to European Union passport holders who want to travel to Australia.
IMPORTANT: As an applicant you must be outside Australia if you want to start an application. We recommend you, to avoid any travel preparation until you get your approval eVisa.
Travelers with Portuguese passport can visit Australia with this document for how long?
If you have your eVisitor approved, once you arrive to the country, you can stay 90 days Per Entry
What are the required documents to apply for this eVisitor visa?
An online application is is a more convenient option than visiting an embassy, but it will be necessary to provide some documents. We recommend you to gather them before you start to fill the form. Here they are:
Valid passport document – Portuguese citizens need a passport to visit many countries and this the case with Australia. Make sure that it is not expired and that it is valid for at least another three months from your date of arrival to Australia. If you don't have a passport, don't worry! Getting a passport is quite easy, all you need to do is going to the issuing authority in your country and request it.

Payment method – before you submit your application, you will be required to pay for iVisa's services. You can do it with a credit/debit card but If you have a PayPal account, you can use it as well.
Apart from these requirements, we will ask you some personal questions is quite simple. The only thing you need to do is to specify the purpose of your travel and some other specifications. We suggest to answer with honesty, this will make the process faster.
After you finish this process, the next step is to fill out the application form. It is not difficult, but if you need some guidance, please keep in touch with our iVisa's support service they will be glad to help you and are available 24/7
How long is the validity of the Visitor document?
This electronic visa expires 1 year after arrival.
What are the processing time and fees for this document?
These two options are related. The Australia ETA for Portuguese per se is free; what you need to pay is for the processing service fee of iVisa. However, you should know that doing this by yourself may be tricky and can take a long time to be approved, that is why iVisa provides you the opportunity to receive this document faster and with total trust.
In iVisa we have three convenient options for you. The faster your application process you want it to be, the more you will need to spend on it. Here are the options:
Standard processing time – Commonly, many people choose this processing time because it is less expensive. For USD $26.49,your visa will be processsed in 4 days It can be not the fastest, but one day pass in a moment.

Rush processing time – this processing time is faster than the standard option and it will process your Australia ETA within 2 days. The price is USD $47.49.

Super Rush processing time – certainly, the fastest processing time provided by iVisa. It is the best choice if you want to make your application on your way to the airport. It will be approved within only 24 hours and just for USD $77.99.
How long does it take to apply for an eVisitor?
Just a few minutes if you apply for your eVisitor with iVisa. After that, we'll take care of the whole process and we'll let you know the status of the application via email.
How can I apply for this eVisitor visa?
The process is quite easy, with iVisa you can feel safe now. We have created one of the simplest forms you'll ever complete. It is broken down into two easy steps.
The first one request general information like name, address, passport info, and so on. Then you must select the processing time you prefer at this point.

The second step in very important, you need to review carefully all the information you provided. One mistake can invalid your visa or make the process slow.

Finally, proceed with the payment, after it, you can hit the submit button and start packing. The ETA will be ready in just a few minutes!
As you notice, getting an Australia eVisitor for Portuguese is quite easy. There is almost zero effort on your part, and it takes no time. Compared to going to the embassy, iVisa's processing service is so far superior.
How many entries do I have to Australia with this document?
Australia eVisitor visa gives you Multiple Entry to this country, as long as you use it according to the expiration date.
What does this eVisitor Visa in Australia allow me to do?
This document lets you travel for both tourism and business purposes. If you're traveling as a tourist visitor, keep in mind that this visa allows you to spend holidays and visit different interesting points in Australia. In case, you are traveling for purposes related to business, it allows you to make general business or employment inquiries. Just remember that the organizers can't offer you to pay for your trip.
How can I know if my eVisitor visa is approved?
We will notify you by email as soon as the Australia Government approves your visa. Do not worry, we will notify you of any incident related yo your application.
Can I study with this eVisitor?
This document allows you to study for 3 consecutive months in total. In case, the main reason for your trip to Australia is studying, it might be more appropriate to request a student visa.
How does my Australia eVisitor look like?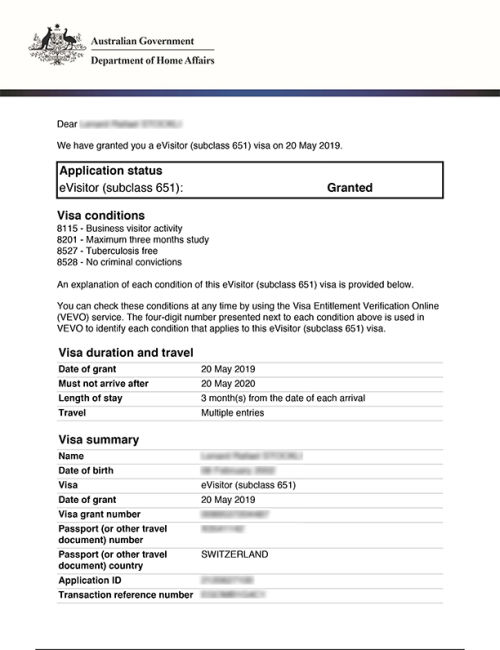 How safe if my personal information using iVisa's service to get my eVisitor visa?
We have a professional service that has been issuing official Australia eVisas since 2013. Many people believe that providing information online is risky and leaks. This is not the case with our services. iVisa invests a lot of resources in the security of our database to provide maximum safety for your personal information. You can review what hundreds of happy customers say about us here.
If I have more doubts or questions, where can I find more info?
If you still need more information, then you can contact one of our customer service representatives here or if you prefer reading, we provide you more information about this eVisitor in this link.
iVisa makes the visa process easier and faster. It has a 9.5 'Excellent' rating from more than 17,000 reviewers on Trustpilot. You can get your eVisa just as quickly as many of our clients do by applying for your Australia eVisa through iVisa. Visit our website today to chat online with one of our friendly staff members for more information.