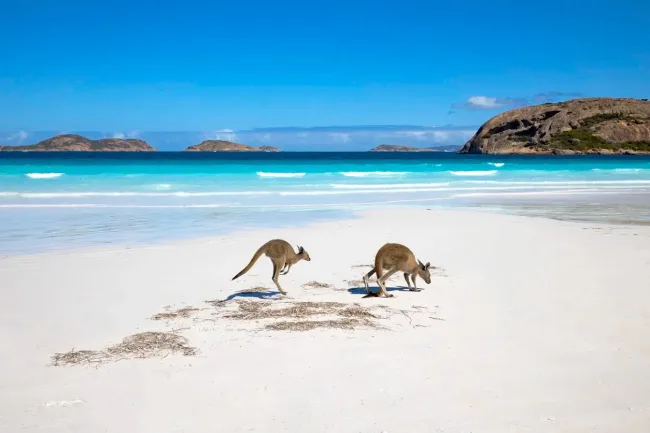 If you're a Russian traveler who wants to discover Australia's stunning landscapes, sandy beaches, and unique wildlife, then you're in luck because Australia welcomes visitors from all over the globe, including Russia! However, before you start packing your bags and practicing your "G'day" accent, you must take care of your Aussie visa.
Don't worry if you're feeling overwhelmed by the visa process. We've got you covered with an enjoyable and informative overview of everything you need to know about the Australian visa for Russian citizens.
Whether planning a short or an extended visit, we'll guide you through the visa requirements and ensure your journey is as smooth as a Vegemite sandwich.
So sit back and relax as we take you on a journey through the Aussie visa process for Russian visitors. It's going to be fantastic!
What is the Australia Visa for Russian citizens?
The Australian Visitor Visa (Subclass 600) is a temporary visa that allows individuals to visit Australia for tourism. It typically doesn't require an embassy or consulate interview, but additional information may be requested via phone.
While the visa doesn't include a barcode or QR code, it contains essential information about the traveler and their travel plans. This type of Australian tourist visa enables multiple entries, meaning you can enter Australia as frequently as you'd like during its validity period.
Getting this visa may seem complex, but don't worry. You'll be assigned an iVisa Expert to guide you through the application process and ensure a smooth experience.
What other types of visas can Russian citizens apply for?
If you're planning to pursue long-term studies at one of Australia's reputable universities, you'll need to apply for the Australia Student Visa (Subclass 500). Depending on your visa conditions, you may be allowed to work, but you must adhere to the work-hour restrictions set by your visa.

On the other hand, the Australia Working Holiday Visa (Subclass 417) is a temporary work visa that allows passport holders between the ages of 18 and 30 to take an extended vacation in Australia while working to fund their trip. However, please note that this type of visa doesn't permit travel with dependent children.
Validity and conditions of the Australia Visitor Visa
The Australian Visitor Visa is a Multiple Entry visa valid for 1 year after arrival. This visa lets you stay in Australia for up to 3, 6, or 12 months. Typically, you'll be granted a permitted stay of 3 months.
If you meet certain conditions, you can extend your visa in Australia. There are a few specific circumstances under which this may be possible:
If you're an Australian citizen and your parents want to visit you and stay longer in Australia, they can apply for a stay of up to 12 months.

If you have a 3- or 6-month tourist visa and your existing Australian visa is about to expire, you can apply for a visiting visa from within Australia to extend your stay.
Do Russians need an Australian Visitor Visa?
For Russian citizens planning a trip to Australia, obtaining an Australian visitor visa is necessary.
Once you have an Australian visitor visa, you can:
Enjoy multiple entries, which means you can come and go from Australia during the validity of your visa.

Explore the diverse attractions of Australia, including its stunning natural landscapes and vibrant cities.

Participate in various tourist activities such as sightseeing, wildlife encounters, and cultural experiences.

Travel for leisure, visit family and friends or engage in short-term business activities.
Remember that Australian visitor visas don't permit you to engage in work-related activities. Plan accordingly and make the most of your visit to the Land Down Under!
Eligibility criteria for the Australia Visitor Visa
To obtain an Australian visa, the applicant needs to meet certain requirements set by the Australian government. These include:
A genuine visitor intent: You must show that you plan to stay in Australia temporarily and will follow all visa conditions during your visit.

Adequate funds: It's important to demonstrate that you have sufficient financial resources to support yourself in Australia.

Good health: You should meet the minimum health standards. Depending on your situation, you may need to undergo a health examination as part of your application.

Good character: You should provide evidence that you have a clean criminal record, have not broken immigration rules in the past, and meet other character requirements outlined by the Australian government.
By meeting these eligibility criteria, visa applicants can increase their chances of obtaining an Australian visa and enjoying all that this beautiful country has to offer!
Application process for the Australia Visitor Visa
Are you ready to plan your trip to Australia? We've got you covered! Our easy visa application process ensures you'll get your Australian visa quickly, so you can focus on planning your trip.
The best part is you can even download our app and get your visa on the go. Just follow these three easy steps:
Step 1: Fill out the user-friendly online visa application form, providing your personal and travel details.

Step 2: Review and verify your information. Pay the visa fees securely online through our reliable platform.

Step 3: Upload supporting documents and submit your Visitor visa application form.
You'll receive a confirmation email with additional instructions regarding your application, including where to send your documents. As a Russian citizen, you'll also need to attend a biometrics appointment and undergo a health examination to complete your visa application. In some cases, you might have to go through a phone call. But not to worry; we'll be there to guide you through the whole process.
Once your Australian visa application is approved, the visa will be electronically linked to your passport.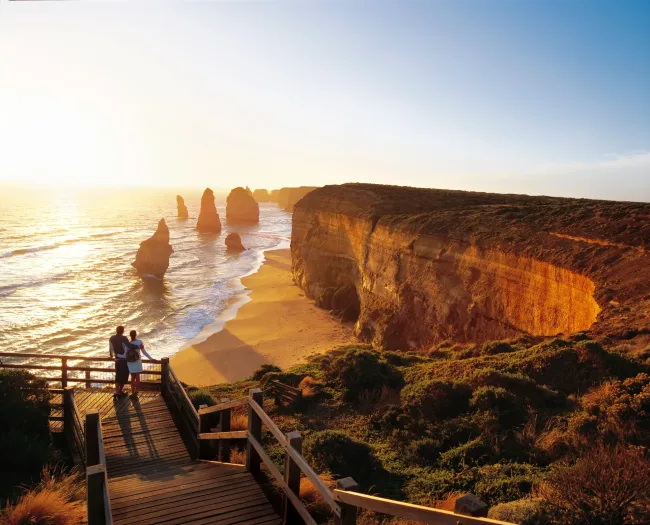 Required documents for Russians applying for the Visitor Visa
If you're a Russian citizen and want to apply for the Australian Visitor Visa, make sure to submit the following documents to the Australian Embassy:
A copy of your valid Russian passport, including personal details, photo, issue and expiry dates, and immigration stamps.

A copy of your ID.

A photo of yourself, which can be easily obtained using our digital passport photo service.
The Australian government may also ask for other documents, such as:
Proof of financial support, such as bank statements or financial assets.

Evidence of ties to Russia, like employment or school enrollment proof.

A travel itinerary or planned tourism activities in Australia.

Letters of invitation from relatives or friends in Australia (if applicable).

A police certificate.

A family register and composition form (if applicable).
Make sure all your documents are complete for a smooth and successful visa application process.
Financial requirements for Russian citizens
To meet the financial requirements for the Australia Visitor Visa, provide financial documents like bank statements, tax returns, audited accounts, and credit card limits from the last three months. The closing balance must be at least AUD 5,000 per applicant.
If you have a sponsor for your visitor visa, they must also meet certain financial requirements by providing proof of Australian assets like a house, car, or business, as well as a bank statement from the last three months with a closing balance of at least AUD 5,000 per applicant. Also, they should demonstrate either Australian income or an overseas tax assessment.
Visa fee and processing times for the Australia Visitor Visa
Standard processing fee of USD $250.99, and a government fee of USD 101
We offer the following iVisa processing time: 30 days. Additionally, the Australian government processing time differs per individual. About 90% of applicants get this visa in four months.
In addition to this affordable fee, you also get the following benefits when you apply with us:
Our iVisa experts guarantee that your application will be 100% compliant with government requirements.

Enjoy the advantage of having unlimited access to your personal iVisa expert, who will guide you through the entire application process from start to finish.

Say goodbye to the long, confusing, and tedious questions on the government website with our simplified application form. We provide easy-to-answer questions and handle the legwork for you.

With our service, you can fill out the form at your own pace, make changes whenever you want, and save your progress to continue later.

Applying with us grants you exclusive access to a step-by-step manual, which includes tips for answering difficult questions, a full list of necessary documents, and guidance from start to finish so you can get your valid visa.
Common mistakes to avoid when applying for your visa
Here are three common mistakes in visa applications that Russian citizens should avoid when applying for an Australian visitor visa:
Providing incorrect or incomplete information: Ensure that all information you submit in your visa application is accurate and complete. Providing inaccurate or incomplete information can lead to visa refusal or delay.

Not meeting the eligibility criteria: It's essential to review the eligibility requirements carefully before applying for an Australian visitor visa. Not meeting the eligibility criteria can result in visa refusal, so make sure you meet all the necessary criteria before applying.

Submitting an incomplete application: Make sure you submit a complete visa application, including all the required supporting documents. An incomplete application may cause delays or even result in visa refusal. Double-check the application and ensure all documents are included before submission.
Tips for a successful application
Here are some tips for a successful Australian visitor visa application:
Start early: Begin the application process well in advance of your intended travel dates to allow sufficient time for processing.

Provide accurate and complete information: This includes your personal information, travel itinerary, and supporting documents.

Meet the eligibility criteria: Review the eligibility requirements carefully and ensure that you meet all the necessary criteria before applying.

Submit a complete application: Double-check the application and ensure all documents are included before submitting.

Work with iVisa experts: When you apply with us, you'll receive guidance and support throughout the application process. Our iVisa experts will ensure you have the correct information and documents, reducing the risk of errors or omissions in your application.

Be patient: Visa processing can take time, so be patient and avoid making inquiries before the expected processing time has passed.
By following these tips and working with iVisa experts, you can increase your chances of a successful Australian visitor visa application and approval.
What to do if your application is denied
If you're denied an Australian visitor visa, it's possible to apply for another visa. However, it's essential to note that visa refusals can be costly and time-consuming.
Working with our iVisa experts can mitigate the chances of getting denied in the first place. If you get a visa rejection it's possible to appeal the decision. In some cases, an appeal may be successful if the grounds for refusal are easily fixable, such as a missing document or miscommunication with the immigration office. In such cases, submitting an appeal request can potentially overturn the refusal decision. However, it's crucial to ensure that all required documents are included, and all eligibility criteria are met before submitting a visa application to minimize the risk of visa refusal.
Other tips for Australia
Traveling to another country can be an exhilarating experience, full of new sights, sounds, and experiences. However, it can also be quite daunting, especially if you're not familiar with the local customs and culture. That's why we're here to provide you with some tips to make your trip smooth and stress-free.
Purchase comprehensive health insurance before traveling to Australia, as healthcare is expensive in the country.

Research the weather conditions in the area you plan to visit and pack accordingly. The climate in Australia varies greatly between regions, so it's important to check the forecast and pack appropriate clothing.

Show respect for the local customs and traditions, such as using "please" and "thank you" when speaking to locals and avoiding discussing sensitive topics like politics or religion.

Familiarize yourself with the Australian currency (AUD), language, and transportation options. Australian English has some unique slang words and phrases that may take some getting used to, and the country has an extensive network of public transportation options, including buses, trains, and trams. For more info, you can go through our Australia travel guide.
Australia is a fun and exciting destination to explore. With its beautiful beaches, bustling cities, and unique wildlife, there's something for everyone to enjoy. Explore the rugged Outback, surf at one of the many world-class beaches, or get up close and personal with kangaroos, koalas, and other iconic Australian animals. Whatever your interests, Australia has it all. So go ahead and plan your dream trip, and let us take care of the visa application process. We're here to do all the leg work, so you can focus on having the time of your life.
Still need assistance?
At iVisa, our mission is to ensure a seamless visa experience for you. We are committed to guiding you through the process and providing the support you need along the way. Our dedicated customer support team is readily available to answer your questions and address any concerns you may have. Simply contact us via our visa chat or email us at [email protected], and we'll be more than happy to assist you throughout your visa journey.