Australia formed part of the digital visa in 1996. But in 2013, the digital visa was finally available to many nationalities, including Malaysian.
The process is quite simple. Malaysian can apply online for an Australia visa and also get it in a few minutes. The document is called an ETA or Electronic Travel Authorization subclass 601. The difference between the one we have now and the one we had before in 2013 is that the current document allows you to go to Australia for both tourism and business purposes.
In this post, we'll give you more information related to this e-Visa, starting with the most frequently asked questions that you surely have in mind.

Frequently Asked Questions (FAQs)
I have a Malaysian passport, do I need a visa to visit Australia?
No, you don't need a visa per sé. If you're a Malaysian passport holder, you need an ETA to enter Australia.
What is an Australian ETA?
An Electronic Travel Authority or ETA is an official document based on a system that authorizes you to travel and enter Australia. This system is electronically linked to your passport and it's available to citizens from over 50 countries. It can be used for both tourism or business purposes.
How long can visitors with Malaysian passport stay in Australia with an ETA?
You can stay 90 days Per Entry once you arrive in Malaysia.
What are the documents needed to apply for an Australian ETA?
Applying online has definitely made things much simpler, but that does not mean that you do not have to offer a couple of things. Before you begin filling in the Australian application form, it's strongly suggested that you gather all the necessary documents. iVisa hardly asks something impossible for you. Just remember that the files will need to be uploaded as indicated. Here's what you need:
Valid passport - Malaysian like other nationalities cannot travel to Australia without a passport. If you do not have one, you can fix that by paying a visit to the issuing authority in your country. If you do have a passport, make sure that it remains valid for at least another three months from your date of arrival in Australia.

Valid e-mail address - Remember that you'll receive your ETA via e-mail, so be sure to provide one that is valid.

Way of payment - during the application form, you will be required to pay for iVisa's services so that you can submit it. You can use a credit or a debit card, and if you have a Paypal account, iVisa accepts that as well.
Malaysians will also be required to answer some personal questions. Don't worry about it, they're just normal questions; only a few ones like the reason for your travel, etc. While not especially significant, please reply sincerely.
If you've acquired the mentioned documents, you may proceed and fill in the program. The approach is quite simple, and iVisa has a superb customer care service that's accessible 24/7.
When does this Australian e-Visa expires?
This ETA visa expires 1 year after issued. You can use it at any time of that year, as long as you keep in mind that you can stay just 90 days Per Entry.
What are the prices and the processing times with this ETA?
It's true that the visa processing time and service fees are the primary concerns for many people, including Malaysians, who are interested in applying for this ETA.
You can rest assured that iVisa serves you as quick as possible at competitive prices. The cost of your visa is determined by the processing time you choose during the application process. iVisa gives you three excellent choices, which are:
Standard processing – This may be the longest processing time, but it's also the most affordable. However, is not that long either, since your application will be processed within 24 hours, which is basically just a day. As for the cost, you will be charged USD 20.00.

Rush processing – Do you want your application processed faster? then you can choose this option instead. Your visa will arrive in your email inbox within 4 hours, but you will have to pay USD 50.00.

Super Rush processing – this is the fastest available option. Your visa will be ready to use as fast as 1 hour. In the case of the cost, you will be charged USD 70.00.
If you're ready to start this process, then click here and forget about going to an embassy!
How long does it take to apply for an Australian ETA?
What will you spend? Just 10 minutes or less to get ready with your ETA for Australia.
How can I apply for an ETA for Australia?
The application form is easy to comprehend and fast to complete. It is broken down into two simple steps:
Initially you will fill in your personal information and choose the processing time.

Finally, review step one and make the payment. After that, just submit the application and that's it.
Getting a Malaysian Australia ETA is one of the simplest things you can do. With just a little time and effort, and you will be on the next plane out. It's definitely much more convenient going to the Malaysian embassy for a consular visa, right?
How many times can I enter Australia with an ETA for Malaysians?
Your ETA has Multiple Entry, so you can enter more than once to the country.
Do I need an ETA for my children when traveling to Australia?
Yes. Everyone visiting Australia must have an ETA before departing, including kids, no matter their age. Each person must submit an application separately.
If I am only passing through Australia, do I still need an ETA?
Just in case you depart within 8 hours or arrival, and you have a way to prove onward booking documentation, and you will also remain in the transit lounge, you will not need an ETA. However, for certain nationalities, a transit visa may be required. Please check this website for more information.
How do I know if my ETA to Australia is already done?
As soon as you finish your application process, we'll inform you about the approvement via e-mail whenever possible. Keep in mind that it also depends on the approval of the Australian Government.
How does the ETA look like?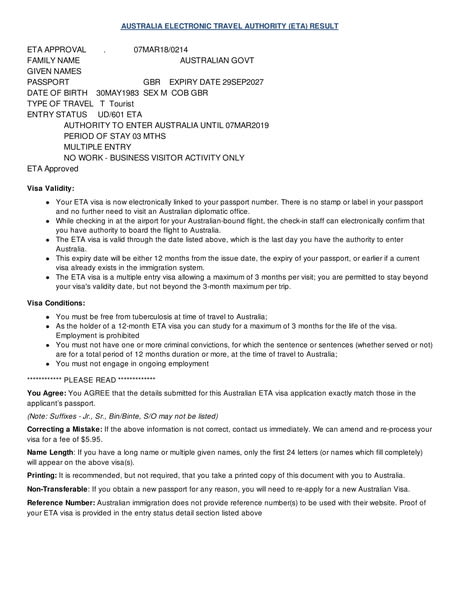 I made a mistake during my application process, what can I do?
If you made a mistake when entering your data online, then please contact our customer service care as soon as possible to assist you. Just remember that after your application form is issued, we can't change anything about the information issued, and you'd have to apply for another form. That's why is so important to review before paying.
Is it safe to get my ETA with iVisa?
We guarantee you that it is. There are plenty of people saying that online information can leak easily, but we're not part of that thanks to our updated system and our professional team. Your personal data is completely safe. And if you doubt it, then check what thousands of happy customers say about us here.
I still have some questions, where can I go to find more info?
It's ok to have questions, weird would be not to have it. If you still need attention to your doubts, you can [chat with one of our customer service representatives]. Otherwise, you can check more info about this ETA in this link.
Don't waste time going to an embassy when you can take advantage of it and prepare for your trip! Click here and apply for your ETA.