Please note: The Australia ETA for US citizens is currently unavailable. We'll be more than happy to assist with your application once this product becomes available again. Check back frequently for updates. In the meantime, keep reading to learn about Australia Visa for US Citizens so you're ready for your next trip.

Australia has been long known as a backpacker's paradise due to the fact that it's a huge nation full of diverse scenic sights, as well as modern cities with beautiful beaches. Although US citizens do not need a visa to visit Australia, they are required to obtain an ETA to visit the country. The ETA is a travel document that is electronically linked to the holder's passport.
Frequently Asked Questions (FAQs)
Do you need a Visa to go to Australia?
Yes, certain countries may require a visa to visit Australia for purposes of tourism. There is also the eVisitor and Electronic Travel Authority (ETA) valid for certain countries with visa free travel. You can browse our Visa Checker tool for more information on country specifics.
Which Visa do I need for Australia?
Australia has a large range of visa types depending on the purpose of travel. A visitor visa can be applied for by citizens who wish to visit for short tourism or business purposes. The transit visa is for those that wish to transit through Australia for a period of less than 72 hours. Countries with visa free entry will need to obtain an Australian ETA.
Although the ETA is currently unavailable, you can check the application page to see if you are eligible for other visas to Australia.
How do you get an Australian Visa?
To get an Australian visa you will need to submit the proper documentation to your closest Australian Embassy or Consulate. For countries that have visa free entry to Australia, you will need an ETA which can be purchased online.
Do US Citizens need a visa for Australia?
No, US citizens do not require a visa for Australia. However, US citizens planning to visit Australia will need an ETA.
What is an Australian ETA?
This Electronic Travel Authority (ETA) permits entry to enter Australia. It is for short-term stays for tourism or business purposes.
How Long does the Electronic Travel Authority allow US citizens to stay in Australia?
US citizens can stay in Australia up to 90 days Per Entry. The ETA allows visitors to make Multiple Entry into the country.
How long is the Australian ETA validity?
Your ETA will be valid for 1 year after issued.
What documents are needed for an ETA application?
It is easy to obtain the following documents such as:
A valid passport - verify that the expiration date of your passport is 6 more months from your departure date.
A credit or debit card or even a Paypal account will be used to process your payment. We will need a valid email so that you receive your ETA.
What are the prices and processing times for an ETA?
We will show the prices and processing times for US citizens wishing to apply to an ETA are:
Standard processing:

19 Business Days

-

USD 55.00

.
Rush processing:

17 Business Days

-

USD 80.00

.
Super rush processing:

15 Business Days

-

USD 105.00

.
How does the Australian ETA program work?
The ETA platform was implemented in 1996, giving official authorization to visit Australia. It is electronically linked to your passport. Once you are checked in at the airport, the staff can virtually confirm that you successfully have the permission to travel to Australia.
With this ETA, you can visit the country of Australia for a certain time, whether for tourism or business. With this ETA you will avoid going to an embassy and wasting a lot of time.
How long is the application process for an ETA?
You will need only 10 minutes of your time to fill out your request.
How can I apply for this document?
It is very easy to complete the request. Just follow the instructions:
Carefully enter your data and select the processing time of your application.
After that, review and confirm the information of your form, then make the payment using a credit/debit card or if you prefer a Paypal account.
In this section, you will need to complete some personal questions. Besides, depending on what you answer in all the formulary, you will be asked to attach some documents.
Once you have completed the form, send it and wait for your ETA via email. If you need help, do not hesitate to consult one of our support agents.
How does my Australia ETA will look like?
Here we show you an example: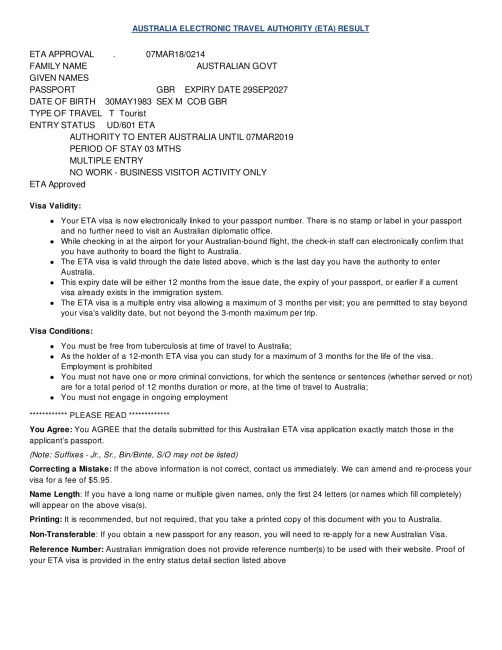 What is the next step after I have applied?
When your application is approved, we will send your Tourist eVisa by email. So, once you feel ready to travel to Australia, just show a printed version of your ETA together with your passport.
If I made a mistake in my application, can I modify the ETA after it's issued?
Once your ETA is granted, we cannot make any corrections. If you realize you made a mistake on your application, we encourage you to talk to our customer service agents right away.
How safe is getting my ETA using iVisa?
We are very focused on providing good quality and security service to our clients. That is why we always protect the data of our customers. Besides, we are attentive to any inconvenience that occurs. So, don't feel worried about it, trust us and if you still have doubts, you can visit our page to read all the comments of our clients.
If I have more doubts or unresolved questions, where can I find more info?
If you need more information visit this page and our customer staff will assist you.
As you can see, traveling to Australia is easier than you think. You just need to apply for an ETA here to get ready. Start your adventure today and just worry about what you should take on your trip.