Although there's no need for an Australia Visa for US Citizens, Americans still have to get an ETA. In other words, if you have a US Passport, you should only apply for an ETA to enter Australia, and at iVisa.com we can help you with that.
The ETA is an easy-to-use document that you can obtain through an online platform. It's not expensive, and it surely won't take you much of your time in comparison to a paper visa. As an American, you have it easy with this document, so we recommend you check the information below to see what you exactly need to apply for it.
In this article, you'll also learn what other documents you could need to visit Australia, especially during the coronavirus pandemic.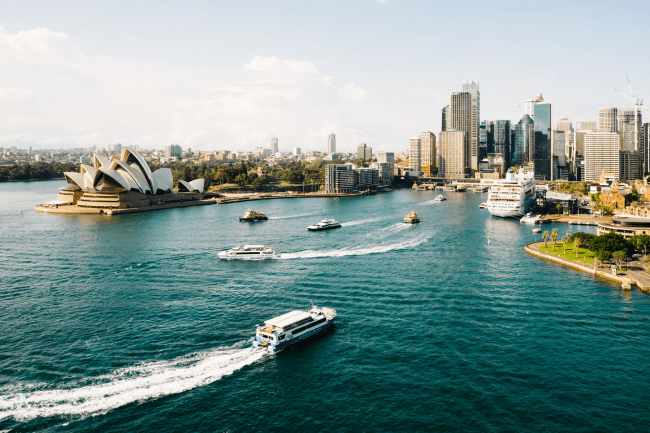 How can I get an ETA with iVisa.com?
Fill in the application form.
Upload and attach the items required to support your application.
Pick your preferred processing time for your application.
Send your application once you finish. Our experts will review the information and inform you if any adjustments need to be made.
Get ready to receive your ETA via email inbox.
Print your document if required.
Why should I apply in advance for an Australia ETA?
If your trip is for later, getting this document in advance can be useful as it can help you to liberate yourself from regularly checking on the right moment to apply for the ETA. Remember that you don't need an Australia Visa for US Citizens, the only document you need is an ETA.
Let us choose the best time to process your request form! We'll ensure the validity of your eVisa for the duration of your journey.
Frequently Asked Questions
What is an ETA and what other documents do I need to visit Australia?
With your US passport you don't need the Australia Visa for US Citizens, what you need is an Australia ETA, which is a travel document for visa-free countries. It allows you to visit Australia for a short-term stay, as long as the trip is only for tourism or business (like meetings, for example), but not for paid work or living.
Since the US is under the Australian visa-waiver program, you don't need anything else to enter this country. However, there's a short list of items you should have ready while applying for your ETA online:
Your passport.
A valid email address to receive the confirmation.
Credit/debit card or Paypal for payments.
Are there any COVID-19 travel requirements I should know about?
Travelers with a US passport don't need to have the COVID-19 vaccine obligatorily, but it's mandatory to at least have a negative COVID-19 PCR test result taken within 72 hours before arrival.
Most travelers must also quarantine for 14 days, except those coming from New Zealand. Additionally, all travelers, including US citizens, must apply for a Travel Declaration to confirm their health status. In other words, you must apply for this document to confirm you haven't been infected with the coronavirus.
These requirements might change while the coronavirus vaccines continue to be implemented. We suggest you check our website constantly to get more updated information about this topic.
How much is a visa to Australia from USA??
The cost of an Australian visa can vary depending on the type of visa purchased. For an Australian ETA the cost is USD 20.00 for a processing time of 24 hours.
The best part about applying for the ETA online is that you don't have to spend much money to get the document in your email inbox within a few minutes. You can let us help you get this permission ready so that you can enjoy your stay in Australia.
Please be aware that this information changes. In case you apply for the Travel Declaration to enter Australia, you'll have these options:
Standard Processing:

5 days

-

USD 20.00

Rush Processing:

3 days

-

USD 35.00

Super Rush Processing:

24 hours

-

USD 60.00
Don't forget to always check our website to ensure you need any of these documents before applying for them.
Is iVisa.com a safe webpage?
Yes, our website offers a professional service that will allow you to have your ETA ready within a few hours. Plus, we have an amazing team that's ready to always solve your doubts!
Where do I find more information?
If you still have several questions related to the Australia ETA or an Australia Visa for US Citizens, then we invite you contact our customer service, they'll be ready to help you at any time. You can also check our FAQ page, where you'll get a lot of useful information related to this topic.
Get ready for exploring Australia! You have in your hands the chance of getting the only travel document required within a few minutes!
iVisa.com Recommends
There's nothing more popular in Australia than surfing, and that shouldn't surprise you as it is one destination full of crystal-clear beaches and colorful cities (perfect combination for surfers). It might be a remote country, but it has everything any traveler would like, including vast landscapes and incredible parks.
One of the most recognizable things about Australia is its Great Barrier Reef, as it is considered one of the most powerful marine reserves sites in the world. It is part of the Coral Sea, near Queensland, and it has around 2,900 individual reefs, with at least 2,300 kilometers of expansion (that's a lot for being a barrier reef).
This country has many interesting places, and one of the most popular is the Harbour Bridge, considered the largest steel arch bridge in the world. If you're more into a beachy environment, then you must visit Sydney, especially with beautiful places like Bondi Beach. By the way, one place you cannot forget visiting when staying in Australia is Uluru, a giant rock with a reddish tone that's considered the "center" of Australia (and for some locals, the center of the world).
Are you ready to visit this amazing country?