Traveling to Australia means that you have to get a visa. But if you are eligible, you can simply apply for an ETA.
The ETA is an electronic travel authorization that allows certain nationalities to go to Australia without paying a visit to the nearest Australian embassy. This document can be obtained online, and with iVisa, it can be ready in a few minutes.
Aside from knowing if you can apply for an ETA or not, you also need to know when you're able to renew it. In this article, we will help you with that question.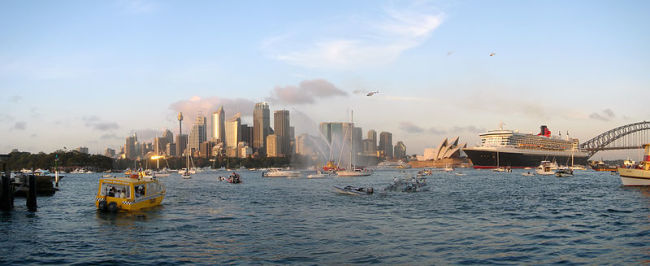 Frequently Asked Questions
How can I know if I qualify for an Australia ETA?
To confirm if you are eligible for an Australia ETA, you can use iVisa's Visa Checker Tool. It can be found on iVisa's homepage.
All you have to do is to access the web page, select your nationality in the drag-down menu on the left, and choose Australia in the box on the right. The result will be displayed automatically. If you qualify for an ETA, you will be redirected to the application page. Simple and fast!
How many types of Australian e-Visas exist?
Australia provides two types of electronic visas: [Australia e-Visitor] and Australia ETA. According to your nationality, you'll be able to apply for any of them. On the contrary, if you're not eligible to apply for any of them, you'll have to apply for a consular visa.
What is an Australian ETA?
The Australian ETA is a type of visa based in the ETA system. It was introduced in 1996. It gives you permission to travel to Australia with an electronic link to your passport.
What do you need to apply for the ETA?
If you haven't heard about iVisa, you should know that it is a high-rated company that provides an effective and fast application process. However, to achieve the best process possible, you still have to provide some documents. You will need:
Valid passport document – All applicants need a valid passport that keeps its status for at least another 6 months from the date of arrival in Australia. Failure to comply could lead to a denied application.
E-mail address – you will get a copy of you Australia ETA in your e-mail inbox, which is why you have to submit a valid e-mail address.
Payment Methods – you have to pay for your ETA and for iVisa's fee using one of the approved methods. You can use a credit or debit card, but PayPal is accepted as well.
Once you get all of the requirements, you can move on to the application form and complete the simple process.
When can I consider a renewal for the ETA?
Now, if you have already applied for an Australia ETA, you may want to know when a renewal is necessary. That is easy to find out since according to Australia's visa policy, the electronic travel authorization is valid for 1 year after issued. To give you an example, let's say that your ETA is issued on June 3rd, 2020. As a result, your travel document is valid until the same date, but 2021. Simple, right?
Another aspect that may concern you at this point is if you can arrive in Australia and stay there after your ETA expires. And the answer is yes.
What you need to know is that you can travel to Australia until the last day of validity of your ETA. So, if your flight is on June 2nd, 2020, you are within your rights to make that trip. The only thing you have to worry about is the maximum stay you are granted. As long as your visit does not exceed 90 days, even after your ETA's validity expires, you are in legality.
Are there any instances for a necessary Australia ETA renewal?
The answer to this question is also yes. Your Australia ETA can expire before its valid expiration date. How is that possible? It depends on the validity of your passport. We will give you another example for a better understanding.
The rules say that you cannot apply for an Australia ETA if your passport validity does not expire for at least 6 months from the date of arrival in Australia. But let's say that your passport is valid for 10 months from that moment. So, if your ETA is issued on June 3rd, 2020, you would think that it expires on June 3rd, but 2021, right? You would be wrong. Since your passport expires in April 2020, it means that the ETA will expire at the same time.
The reason behind this connection is that an Australia ETA is electronically linked to your passport document. Since the ETA is issued based on your passport, it only makes sense that it would expire when the passport does. In that case, you need to apply for a new passport and then you have to apply for a new Australia ETA on the basis of the new passport.
What are the cost and processing times or this eVisa?
Obtaining a visa from a consulate takes a lot of time, but having an online visa is faster. The maximum time you have to wait is 24 hours, according to your nationality, but that is for the Regular Processing time. We provide you two more available processing times: Rush, and Super Rush. Here you can find more information about processing times and fees.
Regarding the costs, you should know that the visa itself is free. You just need to pay the service fee, which is not expensive. It depends on the processing time you prefer. Here are the options for you to have a simpler way to calculate:
Standard - This processing time provides your eVisa in 24 hours for only USD $81.99. As you see, it is the most affordable yet comfortable option.

Rush - If you choose this processing time you'll get your visa in 12 hours, you just need to pay a little bit more in this case, which is USD $133.99.

Super Rush - This is the fastest thus most expensive processing time of the three, but it worths, you'll have your visa as soon as you can imagine. You will have to wait only 4 hours. That is the reason why it costs USD $196.99.
Keep in mind that these fees are based on the US passport, so it can vary a little if you're from another country.
What is the procedure to apply for an Australia e-Visa?
The online process is easier than you think. You just need to apply online with iVisa. After you finish the online application form, that takes no more than 15 minutes, you just need to wait for your e-Visa to arrive in your email inbox.
This application has three simple steps:
The first step: Fill the general information and choose the processing time that we mentioned above.
The second step: Review the information form. Be careful, because one mistake can invalid the application.
The last step: Pay and click on the submit button.
Click here if you want to start your online iVisa application. After you finish it, just wait for your visa to arrive. In case you need some help or assistance to fill your application, iVisa has an effective support service that you can contact anytime from anywhere.
Where can I read more?
You can find more info about Australia ETAs or even other FAQs that you could need here. Alternatively, you can also contact our customer service center in case you want something more personal.
The bottom line for this topic is that an Australia ETA renewal is necessary in two cases: when the validity of the ETA expires, and if the passport expires before that. In both cases, you must apply for a new electronic travel authorization, but iVisa can help you with that, and it should only take you some minutes of your day and that's it!