Are you planning a trip to Australia? You'll find that there is a lot to explore in this land. Foreign visitors can choose between seascapes, mountains, or city life, since there are attractions for various travelers' profiles. But, before departure, passport holders must know that they need a visa to enter Australia, or they will be refused entry.
If you are eligible to apply for an ETA online, it's really easy to be prepared to cross the border control. The Department of Home Affairs developed the electronic travel authorization (ETA) to make travel simple for tourists applying online. There is no need for an appointment at the embassy or consulate.
The visitor visa allows travel for tourism or business purposes; so, if you're eligible to apply for this visa category, you can get a valid visa to enter Australia in a few clicks. You can submit your information and get the travel document from anywhere with just an internet connection.
The Australian government has some visa requirements: You must provide your personal data, passport number, and supporting documents, but nothing extraordinary. Read further details below about the Australia visa policy, travel documents required, and how to apply online.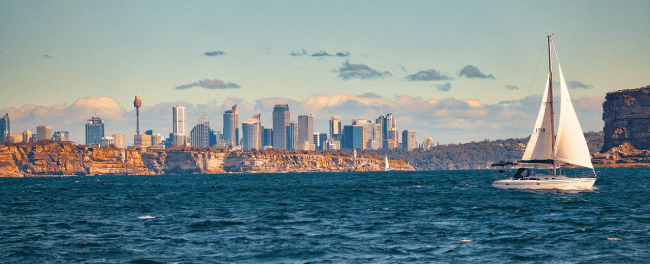 Electronic Travel Authority: What is the Online Form for the ETA
Do you need an approved visa status to travel to Australia? Everything is simple if you have one of the eight nationalities that can apply for the ETA, which The Department of Home Affairs introduced in 1996. Since then, nationals from some countries have been able to enter Australia without issues or long periods of waiting for documents at the embassy.
The Australian ETA is a travel authorization easy to get, given it is obtained through an online visa application: You submit a few required documents and receive the document via email. The application process takes less than 30 minutes!
This is a multiple-entry visa, so once you obtain the document you can visit Australia multiple times during one year, which is the ETA validity. Regarding the ETA application, an additional restriction is important to know: visitors cannot have any criminal convictions to be eligible for an ETA.
Be aware that visitors can use the ETA as a tourist and business visa. You can enjoy vacations or attend business travel commitments. However, if you need a permanent resident visa or study visa, we strongly recommend applying for said types of visa at the embassy.
Read further information about application steps and processing times to obtain this document to visit Australia.
ETA: Eligible Countries
The ETA is an entry visa for short-term visits. The application is made online, which makes it a straightforward procedure. Citizens from 33 countries are eligible to apply for this document, but at iVisa we only offer it to 7 nationalities to avoid chances of rejection or complications during the application process.
Brunei Darussalam, Canada, Japan, South Korea, Singapore, United States, and Hong Kong.
Australian ETA Requirements
Online application is easy and quick, especially counting on iVisa services. Our visa form is simple, so it takes just a few minutes to complete and submit. Our team is available 24/7 to support you through the entire process. You will need the following documents:
Valid passport: Your passport must be valid for at least another six months from the date of arrival in Australia.
Means of online payment: Given this is an online application process, you'll be required to make the payment online. For that purpose, you can use a credit or debit card.
Email address: An ETA is electronically linked to your passport, so you don't need to print it out, but we use email as a means of communication, which is why we ask for a valid email address.
ETA application: How to apply for an Australian visa online
Once you have everything you need, it is time to fill out the Australian ETA application form. That should come easily to you since iVisa has created one that is short and effortless. Moreover, if you need any help, iVisa counts on fantastic customer support.
The application process is broken down into these three simple steps:
First, you'll need to fill out the online form on the iVisa application page with personal information and passports. Some other travel documents may also be required, but we will contact you if it is the case.
Second, we'll ask you to double-check the information to ensure everything is correct. If everything looks good, you can move forward to selecting how soon you want to receive your visa.
Third, you pay for our visa services with your debit or credit card and submit the application.
Once your ETA for Australia is approved, we will send it to you via email. You'll be able to use this visa to travel to Australia on a temporary basis for tourism or business activities.
Visa Application: Processing Time and Visa Fee
The visa processing price will depend on how fast you want to get the document. There are three options for each visa:
Standard processing time -

24 hours

-

USD $81.99

. This may be the longest processing time, but it's also the most affordable and comfortable for most travelers.
Rush processing time -

12 hours

-

USD $133.99

. Do you want to get your ETA faster? Then you can pick this option, which is a lot quicker.
Super rush processing -

4 hours

-

USD $196.99

. This is the fastest option we offer. You will receive the ETA to travel to Australia in your email as soon as possible.
How Will I Receive my ETA?
Travelers should expect to receive the Australian ETA in their email inboxes. Remember that once you have confirmation, your ETA is linked to your passport, so you can then enter Australia!
You don't even need to print out the document to present to Australian immigration authorities on arrival.
Do Children Need the Australian ETA?
Yes, they do! Any traveler eligible to apply for the ETA must get it regardless of age. Therefore, if you are traveling with children, start their application as each one will need an individual ETA for Australia.
Why Trust iVisa?
iVisa has implemented strict security guidelines for all its services so you can be sure that your information is safely managed. Our services are reliable, and our reputation speaks for itself!
Feel free to explore the comments section and confirm that iVisa is the best in the market.
Where Can I Find More Details?
Get in touch with our customer support team, available at all times. We can solve your doubts about the Australia visa. If you prefer, you can also contact us via email at [email protected].