According to the government and following the visa policy of Australia, all European Union citizens can travel to this country with an Australia e-Visitor visa. Since Bulgaria is a part of the EU, as a Bulgarian, you have the possibility to apply online for an electronic visa, so you won't need to go to the Australian embassy. iVisa can provide assistance with the application and you can receive your travel document in just a few hours.
If you want more information about this e-Visitor document, continue reading this article.

Frequently Asked Questions (FAQs)
Do I need a visa to enter Australia if I am Bulgarian citizen?
Not a visa per sé. An eVisitor Visa is a special document that allows you to travel to Australia with any inconvenience, is not the same as many consular documents we already know around the World.
What is an Australian e-Visitor for Bulgaria?
The e-Visitor Visa is a travel document that permits citizens from the European Union to travel to Australia. This automated visa is created as an online adaptation for travelers from the EU.
Remember that to obtain your visa with no problem you must be outside Australia in the moment of your application. We recommend you not to make any travel plan until you receive your e-Visitor.
How Long can Bulgarians stay in the country with the eVisitor Visa?
Bulgarian citizens may stay in Australia for 90 days Per Entry.
What do I need to apply for this eVisitor Visa?
Australia e-Visitor visa requirements for the citizens of Bulgaria the same as for every other eligible nationality. However, the list is not long, and you may already have some of the items necessary for your application. You will need these:
Validity of passport – you are unable to apply for an Australia e-Visitor visa if you are not a passport holder. Also you need to check the document's expiration date because it has to remain valid for at least another 6 months from the date of arrival in Australia.
E-mail – you will receive the approval of your Australia eVisitor visa via e-mail, which is why you need to provide iVisa with a valid and correctly spelled address.
Means of payment – the payment must be made online as well as the application process. iVisa allows multiple methods, you can pay using a credit/debit card, but if you have PayPal, you can use it as well.
If you have all the documents required, then you can proceed and complete the application form.
In case of any help, you can contact iVisa's support service if you have any concerns. They are available 24/7.
How long is the validity of an Australian e-Visitor Visa for Bulgarian citizens?
This e-Visa has a validity of 1 year after arrival.
What are the fees and the processing times for Bulgarian Citizens?
iVisa has three types of processing time and the fees you have to pay for your Australian e-Visitor will depend on them. The Australia e-Visitor is free; you just need to pay for the iVisa's professional service fee. The e-Visitor application process can take a lot of hours or days if you get it by yourself.
iVisa provides three excellent options for Bulgarian citizens, you may select the one that suits you best. The faster you want your application to be processed, the higher the service fee will be, so here are the options:
Standard – sometimes people select this option because it is the least expensive. You just need to pay USD $26.49. Select it and your visa will arrive pretty fast. It takes 4 days for your application to be processed.

Rush – compared to the option mentioned before, the Rush processing time is faster, and you will have your Australia e-Visitor in 2 days. The cost for this option is USD $47.49.

Super Rush – this is the fastest option iVisa can provide you. Is the perfect one if you want to apply on your way to the airport. Your e-Vistor document will be ready in just 24 hours, and it costs USD $77.99.
How much time do I need to make my application?
If you apply with iVisa, you'll be happy to know than in less than 20 minutes you'll be done.
How is the procedure to make my application?
When you have all the documents and all the information listed above, you can go ahead and fill in the application form. The task at hand should not take more than 20 minutes, but if you have any questions or need assistance, you can contact iVisa's customer support. The service is available 24/7 and is free of charge.
You will notice that the form you need to complete has three parts:
The first one you need to provide general information about yourself and your trip, then you have to choose a processing time for your application. That step, in particular, defines how much money you will spend on your Australia eVisitor visa.

In the second part you will have to pay and review your form. You need to know that the revision has to be done carefully, any mistakes invalidate your visa. Read twice your form before submission.

The third part you need to upload all the documents requested for the application. After it, just click on the submit button, and iVisa will process your application in the agreed timeframe.
The bottom line is that an Australia eVisitor visa for the citizens of Bulgaria is incredibly accessible when you apply with iVisa.
How does the Australia e-Visitor Visa look like?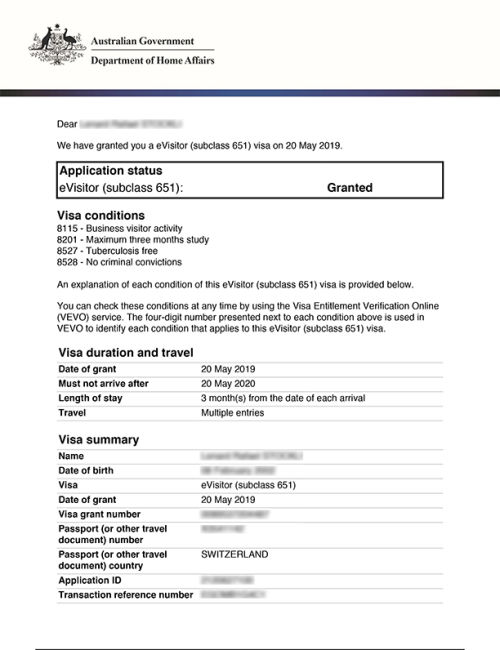 What happens after I complete all my application form?
Once you're ready with your submit your application, you'll have to wait for your e-Visitor to arrive by email in the period you selected. You don't need to visit the embassy. We do it for you.
If I made a mistake on my application. What should I do?
We cannot modify any details on the ETA once it is issued. If you realize you made a mistake while filling in your ETA, then please contact us ASAP via online chat or by sending an email to [email protected]
What activities does the Australian e-Visitor allow me to do?
This document permits you to travel for both tourism and business purposes. If you travel as a tourist visitor, this visa allows you to cruise or spend a holiday visiting your family or friends.
Keep in mind that you cannot use this e-Visa .
How safe is iVisa's services to get my E-visitor?
It is totally safe! We provide you maximum safety for your personal information, we invest a lot in the security of our database, so we can protect all the information and make you feel secure. Your personal info is 100% safe in our hands. Here you can check what do thousands of happy customers say about us in this link.
Where can I have more info?
In case, you still have any doubts, then click here and start chatting with one of our customer service agents. You can find more information and FAQs here.
As you see, receiving an Australia e-Visitor for Bulgarian citizens is very simple and easy. No effort or a long time is needed. It is a much easier alternative to visiting an Australian embassy, isn't it? That's why we encourage you to start your journey by applying to your eVisitor today. It is the easiest way possible to travel and just worry about the luggage!