Australia initiated the development of the electronic visa program back in 1996, and as of 2013, the current visa applies to most nationalities including Japanese. The process is not complicated. The citizens of most countries can apply online for their visa and get it in a matter of minutes. The document is called an ETA or Electronic Travel Authorization subclass 601. The difference between the one we have now and the one we had pre-2013 is that the present document allows you to go to Australia for both tourism and business uses.
As a Japanese you can apply online for the Australian ETA. iVisa can help you with this process. Know how in this article.

Frequently Asked Questions (FAQs)
What is an Australian ETA for Japanese?
The Australian Electronic Travel Authority (ETA) provides authorization to enter Australia. It is electronically linked to your passport. It is used for tourism or business visitor activities.
What do you need?
Applying online has certainly made things a lot easier for Japanese, provided that you have all the important requirements. Before you start filling in the application form, it is recommended that you gather all the required documents. iVisa asks very few things of you, but the documents need to be uploaded as suggested. Here is what to be submitted:
Valid passport – Japanese cannot travel to Australia without a passport. If you do not have one, you can fix that by paying a visit to the issuing authority in your country. If you do have a passport, make sure that it remains valid for at least another three months from your date of arrival in Australia.

Mode of payment – during the application form, you will be required to pay for iVisa's services so that you can submit your application. You can use a credit or a debit card. In addition iVisa also accepts payment through PayPal.
Keep in mind that you will also be required to answer a set of personal questions. It is just common questions; just a few inquiries such as the reason for your visit, and so on. While not particularly important, please answer truthfully.
What are the processing time and fees offered by ivisa?
The reason the two aspects are discussed together is that one impacts the other. The Japanese Australia ETA itself is free of charge, but you still need to pay for iVisa's services. As for that, they have three available processing time. As you can imagine, the faster you want your ETA, the higher you pay. Here are your choices:
Standard processing time – this is the cheapest and most popular choice. That total amount is only USD $76.99. As for how long you need to wait for your application to be processed, it takes 24 hours to get your Australia ETA.

Rush processing time – this choice is a lot faster than the first. You will get your Australia ETA in just 12 hours. As you can expect, you need to pay more this time. USD $135.99 to be exact.

Super Rush processing time – this choice is the fastest iVisa provides. You can apply on your way to the gate (if the airport is large enough). It takes 4 hours for your application to be processed, and you will be charged USD $187.99.
How's the application form for Japanese?
The application form is easy to understand and fast to complete. But if you need any help, iVisa has an amazing customer support service that is available 24/7. Contact them here.
It is divided into two simple steps.
The first will ask you to fill in your personal details and choose the processing time.

The second will ask you to review step one and make the payment. Please remember that the revision is really important, any mistake will lead to an invalid ETA.
After that, you just submit the application, and that's it.
How Long can Japanese stay in Australia with this ETA?
The maximum stay for Japanese in Australia is of 90 days Per Entry and they will have a Multiple Entry ETA.
How long is this ETA valid for?
For Japanese this ETA have a validity of 1 year after issued.
How does the Australia ETA look?
Here is an example: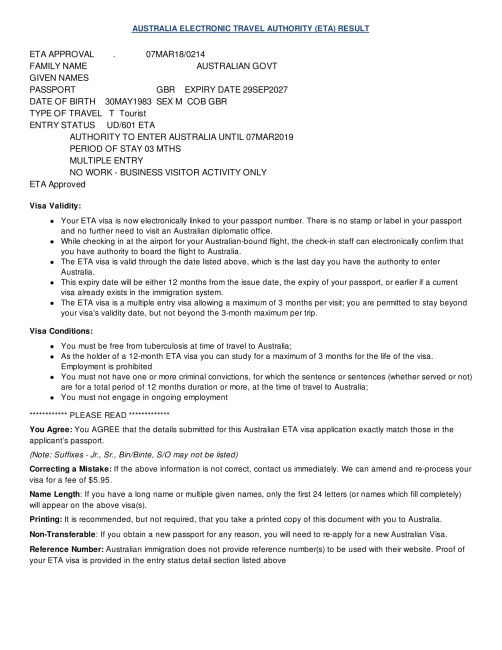 What happens after I have applied?
After submitting the application, you just need to wait for your visa to arrive by email in the timeframe you opted for. No need to deal with the hassles of the embassy. iVisa handles it for you so you don't lose precious time. Next, present a printed version of your ETA along with your passport when you arrive to Australia.
I made a mistake on my application. How can I modify the ETA after it's issued?
Unfortunately, we can't change any details on the ETA once it's issued. If your application is not yet issued we might be able to help you. If that is the case then please contact us ASAP via online chat.
Is it safe to use iVisa to get my Australian ETA?
Many people think that online information leaks easily and that their personal information will be at risk of getting into the wrong hands. Fortunately, this is not our case due to our upgraded and sophisticated system..
We assure you privacy an safety. Check what hundreds of happy customers say about iVisa here.
I have more unresolved questions, where can I find more information?
For a faster response click here and start chatting online with one of our customer service representatives. You can find more FAQs here.
Getting an Australia ETA for Japanese is one of the simplest things you can do. All it takes is very little time and effort and you will be boarding the next plane out. It is definitely better than going to an embassy for a consular visa! iVisa will help you to enjoy a stress-free trip!