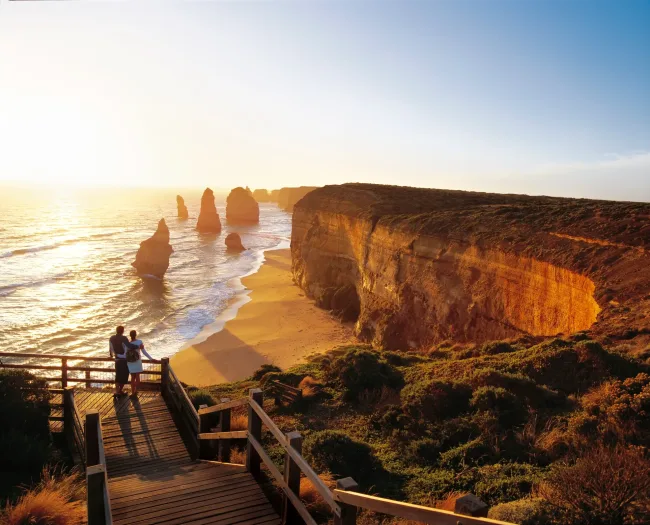 Australia's endless beaches, majestic deserts, and relaxed lifestyle make it a trendy spot for travelers from the United Kingdom seeking a sunny destination. However, when traveling to this fantastic destination, UK citizens need an Australia visa.
We understand that the visa application can be tricky for UK passport holders. However, with the help of this blog and our services, you'll find it an easy and smooth process.
Let's explore the different types of Australian visas for UK citizens, the application process, and visa requirements, and get ready to travel!
Do UK passport holders need an Australian visa?
There are different travel policies for each nationality visiting Australia. UK citizens traveling to Australia do not need a traditional paper visa to enter Australia if they travel for tourism and business.
However, you must apply for an eVisa instead. The Australian government offers the following visa options for UK citizens:
Types of Australian visas available for UK Citizens
Australian eVisitor Visa: Apply online for the electronic Australian Tourist Visa (also known as the eVisitor Visa or Visa Subclass 651) for family visits, tourism, or business trips. In contrast to the ETA, it allows travelers to study for up to three months in Australia.
The visa is electronically linked to your passport, so no embassy visits needed! Apply online in a few clicks through iVisa and receive your eVisa via email after a careful review and our straightforward process.
Australia ETA: The electronic travel authorization is similar to the eVisitor Visa, but is available to more countries. The ETA can also be applied for 100% online, but is slightly more expensive and does not allow any other travel purposes than tourism.
UK citizens visiting Australia can get the ETA visa on the official government website. However, if you'd like to have an iVisa expert review your application for your peace of mind, apply for the Australia eVisitor Visa instead!
Australia Visitor Visa: Although UK citizens do not have to apply for this traditional paper visa (Subclass 600), we'll explain here what the differences are between this document and the eVisitor Visa for Australia.
This Visitor Visa is simply meant for travelers who are not eligible to apply for the eVisitor Visa or the ETA. An embassy visit and extra documents may be required to apply.
Australian Working Holiday Visa: British citizens can apply for this visa to enter Australia if they want to travel and work in the country.
It allows travelers between the ages of 18 and 30 to stay for up to 12 months and work in the country. It's ideal for a gap year, long holidays, exploring the country on a backpacking trip, short-term studies, or short work periods.
Remember, the eVisitor Visa also allows short studies for up to three months (not work). So if a short training or studies is what you're after, go for the eVisa instead.
Australian Student Visa: This visa is for UK students who want to study (temporarily) in Australia. To apply, you must be accepted into an Australian educational institution.

Australia Permanent Residency Visa: The visa application process to live permanently in Australia varies according to the reason for immigration. For example, you want to join a spouse, find work, or other purposes.
You usually have to submit a long list of documents to prove that you meet all requirements, such as employer contracts, bank statements, a marriage certificate, and more.
Can British citizens visit the country with an Australian ETA (Electronic Travel Authorization)?
It is possible for UK citizens to apply for the ETA, however, they must do so via the government website of Australia. However, a lot of people find this process confusing and tedious. The government fees of the ETA are also slightly higher.
Make the process easier by applying for the eVisitor Visa via iVisa instead! Included in the processing fees are:
Unlimited support by our experts

A careful review of your application

Simple online process - without the fuss
Apply now in under 10 minutes with iVisa!
All you need to know about the Australian eVisa for UK citizens
If traveling to Australia for tourism and business purposes, apply for an Australia eVisitor Visa through iVisa. With our services you don't need to worry about appointments at the Australian embassy. The visa application process is 100% online!
Watch the video below to find out how to apply for the Australia eVisitor Visa or keep reading to learn everything you need to know for UK citizens to visa Australia.
How long is the Australia eVisitor Visa valid?
The Australia eVisitor visa is valid for 1 year after arrival in the country. It's a Multiple Entry visa, so you can leave Australia and re-enter the country multiple times during this year.
Keep in mind that British citizens can stay up to 90 days Per Entry in Australia.
Australia visa requirements for UK citizens
Meet the following Australian visa requirements to get your eVisitor Visa without hassle:
You intend to stay temporarily in Australia.

Have enough money to support yourself while in the country.

You haven't been convicted or found guilty of a crime or violated immigration laws in the past.
Required documents for an Australia visa application for UK citizens
Valid UK passport - It must be valid for at least six months after arrival in Australia

Supporting documents proving your purpose of travel - Such as a hotel reservation or other.

A credit or debit card to pay the government visa fee and iVisa processing fee.

Email address to receive the eVisitor Visa confirmation.
How to apply for an Australia Visa as a UK citizen
We do the hard work for you! With our smooth visa application process you'll get your visa for Australia quickly, so focus on the fun part: planning your trip! Complete your eVisitor Visa application online in only three steps:
Step one: Fill out the visa application form online with your personal and travel details.

Step two:Double-check that all the information in the visa application form is correct to avoid issues. As an added bonus, our visa experts will verify if any info is missing! Choose your preferred processing time and pay the visa fees.

Step three: Upload all the supporting documents and submit your eVisitor visa application form.
Pay attention to your email inbox, where you'll receive your visa once it's approved. Get ready to explore Australia!
Tips for a successful visa application to visit Australia as a UK Citizen
For an error-free visa application, here are some tips for a smooth application process:
Plan ahead and start your visa application as early as possible, to avoid any delays or unexpected issues.

Make sure to thoroughly read and understand the visa requirements and eligibility criteria.

Gather all the required documents before filling out your visa application. This will speed up the process. However, if you need a break or you're still waiting for a document, you can save your progress via iVisa and come back to continue where you left off.

Ensure that all the information provided in your visa application is accurate and truthful.

If you are unsure about any aspect of the visa application process, contact our customer service team and let our visa experts help you. We're available 24/7 via online chat and email.
Common mistakes to avoid when applying for an Australia eVisitor Visa as a UK Citizen
Mistakes in your application can delay your visa. Our experts always review every form and document before submitting visa applications, to avoid problems and possible rejection.
However, here are some common mistakes to pay attention to:
Before applying for an eVisitor Visa, ensure you meet the eligibility criteria. Visa requirements usually include having a valid passport, not having a criminal record, and not intending to work in Australia.

Failing to fill out the eVisitor application form correctly can delay processing or lead to a visa rejection. Reading, following the instructions carefully, and providing accurate information are crucial.

It's essential to provide all necessary supporting documents, such as a copy of your passport and evidence of your travel arrangements. Not providing the required documents can result in a rejected visa.

You should apply for an eVisitor Visa at least two weeks before your intended travel date. Applying too late can lead to processing delays or visa rejection.
Count on us to avoid these mistakes and get your eVisitor Visa for Australia quickly and conveniently, without stress.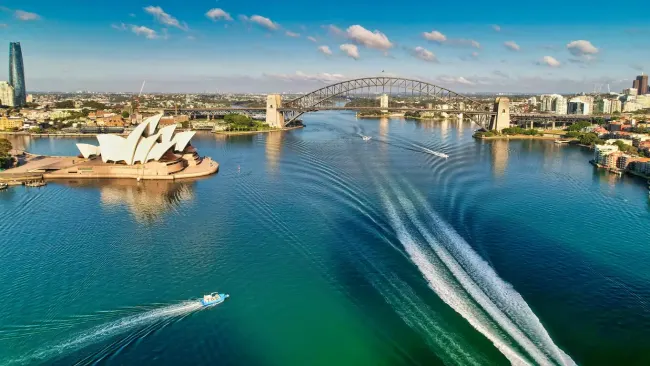 How much does the Australian eVisitor Visa cost for UK citizens?
Good news! The eVisitor Visa for Australia has no government fee! By applying with iVisa, you'll just pay for the processing, which varies according to the processing time you prefer.
The benefits of applying with iVisa include:
A simplified application form and process.

24/7 online customer support via online chat and email.

A careful review of your application to avoid rejections.
What are the processing times and prices for the Australian eVisitor with iVisa?
iVisa provides three processing and pricing options for UK citizens applying for eVisitor Visa:
Standard Processing time: It takes just 4 days to process the eVisitor Visa for a fee USD $30.49.

Rush Processing: You'll receive the eVisitor Visa in only 2 days, paying USD $52.99.

Super Rush Processing: This fast option allows you to get the Australian eVisitor in only 24 hours, for an express fee of USD $93.99.
Tip: Our flexibility and handy iVisa app allow you to apply from anywhere at any time, even if you're in a rush!
Our team will send the eVisitor Visa to your email once it is approved. Check-in staff at the airport for your Australian-bound flight will check your passport to confirm your eVisa electronically. We also recommend printing the confirmation and keeping it on you while traveling.
Is it possible to extend an Australia eVisitor Visa?
Unfortunately, you can't extend the Australian eVisitor Visa. You will have to leave the county and apply for a new visa for Australia if you want to stay longer.
Benefits of applying with iVisa
100% government compliant: Your application will be reviewed carefully by our visa experts to make sure it meets all Australian government standards and to avoid issues.

Saves time: Don't waste your time on queuing for visa appointments or trying to decipher the government rules. You can get your visa to visit Australia from the comfort of your home in a simple process via iVisa.

Straightforward application process: We provide a platform that allows you to save your progress and complete the form at your own pace. We offer a more concise and simple application form compared to the government website.

Support 24/7: Throughout the application process, our visa experts are available 24/7 to answer any questions you may have.
Apply now and let us do the hard work for you!
Traveling to Australia: Tips and advice for UK citizens
Are you ready to enjoy a remarkable vacation in the Australian outback? Here are some helpful tips for traveling to Australia from the United Kingdom!
Weather: Australia's climate can vary depending on the region you're visiting, so check the weather forecast before you pack. Also, pack sunscreen and a hat, as Australian rays can be very strong.

Travel insurance: It isn't mandatory, but highly recommended when visiting Australia. Travel and health insurance can cover everything from medical expenses to lost luggage.

Watch out for wildlife: Australia is known for its unique wildlife, including kangaroos, koalas, and venomous snakes. While these animals are fascinating, it's important to be aware of the potential dangers and to take precautions when necessary.

Respect the environment: Australia is home to some of the most beautiful natural ecosystems in the world, and visitors are expected to respect them. Always follow the rules and regulations when visiting national parks and other protected areas, and leave no trace behind.

COVID-19:: There are no longer COVID-19 restrictions in Australia. Travelers don't have to present a pre-departure COVID-19 test, proof of vaccination, or quarantine on arrival.
Check out our ultimate Australia travel guide for more practical information about travel costs, attractions, and transport in the country!
I still have questions about traveling to Australia. Who can I contact?
Please contact our customer service team if you have any doubts about the Australia eVisitor or any other online application form. We are available 24/7 via online chat and email at [email protected], to help and make travel easy for you.