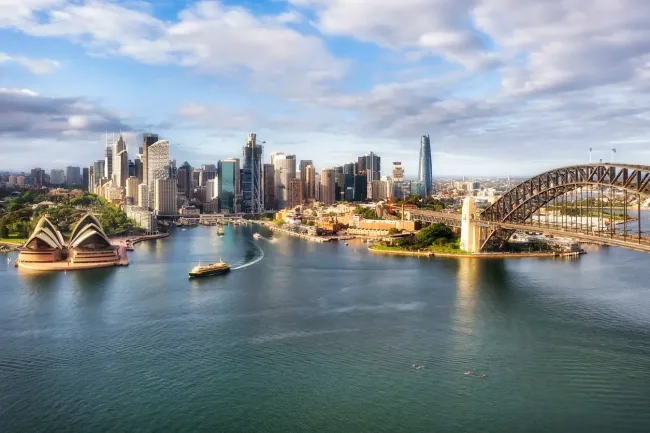 Australia, the country of kangaroos, wallabies, and adorable koalas. Its endless beaches, majestic deserts, and awesome weather (most of the year), make it a very desirable place to visit for UK citizens looking for adventure and exploring this indomitable land.
If you happen to have a UK passport, the visa application may present some challenges. However, with the help of this blog and iVisa, you'll find it a pretty easy and smooth process.
We will go deeper into the different types of visas for UK citizens, the application process and requirements for each one of them. So buckle up, grab your passport, and let's start this journey!
Do UK passport holders need a valid Australian Visa?
UK passport holders do not need a traditional paper visa to enter Australia if they are traveling for tourism, business, or certain other purposes. Instead, they can apply for an Electronic Travel Authority (ETA) or eVisitor online, which is a type of electronic visa that grants entry to Australia for up to 3 months per visit.
There are some different travel policies for different passport holders going to Australia. For UK citizens, the Australian government offers the following types of Australian visas:
Types of Australian visas
Australian tourist Visa: This visa is for people who want to visit Australia for a holiday, sightseeing or recreational activities.

Working Holiday Visa: This visa is for people who want to travel to Australia for up to 12 months and work while they are there.

Business Visa: This visa is for people who want to conduct business in Australia, such as attending meetings or negotiating contracts.

Student Visa: This visa is for people who want to study in Australia.
What is an Australian Electronic Travel Authorization (ETA)?
To enter Australia, the most convenient option for UK citizens is to apply for an Electronic Travel Authorization (ETA). An ETA is a type of visa that allows eligible subjects, including UK citizens, to visit Australia for tourism or business purposes for up to 3 months at a time. The ETA is an electronic document that is linked to the traveler's passport, eliminating the need for a physical visa label or stamp.
The ETA is designed to streamline the visa application process for eligible citizens and is issued very quickly, usually within hours or even minutes of applying. Also, it's extra convenient because, unlike traditional visas, you are no longer required to visit an Australian Embassy to apply. The application can be done online and requires the applicant to provide personal and passport information, as well as details about the purpose of the visit.
It's important to note that even if you have been granted an ETA, you may still be refused entry to Australia. If you do not meet the entry requirements, or if the immigration officer determines that you pose a risk to Australia's security or health, they have the power to deny you access to the country.
How long can a UK citizen stay in Australia with the ETA?
UK citizens can stay in Australia with an ETA (Electronic Travel Authority) for up to 3 months per visit.. It is valid for multiple entries within a 12-month period from the date of issue. If you plan to stay in Australia for longer than 3 months or engage in work, study, or other activities, you may need to apply for a different type of visa.
How can I apply for an ETA?
The application form for any UK passport holders to travel to Australia is really easy to get through with iVisa, and consists of three simple steps:
First, you will need to fill in your general information. You also need to choose the processing time from the options mentioned above.

Then, it's time to make the payment. You can use a credit/debit card or a PayPal account.

The last step consists of a questionnaire. Other supporting documents or even a police clearance certificate may be required as well, but this depends on individual circumstances.
Application Process: Australian visa
Choose the visa type that best suits your purpose of travel.
Check the eligibility criteria and requirements for the selected visa type.
Complete the visa application form, which can be done online or on paper.
Submit the application form along with the required documents such as passport, proof of funds, health insurance, and character certificate.
Pay the visa application fee.
Wait for the visa to be processed. The processing time varies depending on the visa type.
Once you have submitted your application, just wait for your visa to arrive by email in the timeframe you choose. No need to deal with the embassy, iVisa does it all for you. Make sure to present a printed version of your ETA along with your passport once you enter Australia.
Tips to apply for Australian Visas
Apply for the visa well in advance, as the processing time can be lengthy.

Check the visa requirements carefully and ensure that you provide all the necessary documents.

Be truthful while filling out the visa application form. Any discrepancies or false information can result in the visa being denied.

Ensure that your passport is valid for at least six months from the date of arrival in Australia.

Obtain health insurance before traveling to Australia, as healthcare can be expensive in the country.

Have sufficient funds to cover your expenses during your stay in Australia.
What are the processing times and prices for the Australian ETA?
iVisa provides 3 processing and pricing options for UK citizens who wish to apply for their ETA:
Standard processing – your ETA application is processed within 4 days, and the price is GBP 35.94 (service fees included).

Rush processing – you will receive your ETA within 2 days, and the total price of is GBP 63.12.

Super rush processing – this is the fastest option. You will get your ETA in only 24 hours, and you will be charged GBP $110.46
Is it safe to use iVisa to get my Australian visa?
In this day and age, everyone is concerned about online information leaks and their personal information getting into the wrong hands. This is iVisa's main concern as well; that's why we provide maximum security standards for your personal data, confidentiality protocols, and a state-of-the-art database security system. We are completely confident that your information is in the safest hands. Also, for your peace of mind, you can check what hundreds of happy customers say about us.
In conclusion, obtaining an Australian visa as a UK citizen requires careful planning and preparation. By familiarizing yourself with the visa types, application process, and tips, you can increase your chances of a successful visa application and a stress-free trip to Australia.
In case you require assistance filling out your application, iVisa has a fantastic support service team that you can contact 24/7, or email us at [email protected]