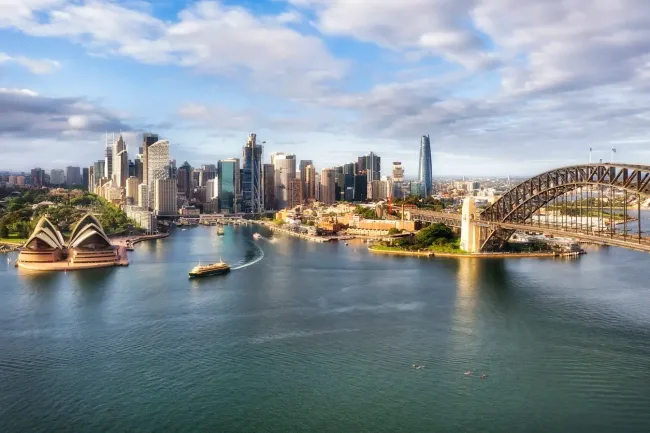 Australia is a gorgeous country famous for its magnificent sceneries, lively cities, and abundant wildlife. Because of these attractions, many people visit this country each year, including Brazilian citizens. If you are planning to visit Australia as a tourist, you will need an Australian Visitor Visa.
But don't worry, we are here to help simplify the process for you. This article will give you a complete guide on how to apply for an Australian Visitor Visa. We will explain the necessary requirements for entering Australia and how to go through the visa application process.
So, let's get started!
What is the Australian Visitor Visa?
The Australia Visitor Visa (Subclass 600) is a type of temporary visa that grants you permission to enter Australia for a specific period for tourism-related activities such as sightseeing, visiting family or friends, or taking a cruise.
It is mandatory for Brazilian citizens who wish to travel to Australia for leisure purposes. This visa can be applied for from within Australia or overseas, and it doesn't require an embassy or consulate interview in most cases. However, additional information may be requested over the phone.
The visa doesn't have a barcode or QR code and includes basic information about the traveler and their travel conditions. If you need help navigating the application process, we provide expert iVisa agents to guide you and ensure a smooth process.
Do Brazilian citizens need a Visitor Visa for Australia?
If you are a Brazilian citizen planning a trip to Australia for leisure and tourism purposes, you have to obtain a valid Australian Visitor Visa to enter the country.
However, there are also other types of visas that Brazilian citizens can apply for, including:
Australia Student Visa (Subclass 500): If you have been accepted into one of Australia's reputable universities and plan to pursue long-term studies, you will need to apply for this visa. Depending on your visa conditions, you may be allowed to work, but you must adhere to the work-hour restrictions set by your visa.
Australia Working Holiday Visa (Subclass 417): This is a temporary work visa that allows passport holders between the ages of 18 and 30 to have an extended holiday in Australia while working to fund their trip. However, keep in mind that this type of visa doesn't permit travel with dependent children.
For more information on these visas and how to apply we recommend contacting your local Australian embassy.
Benefits of an Australia Visitor Visa for Brazilian citizens
An Australian Visitor Visa offers Brazilian citizens numerous benefits and opportunities. Here are some of the things you can do with this visa:
Explore Australia's breathtaking landscapes and natural wonders, such as the Great Barrier Reef, Uluru, and the Australian Outback.

Visit family and friends who live in Australia and spend quality time with them.

Enjoy a cruise along Australia's stunning coastlines and experience the country from a different perspective.

Attend cultural and sporting events, such as music festivals, sports games, and exhibitions.

Take part in short-term study programs, language courses, or workshops.

Have the flexibility to enter and exit Australia multiple times within the visa's validity period.
Please remember that Australian visitor visas don't permit you to work.
Australia Visitor Visa requirements
It's essential for Brazilian nationals to meet all the requirements when applying for an Australian visa. Our Australia Guided Visitor Visa application process includes a step-by-step guide and a complete list of all necessary documents based on your situation. However, here are the general visa requirements that Brazilian citizens need to fulfill:
Australia Visitor Visa: Eligibility criteria for Brazilian citizens
To expedite the approval process of your Australia Tourist Visa, it is essential to meet the eligibility requirements set by the Australian government:
Genuine visitor: You must prove that you intend to stay in Australia temporarily and agree to comply with all visa requirements during your visit.
Adequate funds: It is crucial to provide evidence that you have sufficient financial resources to support yourself during your stay in Australia.
Good health: Meeting the minimum health standards is necessary, and depending on your situation, you may need to undergo a health assessment as part of your application.
Good character: You must demonstrate that you have a clean criminal record, have not violated any immigration laws in the past, and meet other character requirements established by the Australian government.
By meeting these eligibility criteria, you can increase your chances of obtaining faster approval for your Australia Tourist Visa.
Document requirements for Brazilian citizens
As a Brazilian citizen applying for the Australian Visitor Visa, you will need to submit the following documents to the Australian Embassy:
A copy of your valid Brazilian passport, which includes your photo, personal details, passport issue and expiry dates, and immigration stamps.

A copy of your ID (if applicable).

A photo of yourself, which you can easily obtain through our digital passport photo service.
Additionally, the Australian government may request other documents, including:
Proof of financial support, such as bank statements or financial assets.

Documents that demonstrate your ties to Brazil, such as proof of employment or enrollment in a school.

A travel itinerary or evidence of planned tourism activities in Australia.

Letters of invitation from relatives or friends in Australia (if applicable).

A police certificate.

A family register and composition form (if applicable).
It's important to ensure that all of your documents are in order and complete to increase your chances of a smooth and successful visa application process for your Australia visa.
Financial requirements for Brazilian citizens
To fulfill the financial requirements for the Australia Visitor Visa, you must provide financial documents such as bank statements, tax returns, audited accounts, and credit card limits from the last three months. The closing balance must be at least AUD $5,000 per applicant.
If you have a sponsor for your visitor visa, they also need to meet certain financial requirements. They must provide proof of Australian assets, such as a house, car, or business, as well as a bank statement from the last three months with a closing balance of at least AUD $5,000 for one applicant. Moreover, they should demonstrate either Australian income or overseas tax assessment.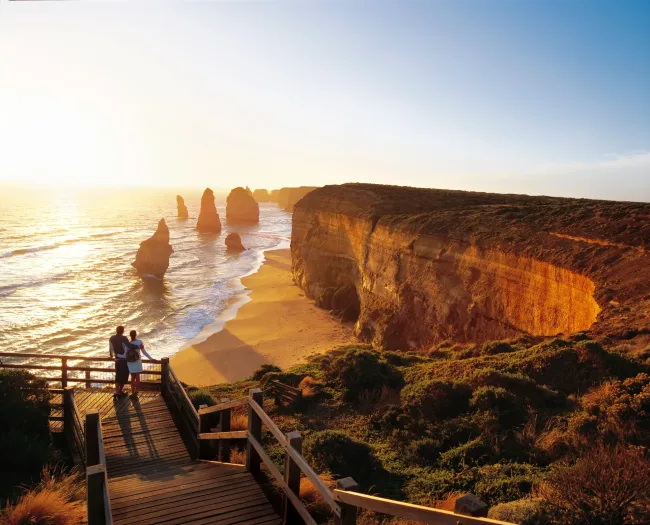 Australia Visitor Visa application process
We know that dealing with paperwork can be a daunting task, which is why we have simplified the process for obtaining your Australian visa online. Here is what you need to do:
Step 1: Fill out the straightforward visa application form on our website or iVisa app, providing your personal and travel details, such as the intended travel date.
Step 2: Verify that all information is correct, then pay the visa fees using PayPal, Venmo, Amazon Pay, or a credit/debit card.
Step 3: Upload the required documents and click 'Submit'
After this, you'll have to attend the biometric appointment at the Australian Visa Application Centre and complete the medical examination.
Once you have completed these steps, all you need to do is wait for the government's response. If your application is approved, you're ready to travel to Australia!
What is the Australian Visa cost and processing times for Brazilian citizens?
This visa comes with a government fee of USD $101, this fee is included in our total price.To get the most accurate visa application fee, simply start your application form.
Applying with us also allows you the following benefits:
Our iVisa experts guarantee that your application will be 100% compliant with government requirements.

Enjoy the advantage of having unlimited access to our expert agents,** who will guide you through the entire application process from start to finish.

Say goodbye to the long, confusing, and tedious questions on the government website with our simplified application form. We provide easy-to-answer questions and handle the legwork for you.

With our service, you can fill out the form at your own pace, make changes whenever you want, and save your progress to continue later.

Applying with us grants you exclusive access to a step-by-step manual, which includes tips for answering difficult questions, a full list of necessary documents, and guidance from start to finish so you can get your valid visa.
Australia Visitor Visa processing time in Brazil
iVisa processing time for Brazilian citizens is 30 days.
Once you have submitted all the required documents, provided your biometric information, and passed the medical examination, the Australian government will review and process your visa application.
On average, the Australian government takes 28 days (90% of applications) to process visa requests submitted by Brazilian citizens. However, please note that this timeframe may vary depending on the Embassy's workload.
Tips for a successful application in Brazil
Here are five tips for a successful Australian Visitor Visa application:
Start the application process early: It's important to apply for your visa well in advance of your intended travel dates. The processing time for a visitor visa can vary, and you don't want to risk your application being delayed and missing your trip.
Double-check your application and supporting documents: Make sure that you have completed the visa application form accurately and truthfully, and that all supporting documents are included and meet the requirements. Any mistakes or missing information could result in your application being rejected.
Provide evidence of strong ties to your home country: The Australian government wants to ensure that you have a genuine intention to return to your home country after your visit. Providing evidence of ties such as a job, property ownership, or family can help demonstrate this.
Show evidence of adequate financial support: You will need to show that you have enough funds to cover your expenses during your stay in Australia. Make sure to provide bank statements, pay stubs, or other evidence of your financial situation to meet the requirements.
Be honest and upfront about your circumstances: If there is anything in your application that could raise concerns, such as a previous visa refusal or criminal history, be honest about it.
Australia Visitor Visa approval and denial for Brazilian citizens
In case your application for an Australian Visitor Visa is denied, you have the option to appeal the decision or reapply for the visa. However, when you reapply, you are required to declare that your previous visa application was denied. Keep in mind that the denial of your previous visa application will usually have an impact on your eligibility for future visa applications.
Common reasons for visa refusals in Brazil
Visa refusals can be frustrating and disappointing, but understanding the common reasons for them can help you avoid making the same mistakes in the future. Here are some common reasons for visa refusals:
Incomplete or inaccurate application: Filling out the visa application incorrectly or leaving out important information can lead to a visa refusal.
Lack of financial support: Not being able to provide adequate evidence of financial support can lead to a visa refusal. Make sure you have enough funds to cover your expenses during your stay.
Criminal history: If you have a criminal record or have been convicted of a crime, you may be refused a visa. Some countries have stricter rules than others, so it's important to research the requirements.
Travel history: A lack of travel history or evidence of previous travel to other countries may raise suspicion and lead to a visa refusal.
Purpose of travel: If your stated purpose of travel is not clear or does not align with the visa category you have applied for, you may be refused a visa. Make sure you understand the requirements and provide sufficient evidence to support your intended activities.
It's important to carefully review the visa requirements and application process before submitting your application to avoid any common mistakes that could lead to a refusal.
Still need assistance?
At iVisa, our mission is to ensure a seamless visa experience for you. We are committed to guiding you through the process and providing the support you need along the way. Our dedicated customer support team is readily available to answer your questions and address any concerns you may have. Simply reach out to our visa chat or email us at [email protected], and we'll be more than happy to assist you throughout your visa journey.