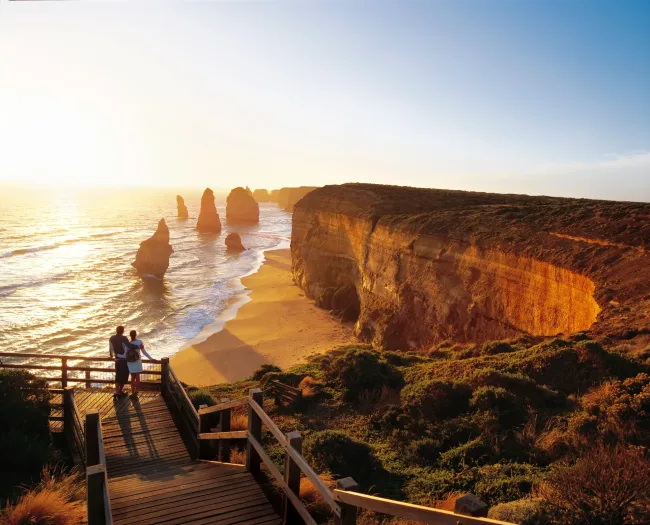 If you're a citizen of the Netherlands dreaming of exploring the diverse landscapes, vibrant cities, and unique wildlife Down Under, then you'll need to familiarize yourself with the Australian Visa process. Australia offers a range of visa options tailored to different purposes of travel, including tourism, business, and work opportunities.
Navigating the visa requirements and understanding the application process can be daunting, but fear not, as this article aims to provide you with a concise and informative overview of the Australian visa for citizens of the Netherlands. We can also help you apply and assist you throughout the process.
Whether you're planning a short visit or a long-term stay, read on to discover the essentials for a smooth and hassle-free journey to the Land of Oz.
What is the Australia eVisitor Visa?
The Australian eVisitor visa (subclass 651) is an electronic visa that allows holders to enter Australia for short-term trips, whether for work or pleasure. Unlike traditional visa application processes, Dutch citizens can conveniently apply for an Australian visa online, eliminating the need to visit the nearest Australian embassy or consulate.
This computerized system offers a more relaxed and practical experience, as there is no requirement to travel or handle physical paperwork in person.
You can apply online with us when you're ready!
Do Dutch citizens need an Australian eVisitor Visa?
Dutch citizens planning a trip to Australia will need to obtain an Australian evisa. Luckily, the most convenient option available for them is the Australian e-visa. This nifty electronic travel authorization eliminates the need for traditional paper or stamp visas, making the process a breeze.
With an Australian e-visa, Dutch travelers can
Enjoy multiple entries, allowing you to come and go from Australia during the validity of your visa.

Explore and experience the diverse attractions of Australia, including its stunning natural landscapes and vibrant cities.

Engage in various tourist activities, such as sightseeing, wildlife encounters, and cultural experiences.

Travel for leisure, visit family and friends or participate in short-term business activities.
Remember, this visa does not permit you to engage in work-related activities.
How long is the Australia eVisa valid?
The Australian eVisitor visa remains valid for one year from the date of issue, providing you with ample time to plan your trips. It allows Multiple Entry, meaning you can enter and exit the country as many times as you want within that year. However, it's important to note that each visit should not exceed a stay of three months(90 days Per Entry). This gives you the flexibility to explore Australia at your own pace while ensuring you comply with the visa's time restrictions.
Differences between the various Australian visas for Dutch citizens
Tourist Visa: If Dutch citizens are not eligible for an e-visitor visa, they have the opportunity to apply for a regular Australian tourist visa. This visa enables them to visit Australia for various purposes, such as tourism, visiting relatives, and exploring the country. It is a visa that allows multiple entries, granting a maximum stay of 90 consecutive days.
Business Visa: Dutch nationals planning to travel to Australia for business-related activities can apply for an Australian business visa. This visa is suitable for attending seminars, conferences, meeting business associates, or participating in a training program. It's important to note that a business visa should be pursued if the applicant does not qualify for an e-visa.
Work Visa: For Dutch passport holders seeking employment in Australia, they must apply for a temporary work visa under subclass 400.
Working Holiday Visa: Dutch citizens desiring to spend their holidays in Australia while also working have the option to apply for a working holiday visa. This visa allows a maximum stay of one year and permits multiple entries within its validity period.
Eligibility for Dutch citizens applying for an Australian eVisitor Visa
To ensure a quicker approval process, it's important to meet the following requirements set by the Australian government:
Genuine visitor: You need to show that you genuinely plan to stay in Australia temporarily and follow all visa conditions during your visit.
Enough funds: It's important to demonstrate that you have sufficient financial resources to support yourself while in Australia, typically at least USD 600 to 1200.
Good health: Meeting the minimum health standards is crucial. Depending on your situation, you might need to have a health examination as part of your application.
Good character: You should provide evidence that you have a clean criminal record, have not broken immigration rules in the past, and meet other character requirements outlined by the Australian government.
By meeting these eligibility criteria, you can increase the chances of quicker approval for your Australian eVisitor Visa.
How to apply for an Australian eVisitor Visa for Netherlands citizens
Leave the hard work to us! Our easy visa application process ensures that you'll get your Australian visa quickly, so you can focus on the fun part: planning your trip!
The best part is, you don't even have to visit an Australian Embassy. Applying for your eVisitor Visa online is simple, with just three easy steps:
Step 1: Fill out the user-friendly online visa application form, providing your personal and travel details.
Step 2: Review and verify your information, then choose your preferred processing time. Pay the visa fees securely online through our reliable platform.
Step 3: Upload any necessary supporting documents and submit your eVisitor visa application form.
You can even download our app for an even more convenient experience.
Keep an eye on your email inbox for confirmation of your approved Australian visa. Get ready for an exciting adventure in Australia!
What is the Australian Visa fee and processing times for Dutch citizens?
Fortunately, there is no government fee for the Australian visa application. We offer three different processing times and costs to choose from. Take advantage of this flexibility and select the option that best suits your needs.
Standard processing: This costs USD $23.99 and takes about 4 days to process.
Rush processing: This costs USD $42.99 and takes about 2 days to process. Perfect for those in a hurry.
Super Rush processing:This option costs USD $70.99 and takes 24 hours to process.
Requirements for the Australian eVisitor's Visa application
To ensure a smooth and hassle-free online visa application process, foreign nationals must gather the following documents beforehand:
Valid passport details: Make sure your passport remains valid for at least six months beyond your planned arrival date in Australia.

Supporting documents: Prepare any necessary documents that demonstrate the purpose of your travel, such as hotel reservations or tour bookings.

Credit or debit card: Have a valid credit or debit card available to pay the government visa fee and any applicable service fees charged by iVisa.

Email address: Provide a valid email address to receive the confirmation of your eVisitor Visa.
By having these documents ready, you can simplify your application process and increase the likelihood of a successful visa application.
5 Mistakes to avoid in your visa application for Australia from the Netherlands
When applying for a visa to travel from the Netherlands to Australia, it's important to avoid these common mistakes to ensure a smooth application process:
Incomplete application: Make sure to fill out all the required fields accurately and provide all necessary supporting documents. Incomplete applications may result in delays or even rejection.

Insufficient supporting documents: Ensure you provide sufficient and relevant supporting documents to demonstrate the purpose of your visit, such as hotel reservations, flight bookings, and proof of financial capability.

Invalid passport: Check the validity of your passport and ensure it remains valid for at least six months beyond your intended departure date from Australia.

Late application submission: Submit your visa application well in advance to allow ample processing time. Applying too close to your travel date may lead to delays or even denial of your visa.

Not seeking professional advice when needed: If you're unsure about any aspect of the visa application process, you can always contact us. Our visa experts will help you with your visa application from start to finish.
Top 5 things to keep in mind when traveling to Australia
Prepare for the weather: Australia's climate varies across regions, so pack appropriate clothing for the specific locations you plan to visit. Be aware of the sun's intensity and wear sunscreen, hats, and sunglasses. In case of unexpected weather changes, consider carrying a light rain jacket.
Take out travel insurance, including life coverage: It's important to have comprehensive travel insurance that covers medical emergencies, trip cancellations, and lost belongings. Additionally, consider including life coverage to provide financial protection and peace of mind during your trip.
Stay safe in the water: Australia's stunning coastline offers incredible beaches, but it's important to be aware of water safety. Swim only at patrolled beaches, follow the advice of lifeguards, and be cautious of rip currents. If you're unsure about swimming conditions, seek advice from local authorities.
Respect wildlife and nature: Australia is home to unique and diverse wildlife. Respect their natural habitats and maintain a safe distance when observing animals. Don't feed wildlife, as it can be harmful to their health and behavior. Follow park guidelines and stay on designated paths to minimize any negative impact on the environment.
Explore local customs and Aboriginal culture: Australia has a rich Indigenous culture, and learning about Aboriginal history and customs can enhance your travel experience. Respect cultural sites and seek opportunities to engage with Aboriginal communities, such as participating in cultural tours or attending cultural events.
Remember to conduct thorough research and stay informed about any specific travel advisories or guidelines related to your destination in Australia. Enjoy your trip and make lasting memories Down Under!
Check out our ultimate Australia travel guide for more travel tips and important entry information.
How to contact us
At iVisa, we strive to make your visa experience as smooth as possible. Our goal is to assist you every step of the way and offer the necessary support throughout the process. Our team of dedicated professionals is here to help, ready to respond to your inquiries and resolve any issues that may arise. Whether you choose to chat with us or send an email to our customer support team at [email protected], we are committed to providing the guidance you need for a hassle-free visa journey.