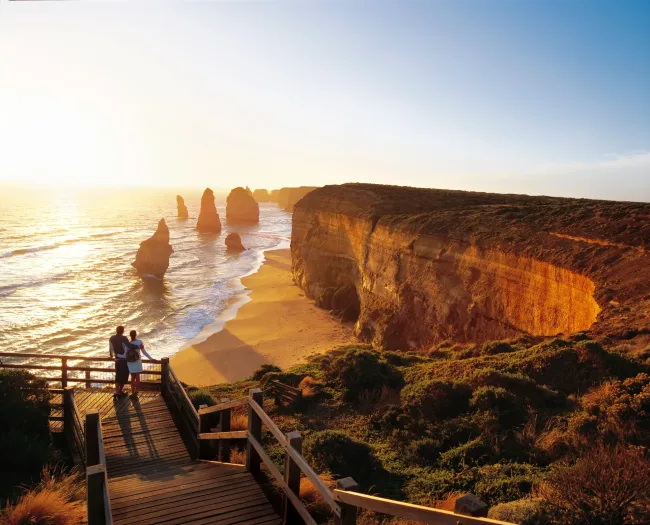 If you're a Pakistani citizen planning to visit Australia, then you'll need a visitor visa to enter the country.
Applying for an Australian visitor visa can seem daunting at first, but this guide is here to make the process easier for you. In this article, we'll cover everything you need to know about the application process, costs, and requirements for Pakistani citizens applying for an Australian visitor visa.
By following our step-by-step guide, you'll be well on your way to obtaining your Australian visitor visa and experiencing the beauty and culture that this amazing country has to offer. So, let's get started!
What is the Australia Visitor Visa?
The Australia Visitor Visa (Subclass 600) lets you visit Australia for tourist activities. You usually won't need an embassy or consulate interview, but they may ask for more info on a call. The visa doesn't have a barcode or QR code, its electronically linked to your passport, but it does have basic info on you and your trip.
If you need help with your application, apply with us and we will assign an iVisa expert to help you through the process and make it easy.
Note: You cannot take part in paid work on this visa. If your purpose of visiting Australia is tourism then this visa is perfect for you, otherwise we recommend contacting your local Australian embassy to find out what options are available to you.
Do Pakistani citizens need an Australian Visitor Visa?
If you're a Pakistani citizen planning a trip to Australia, you'll need to obtain an Australian visitor visa.
With an Australian Visitor Visa, Pakistani travelers can:
Enjoy multiple entries into Australia, which means they can come and go from the country during the validity of their visa.

Explore and experience the diverse attractions of Australia, including its stunning natural landscapes and vibrant cities.

Take part in various tourist activities, such as sightseeing, wildlife encounters, and cultural experiences.

Travel for leisure, visit family and friends or engage in short-term business activities. It's important to remember that this visa doesn't allow you to engage in work-related activities while you're in Australia.
How long is the visitor's visa valid?
The visa is valid for 3 years and permits a maximum stay of 3, 6, or 12 months depending on the applicant's history. This Australian tourist visa allows for Multiple Entry, enabling you to enter Australia as frequently as you'd like during its validity period.
Visa types available for Pakistani citizens
Pakistani citizens can also apply for the following visas:
Business Visa: Pakistani citizens planning to travel to Australia for business-related activities can apply for an Australian business visa. It's suitable for attending seminars, conferences, meeting business associates, or participating in a training program.
Work Visa: If you're seeking employment in Australia, you must apply for a temporary work visa under subclass 400.
Working Holiday Visa: Pakistani citizens who want to spend their holidays in Australia while also working can apply for a working holiday visa. This visa allows a maximum stay of one year and permits multiple entries within its validity period.
For more information about your eligibility and how to apply for each of these visas we recommend you contact your local Australian Embassy.
Eligibility for Pakistani citizens applying for an Australian Visa
To make sure your Australian Visitor Visa process has a higher chance of approval, you must meet certain requirements set by the Australian government:
Show that you genuinely intend to stay in Australia temporarily and will follow all visa conditions during your visit.

Prove that you have enough money to support yourself while in Australia.

Meet the minimum health standards. You might need to have a health examination depending on your situation.

Demonstrate that you have a clean criminal record, haven't broken immigration rules in the past, and meet other character requirements set by the Australian government.
By meeting these criteria, you increase your chances of getting your Australia visa approved quickly.
Application process for the Australia visa for Pakistani citizens
Applying for an Australian visa has never been easier for Pakistani citizens! Our user-friendly visa application process is quick and hassle-free, so you can focus on planning your trip to Australia.
The best part is, you can even download our app to get it done:
Step 1: Fill out the straightforward visa application form on our website or iVisa app, providing your personal and travel details.
Step 2: Verify that all information is correct, then pay the visa fees using PayPal, Venmo, Amazon Pay, or a credit/debit card.
Step 3: Upload the required documents and click 'Submit.'
After your application with us, you'll have to attend a biometric appointment at the Australian Visa Application Centre and complete the medical examination.
Once you have completed these steps, all you need to do is wait for the government's response. If your application is approved, you're ready to travel to Australia from Pakistan!
What is the Australian Visa cost and processing times for Pakistani citizens?
The total visa charge comes with a government fee of USD $101. To get the most accurate fees for you visa application fee, simply begin your application.
Applying with us also allows you the following benefits:
Our iVisa experts guarantee that your application will be 100% compliant with government requirements.

Enjoy the advantage of having unlimited access to your our team of iVisa experts, who will guide you through the entire application process from start to finish.

Say goodbye to the long, confusing, and tedious questions on the government website with our simplified online application form. We provide easy-to-answer questions and handle the legwork for you.

With our service, you can fill out the form at your own pace, make changes whenever you want, and save your progress to continue later.

We also grant you exclusive access to a step-by-step manual, which includes tips for answering difficult questions, a full list of necessary documents, and guidance from start to finish so you can get your valid visa.
Requirements for the Australian Visitor's Visa application
It's essential for Pakistani nationals to meet all the requirements when applying for an Australian visa. Our Australia Guided Visitor Visa application process includes a step-by-step guide and a complete list of all necessary documents based on your situation. However, here are the general visa requirements that Pakistani citizens need to fulfill:
Australia Visitor Visa: Eligibility criteria for Pakistani citizens
To expedite the approval process of your Australia Tourist Visa, it is essential to meet the eligibility requirements set by the Australian government:
Genuine visitor: You must prove that you intend to stay in Australia temporarily and agree to comply with all visa requirements during your visit.
Adequate funds: It is crucial to provide evidence that you have sufficient financial resources to support yourself during your stay in Australia.
Good health: Meeting the minimum health standards is necessary, and depending on your situation, you may need to undergo a health assessment as part of your application.
Good character: You must demonstrate that you have a clean criminal record, have not violated any immigration laws in the past, and meet other character requirements established by the Australian government.
By meeting these eligibility criteria as a Pakistani passport holder, you can increase your chances of obtaining faster approval for your Australia Tourist Visa.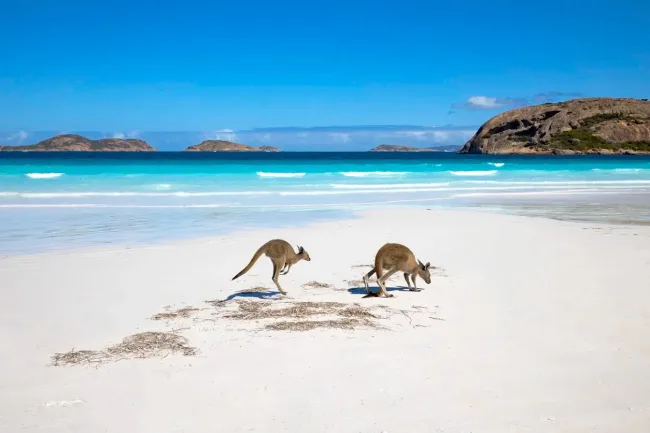 Document requirements for Pakistani citizens
As a Pakistani citizen applying for the Australian Visitor Visa, you will need to submit the following documents to the Australian Embassy:
A copy of your valid passport, which includes your photo, personal details, passport issue and expiry dates, and immigration stamps.

A copy of your ID (if applicable).

A photo of yourself, which you can easily obtain through our digital passport photo service.
Additionally, the Australian government may request other documents, including:
Proof of financial support, such as bank statements or financial assets.

Documents that demonstrate your ties to Pakistan, such as proof of employment or enrollment in a study program.

A travel itinerary or evidence of planned tourism activities in Australia.

Letters of invitation from relatives or friends in Australia (if applicable).

A criminal background check.

A family register and composition form (if applicable).
It's important to ensure that all of your documents are in order and complete to increase your chances of a smooth and successful visa application process for your Australia visa.
Financial requirements for Pakistani citizens
To fulfill the financial requirements for the Australia Visitor Visa, you must provide financial documents such as bank statements, tax returns, audited accounts, and credit card limits from the last three months. The closing balance must be at least AUD $5,000 per applicant.
If you have a sponsor for your visitor visa, they also need to meet certain financial requirements. They must provide proof of Australian assets, such as a house, car, or business, as well as a bank statement from the last three months with a closing balance of at least AUD $5,000 for one applicant. Moreover, they should demonstrate either Australian income or overseas tax assessment.
What to do in Australia
Australia offers a variety of exciting destinations to explore, and Pakistani citizens visiting the country should consider the following top destinations:
Sydney: This vibrant city is famous for its iconic landmarks, such as the Sydney Opera House and the Harbour Bridge. Visitors can also enjoy the city's beautiful beaches, shopping, and delicious cuisine.

Melbourne: This cosmopolitan city offers a blend of cultures and is known for its world-class museums, art galleries, and music scene. Additionally, visitors can explore the famous Great Ocean Road or experience Australian wildlife at the nearby Phillip Island.

Cairns: Located in tropical North Queensland, Cairns is a popular destination for those seeking to experience the Great Barrier Reef. Visitors can take boat tours to the reef, scuba dive or snorkel to see the diverse marine life, and enjoy the city's relaxed atmosphere.

Uluru-Kata Tjuta National Park: This stunning destination features the iconic Uluru (also known as Ayers Rock), a sacred site to the local Aboriginal community. Visitors can take a guided tour to learn about the area's cultural significance and enjoy the beautiful natural scenery.

Gold Coast: This city is famous for its beautiful beaches, thrilling theme parks, and bustling nightlife. Visitors can also explore the nearby hinterland, which features national parks, waterfalls, and scenic drives.
No matter where you go in Australia, there is always something exciting to see and do. Check out our ultimate Australia travel guide for more information about what to do, where to eat and how to get around. It's important to research the different visa requirements and plan ahead to make the most out of your trip.
Australian travel tips for Pakistani citizens
Cultural differences and tips for adapting to the Australian culture: Australia is a multicultural society, so it's essential to be open-minded and respectful towards people of different backgrounds. Aussies are generally friendly and casual, so don't be afraid to strike up a conversation with locals. Be aware of cultural nuances, such as tipping at restaurants, and follow Australian laws and customs.
Weather and climate in Australia: Australia's weather varies depending on the region, so it's essential to research your destination's climate before you go. The summer months (December-February) can be hot, so bring sunscreen and stay hydrated. Winters (June-August) can be cold, especially in the southern regions, so pack warm clothes.
Currency exchange and banking in Australia: The currency used in Australia is the Australian dollar (AUD). You can exchange Pakistani rupees for Australian dollars at banks or exchange offices. Credit and debit cards are widely accepted in Australia, but it's advisable to carry some cash for small purchases.
Transport and accommodation options: Australia has a range of transport options, including buses, trains, trams, and taxis. It's also easy to rent a car if you have a valid Pakistani driver's license. For accommodation, you can choose from hotels, hostels, apartments, or Airbnb rentals. Research your options and book in advance to secure the best deals.
By following these tips, Pakistani citizens can have a safe and enjoyable trip to Australia.
Still need assistance?
At iVisa, our mission is to ensure a seamless visa experience for you. We are committed to guiding you through the process and providing the support you need along the way. Our dedicated customer support team is readily available to answer your questions and address any concerns you may have. Simply reach out to our visa chat or email us at [email protected], and we'll be more than happy to assist you throughout your visa journey.