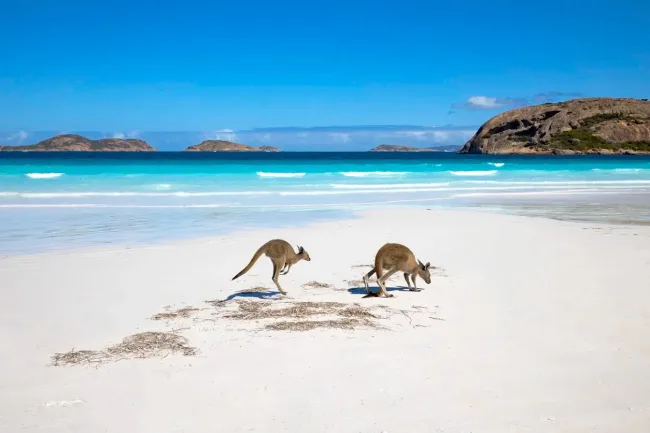 Australia is renowned for its stunning landscapes, vibrant cities, and unique wildlife. As a Thai citizen, you must apply for an Australia Visitor Visa before your trip. This visa allows you to explore the wonders of Australia for tourism, visiting friends and family, or engaging in short-term business activities.
This comprehensive guide will provide all the information you need to get this tourist visa hassle-free. Let us help you during this journey, and enjoy a smooth application process!
Australian visa types available for Thai citizens
Thai visitors have many Australian visas available when planning a trip to Australia. It's essential to select the visa that aligns with your travel purpose. Here are the different visa types to consider:
Australia Visitor Visa for Thai nationals
The Australia Visitor Visa is designed for tourism, business activities, or short-term study lasting up to three months. To apply for this visa, you must complete an online application form and, in some cases, attend an appointment at an Australian Visa Application Centre (AVAC) or Australian Biometric Collection Centre (ABCC).
Student Visa for Thai citizens
If you intend to study in Australia for more than three months, you should apply for a Student Visa. However, acceptance into an Australian educational institution is a prerequisite for eligibility.
Skilled Visa for Thai nationals
The Skilled Visa grants permanent residency and allows you to work legally in Australia. To be eligible, you must earn at least 60 points in a points system. Factors such as job occupation, English language proficiency, age (below 45), and an invitation to apply are considered.
Australia Working Holiday Visa for Thai citizens
The Australia Working Holiday Visa is a temporary work visa designed for travelers between 18 and 30 who wish to have an extended holiday in Australia while also being able to work.
Family Visa for citizens of Thailand
The Sponsored Family Visitor Visa suits a Thai national seeking permanent residence in Australia to join a family member who is an Australian citizen or permanent resident.
If you're from another country than Thailand, you may be eligible to apply for other Australian tourist visas, such as the Australian ETA or Australia eVisitor Visa. Use our Visa Checker Tool to explore your options.
Suppose you're seeking further information for a prospective marriage visa (partner visa), a visa to enter Australia for medical treatment, or other visitor visa subclasses. In this case, we recommend you consult the Australian Embassy in Thailand.
Australian Tourist Visa: What is the Australian Visitor Visa (Subclass 600)?
The Australian Visitor Visa (Subclass 600) is a mandatory document for Thai citizens planning to visit Australia for tourism or business purposes. This visa allows for short-term stays in Australia, with a maximum duration of up to 12 months. Additionally, it permits study in the country for courses lasting less than three months.
Here are some essential points to remember when applying for the Australian Visitor Visa:
Have the convenience of completing the Australian Visitor Visa application form online to save time and effort.

Depending on your circumstances, the visa applicant may be required to schedule an appointment at an Australian Visa Application Centre or Biometric Collection Centre.

Occasionally, Australian officials conduct a visa interviews over the phone.
To ensure a straightforward visa application procedure, our iVisa experts are available to guide you through each step and assist you in submitting a flawless application.
Benefits of an Australia Visitor Visa
Australia is an attractive destination for visitors offering attractions for everyone. Applying for an Australian Visitor Visa provides several benefits, including:
Spend quality time with friends and family residing in Australia and creating unforgettable memories together.

Immerse yourself in Australia's breathtaking natural wonders and explore renowned tourist attractions that will leave you in awe.

Treat yourself to a relaxing cruise along Australia's picturesque coastline, basking in the sun and enjoying the refreshing sea breeze.

Enjoy the opportunity to participate in business meetings with Australian partners or conferences in Australia, expanding your professional network and exploring potential collaborations.

Enroll in a course or educational program for up to three months, gaining valuable knowledge and cultural experiences.

Make the most of this multiple-entry visa that allows you to enter and exit Australia multiple times within the visa's validity period.
Apply for an Australia Visitor Visa now!
Do Thai citizens need a Visitor Visa for Australia?
Thai citizens must apply for a Visitor Visa to visit Australia. The visa is mandatory to enter the country. If you're from another country, use our Visa Checker Tool to determine which visa is available for you.
How long can I stay in Australia with a Visitor Visa?
This visa to Australia allows you to stay three, six, or 12 months in the country. The consular immigration officer will determine the time frame based on your circumstances.
Australian tourist visa cost for Thai citizens
The Australia Visitor Visa cost may differ depending on the traveler's nationality. As a Thai citizen applying with us, you'll be charged USD $250.99 (including the government visa fee of US$101).
Australian immigration: Australia Visitor Visa requirements
When applying for an Australian Visitor Visa, you must fulfill specific requirements and submit the necessary supporting documents. At iVisa, we're committed to simplifying the process and providing comprehensive assistance, including a manual guide and a personalized document checklist. Here are the general Australian Visitor Visa requirements for Thai citizens:
Eligibility criteria for the Visitor Visa
To be eligible for an Australian Visitor Visa, the Australian government requires you to meet the following criteria:
To qualify for an Australian Visitor Visa, Thai citizens must meet the following requirements:
Have a valid passport.

Undergo a medical examination.

Demonstrate good character.

Provide proof of sufficient financial support for your stay in Australia.

Intend to visit Australia temporarily for tourism, business, or study purposes for less than three months.

Fulfill all the visa conditions and requirements.
Document requirements for the Visitor Visa
Thai applicants must provide the following documents when applying for the Visitor Visa:
A copy of your valid Thai passport, including personal details, passport issue and expiry dates, and immigration stamps.

A copy of your identification card (if applicable).

An applicant's photo – You can utilize our handy digital passport photo service for a quick and convenient solution. Additionally, Australian authorities may request additional supporting documents, such as:

Sufficient financial support proof, including bank account statements or evidence of financial assets.

Documents demonstrating ties to Thailand, such as employment proof or enrollment in an educational institution.

Travel itinerary or evidence of planned tourism activities in Australia, such as hotel bookings, flight tickets, and details of attractions you intend to visit.

Letters of invitation from relatives or friends in Australia (if applicable).

A valid police certificate.

Family register and composition form (if applicable).
We'll email a complete list of required documents according to your situation. Please note that you must translate documents if they're in a language other than English.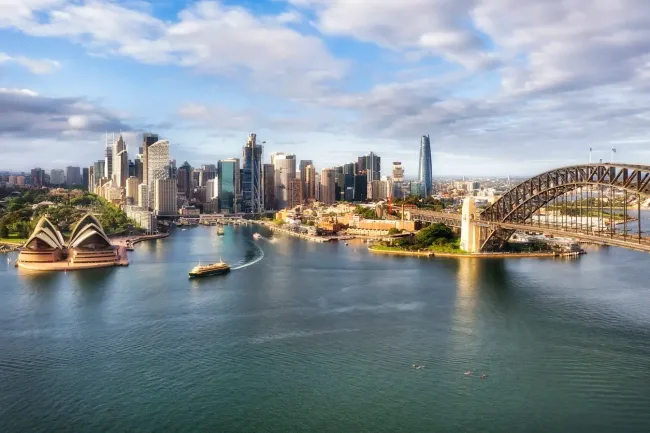 Passport requirements for the Visitor Visa
When submitting Australian visa applications, the applicant's passport must meet the following criteria:
Be valid for at least three months after arrival date in Australia.

Be in good condition.
Financial requirements for the Visitor Visa
To demonstrate that you have sufficient funds to support your trip and strong ties to Thailand, you can provide the following documents:
Three months of bank account statements

Pay slips or your employment contract

Tax records, income tax returns, or credit card statements

Proof of property ownership or a rental contract

Evidence of enrollment in a school, college, or university in Thailand

A letter from your employer
Photo visa requirements for the Visitor Visa
Ensure the photos for your Australia Visitor Visa application meet these requirements:
The photos must be in color and taken within the last six months.

The background should be plain white or light-colored without shadows or reflections.

You must directly face the camera with your head centered in the frame.

Maintain a neutral facial expression with your eyes open and mouth closed.

Head coverings are permitted only for medical or religious reasons.

If you wear glasses, ensure no reflections on the lenses.

The photo size should be 45mm high x 35mm wide (passport size).
Remember, you can get a 100% compliant photo in minutes using our digital passport photo service!
Visitor Visa requirements for children from Thailand
Are you traveling with your family? Thai children must present a valid visa to enter Australia. Furthermore, there are specific requirements for your child's visa application:
The child's birth certificate must contain the names of both parents or a family book with both parents' names.

It's necessary to provide the parents' identification cards, adoption papers, and guardians' identification cards.

Children traveling alone or with only one parent must provide a completed and signed Form 1229 - Consent to grant an Australia visa with the application. Attach copies of parents' or legal guardians' driver's licenses, passports, or other identification with a signature and photo.

If the child is not staying with a family member or on an organized tour and is not accompanied by a parent or guardian, it's necessary to provide a completed and signed Form 1257 - Undertaking Declaration. This form must be signed by the person responsible for providing accommodation during the minor's stay in Australia.
Health requirements for an Australian Visitor Visa
As part of the Australian Visitor Visa application process, you must undergo a health examination to assess any potential health risks to the Australian community. The health assessment follows guidelines provided by the Australian Department of Health and considers factors such as age, intended length of stay, and planned activities in Australia.
Character requirements for an Australian Visitor Visa:
Meeting the character requirements is crucial for Australian Visitor Visa eligibility. These requirements include:
Declaration of all criminal convictions.

Assessment of your criminal record, considering the severity and length of sentences.

Consideration of any pending charges or ongoing court cases.

Evaluation of your immigration history, including previous visa refusals or cancellations.

Assessment of any potential risk you may pose to the Australian community or national security.

Review your overall behavior and conduct, including any history of violence, harassment, or substance abuse.
Do you meet all the visa requirements? Then, it's time to apply for your Visitor Visa!
Australia Visa Guide: Visa Application Process
Applying for a Visitor Visa for Australia involves a slightly more complex process than the Australian ETA and Australia eVisitor Visa. However, there's no need to worry because we'll be there to assist you every step of the way, ensuring a straightforward process. Below is a step-by-step guide to help you navigate through the application process.
Gold tip for a hassle-free application: Download our iVisa app and enjoy the convenience of applying for a visa online directly from your mobile device. Also, check the status of your visa application anytime and carry your travel documents with you on the go.
A step-by-step guide to applying for a Visitor Visa
To apply for an Australian Visitor Visa, follow these four simple steps:
Step 1: Complete the visa application form on our website or iVisa app, providing your full name, address, travel history, and passport details.

Step 2: Double-check all the information to avoid any errors that could lead to a visa rejection. Securely pay the visa fee using PayPal, Venmo, Amazon Pay, or a credit/debit card.

Step 3: Upload all the required documents and click 'Submit.'

Step 4: Attend the Australian Visa Application Centre appointment to provide your biometric information and undergo health examinations.
Once you have completed these steps, you only need to wait for the government's response. Upon approval, you'll receive a confirmation email. We recommend printing it and carrying it with you to present at the airport.
Tips for a successful Australia Visitor Visa application
Follow these valuable tips and increase your chances of a successful Australian Visitor Visa application:
Ensure your application form is accurate and completed.

Submit all required documents.

Demonstrate strong ties to your home country, such as business commitments, employment, or property ownership.

Be honest and transparent about the purpose of your visit to Australia.

Include a well-written cover letter explaining the reason for your visit and providing any additional relevant information.

If necessary, prepare for the visa interview by practicing your responses and organizing all required documents.
Apply for an Australia Visitor Visa now
Common reasons for visa refusals
Be aware of these common reasons that may lead to visa rejection and avoid these mistakes:
Incomplete or inaccurate application forms.

There needs to be more evidence of financial support or inability to sustain yourself financially during your stay in Australia.

Past immigration or criminal violations.

Needs to be more ties to your home country.

Failure to meet the health or character requirements.
When applying with us, our iVisa experts will carefully review your application form and provide a detailed list of required documents to ensure a flawless visa application.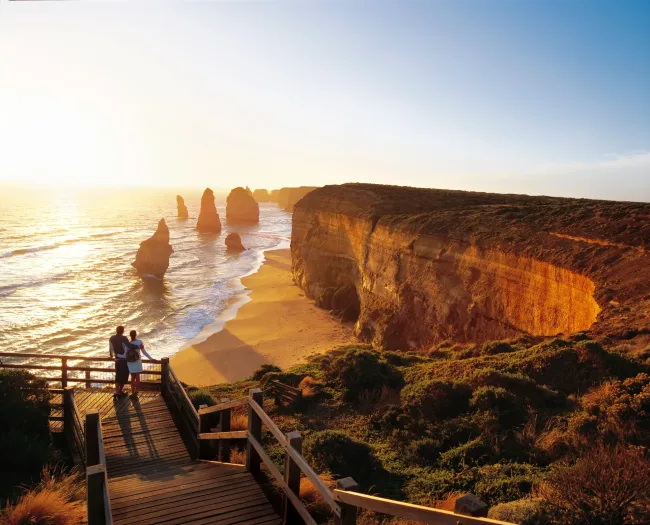 What to expect after submitting a visa application
After submitting your Visitor Visa application form, please note the following steps:
A phone call interview may be required in some cases. We'll inform you if this applies to your application and provide a comprehensive guide to help you prepare for the interview.

We'll help you schedule an appointment at an Australian Visa Application Centre (AVAC) or Australian Biometrical Collections Centre (ABCC) if your biometric information and health exams are required.

You'll receive a confirmation email with your application ID and reference number, enabling you to track the status of your visa application. We'll also notify you via email if any additional information or documents are required.

The outcome of your visa application, whether approved or denied, will be communicated through email.
Australia Visitor Visa processing times
Our Australia Guided Visitor Visa service involves two visa processing stages. The first one is for our team to process your application, which includes completing the visa application form, reviewing the provided information, and arranging an appointment for biometric information submission at a Visa Application Centre (VAC).
Australia Visitor Visa - iVisa processing time for Thai citizens:

30 days

.
Your application enters the Australian government processing stage once you submit the documents, provide biometric information, and successfully pass the required medical examination. On average, the government takes approximately 28 days (90% of applications) to process visa requests from Thai citizens. However, the processing time may vary depending on the Embassy's workload.
Australia Visitor Visa approval and denial
The Australian Government will review your visa application to determine whether to approve or deny your Visitor Visa. In the case of approval, you'll receive an email notification containing your visa grant number, confirming your successful application.
However, if your visa application is denied, the Australian Government will provide you with detailed reasons for the refusal. In such a situation, you can appeal the decision or reapply for the Australian Visitor Visa, adding other supporting documents to strengthen your case.
Benefits of applying for an Australia Visitor Visa with us
We understand the complexities and stress associated with the visa application process. To simplify it, we offer a hassle-free service to apply for Australia Visitor Visa. Here are the benefits you can enjoy using our service:
100% government-compliant: Our iVisa experts team will meticulously review your application, ensuring that all requirements set by the government are met accurately.

Personal iVisa Expert: Throughout the application process, you'll have access to a personal iVisa Expert who will guide you, address your queries, and provide assistance whenever needed.

Simplified application form: Our online application form is designed to be user-friendly, significantly shorter than the government's form, and includes clear, straightforward questions for easy completion.

Apply at your own pace: You can complete the form at your own pace, saving your progress and making necessary changes until it is error-free and ready for submission.

Step-by-step guide manual: We provide a detailed PDF guide with step-by-step instructions, helpful tips, and valuable insights to ensure a smooth and successful visa application process.
Additional resources for further information about the Australia Visitor Visa
If you require further information and assistance in planning your trip to Australia, you can refer to the following reliable sources:
Australian government's websites
Contact us!
Our dedicated iVisa experts are available to address any questions or concerns you may have regarding the Australia Visitor Visa application process or other travel documents. Feel free to contact our customer service team via chat or email us at [email protected].
Before your trip, remember to explore our Australia Travel Guide for valuable travel advice and tips to enhance your experience in Australia!