Traveling to Australia is one of the most exciting adventures you could ever imagine. Think about the gorgeous beaches, cosmopolitan cities, and the overall relaxing vibe of locals. The good news is that Turkish travelers can acquire the Australian eVisitor Visa for a smooth entry, and entirely online. You won't need to visit an embassy or consulate; everything is easier with iVisa. Learn more about visa applications now.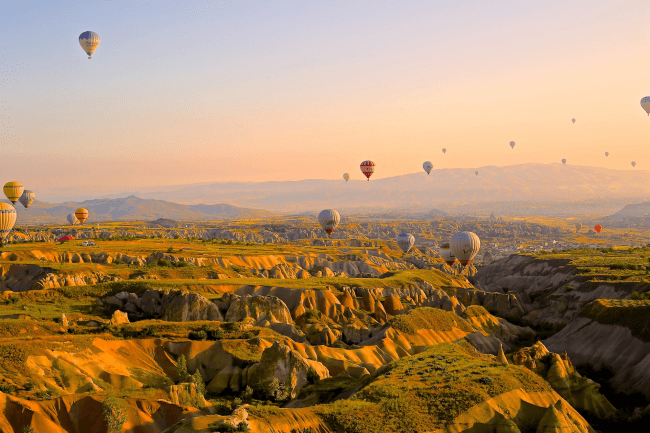 Enter Australia with the Australia Visitor Visa
Turkish travelers looking to visit incredible places in Australia must acquire the Australia Visitor Visa, also known as a tourist visa. Before you exit Turkey, you won't need to worry about anything because you can trust *iVisa with the digital process to obtain the official document online.
What is the Australia Visitor Visa or tourist visa?
The Australia Visitor Visa is an official document you can obtain electronically and is available for Turkish citizens looking for a short-term tourist or business visit. It's basically an electronic tourist visa that allows family and friends to visit. Your passport will be linked to the Australian visa once you get approval. This type of visa is available for over 50 nationalities, including Turkey. In other words, a citizen from Turkey can opt for this alternative.
It's a Multiple Entry, which means you can visit several times in a specific period. It's 1 year after arrival, and permits you to stay between 3 and 12 months, depending on your application. In addition, you can use it at land or sea borders.
How do I apply for the e-visa to Australia from Turkey?
It's simple because you only need to follow three steps:
Step 1: Fill out the [application form](/apply-online/australia9 with basic information. Choose a processing time according to what you need for your trip to Australia.

Step 2: Review your details and pay for the service with a credit or debit card.

Step 3: Upload the requested documents (if applicable) and submit the application.
The application may request a phone call and biometric information. You will receive an email confirming these details. Make sure to have it on a personal electronic device or hard copy. Turkish passport holders can get the Australia Visitor Visa as soon as they choose with iVisa. You can apply for the visa online now.
Australia Visitor Visa fees for Turkish Citizens
Turkish travelers can opt for one service:
Standard Processing Time: The regular service lets you get your visa in

30 days

for

USD $256.49

Remember that our website has the solution for all your visa requirements.
How long does it take to get an Australian Visa from Turkey?
It could take up to 4 months without iVisa services. We provide this Australian visa in just 30 days with our standard service.
Is it difficult to get a visa for Australia in Turkey?
Of course not! Make sure to have the requirements before starting the application with iVisa, and the process will go as smoothly as possible. The good news is that you only need an internet connection in Turkey and a few minutes to complete the online form. Leave the rest to the experts and wait for your document to arrive in your email soon. Explore all the visa types in Australia with iVisa.
What travel documents do I need when entering Australia?
All you need is a valid passport. The airport officer will check electronically if your passport is linked to your Australia Visitor Visa. Make sure to have the official document in hard copy in case the system isn't available when you arrive in Australia.
What are the visa requirements to apply for the Australia Visitor Visa?
A passport with a validity of at least 6 months. You also need to send a scan of all the stamps in your passport.

National ID scan.

Applicant's photo.

Supporting documents. The Australian government could request documents to support the reason for your trips, such as financial documents, itinerary, etc..

A credit or debit card to pay for the online service.

An email address to get the electronic document.
After submitting your documents, you won't have to attend an interview, but you may need to take a phone call and provide biometric information. Also, you will be required to take a medical exam. Get started now and travel to Australia soon. iVisa has all the answers about visa types, so you don't have to worry about anything.*.
Visit Australia
It's time to pack your bags and start exploring the marvelous places in Australia, like resort towns, beaches, and cities. Apply for a visa now, as Australian citizens are ready to welcome you and provide travel advice.
Sydney Opera House
The Sydney Opera House is an iconic landmark in Australia and frames the capital's landscape. Water surrounds the building on three fronts, next to the Royal Botanic Gardens. The construction was completed in 1973, costing more than 10 times the original budget. Inside the site, you can enjoy art performances, galleries, restaurants, a concert hall, and more. Head to Mrs. Macquarie's Chair to get the perfect picture of the building. Also, you can take a harbor cruise and enjoy it from a distance.
Great Barrier Reef
Since 1975, the Great Barrier Reef Marine Park has protected the fragile marine life of Australia. There are 3,000 coral reefs, continental islands, coral cays, and mangrove islands. The park extends 2,300 kilometers along Queensland on the east coast of Australia. It's ideal for people looking to dive or snorkel. Aside from the magnificent coral reefs, you can see over 1,600 tropical fish species, dolphins, turtles, rays, and clams. You can also enjoy underwater life with the viewing stations and glass-bottom boats. This Australian destination is waiting for you.
Uluru-Kata Tjuta National Park
Visit the Red Center of Australia and explore Uluru, formerly known as Ayers Rock. One of the most spectacular wonders in the country. The red monolith is the center of Uluru-Kata Tjuta National Park, a site managed by Parks Australia and the indigenous communities known as the Anangu people. The rock rises 348 meters, and the name means a shadowy place in the Aboriginal dialect.
Travel restrictions due to COVID-19
Do I need to get the vaccine?
No, you don't need a vaccine to enter Australia. Currently, all restrictions have been lifted, even for Australian passport holders.
Remember that you will still need the e-visa for smooth entry.
Do I need to quarantine?
No, you don't. You also don't need to wear a mask on international flights.
Where can I get more information?
You can connect with our customer service agents via chat or email at [email protected]. They can answer all your questions about the e-visa application to get to Australia. They are available 24/7 and ready to help you with your needs. In addition, they know all about Turkish visas and the requirements from the Turkish government.