Australia's ETA (subclass 651) program starts in 1996, but the latest ETA version was launched in 2013, and now many nationalities have the opportunity to apply such as Belgian citizens.
The process is simple. Travelers from many nationalities can use the website to apply for the Australian ETA and obtain it some minutes.
The 2013 ETA update provides more options, now it allows you to travel to Australia for tourism and business purposes, and this is divided into ETA and eVisitor for Belgian citizens. In iVisa we decided to bring you this article with all the information you may need before applying to your eVisitor authorization.

Frequently Asked Questions (FAQs)
Do I need a visa to visit Australia if I am a Belgian citizen?
What you need as a Belgian citizen is an eVisitor Visa, which is not the same as many visas we already know around the World.
What is an Australian eVisitor?
The eVisitor Visa is a new travel document available to European Union nationals members who want to visit Australia. This special visa is designed as an online adaptation visa for travelers from the EU.
Keep in mind that is mandatory to be outside Australia when you start your application. It is suggested to avoid making any travel arrangements until you have your eVisitor approved.
How Long the eVisitor Visa allows Belgians to stay in Australia?
Belgians can stay in the country for no more than 90 days Per Entry.
How long is an Australian eVisitor validity?
This e-Visa document has a validity of 1 year after arrival.
What documents do I need to apply for this eVisitor?
Indeed, online application is more convenient than visiting an Australian embassy but it does not mean that you won't have to provide some documents. It's recommended to have it all together before you start to fill the form. iVisa requires just a couple of documents. This what you need:
Valid passport – Belgian citizens traveling to anywhere in the world need a passport, and Australia is not an exception. Obtaining a passport is quite simple. You just need to do is go to the issuing authority in your own country.

Credit/Debit Card or Paypal account – the last step before you submit your application is the payment for iVisa's services. For your convenience, iVisa accepts either credit or a debit card payment. Besides, PayPal payments are allowed as well.
Apart from that, you will need to answer some questions. Most of them are just general questions so don't worry. You just have to explain your travel purposes and other few details. You should answer accurately.
After you have completed this part, you can continue and complete the application form. It is easy to fill, but if you need some help do not hesitate to contact iVisa's support service. They are available 24/7.
What are the fees and processing time?
Both aspects are related, one depends on the other. The Australia eVisitor itself is free; what you're paying for is iVisa's service fee since the eVisitor can take several hours or days to get it by yourself.
iVisa provides three excellent options for Belgian citizens, and you can select the one that you prefer. The faster you want your application to be processed, the higher the service fee will be. Here are the options:
Standard – this option is the most common because it is the cheapest, it just costs USD $26.49. Your visa will arrive pretty fast, it takes 4 days for your application to be completely processed.

Rush – compared to regular option, the Rush processing time is faster, you will have your approved Australia eVisitor within 2 days. This one costs USD $47.49.

Super Rush – this is the fastest option that iVisa provides. It is the perfect option if you want to apply on your way to the airport. Your eVistor will be completed within just 24 hours, and it costs USD $77.99.
Do I have to follow certain conditions to apply to the Australia eVisitor?
Sure, there are 4 important conditions you should consider before you start the application:
Business visitor activities: Keep in mind that you're cannot engage in any work activity other than a business visitor activity in the period of your travel to Australia.

Maximum months to study: Once you're in Australia, you are not allowed to engage in any activity regarding studies or training for more than three months.

Tuberculosis free: You cannot have tuberculosis if you plan to travel to Australia.

Criminal conditions: you mustn't have any criminal record when entering into Australia.
How long does is the ETA application?
You will just spend 10 minutes or even less to finish the application form.
Can I extend my eVisitor document to Australia?
You can't stay in Australia longer by extending your eVisitor. In that case, you must apply for a new visa if you want to stay longer.
Can I study with this Australia eVisitor?
As mentioned before, you can study just for 3 consecutive months in total on this visa. But if your main reason for traveling to Australia is studying, a student visa might be more appropriate.
How can I apply for this eVisitor Visa?
When thinking about application forms, we think of something complex, right? Well, iVisa has designed one of the simplest and effective forms you will ever have to complete.
You have to follow only two easy steps:
In the first one you need to provide general information like name, passport info, address, and so on. You must also select the processing time of your preference at this point.

In the second step you just need to review, revise, and do the payment. Finally, hit the submit button and that's it. The eVisitor will be ready in just a second.
How does my Australia eVisitor Visa will look like?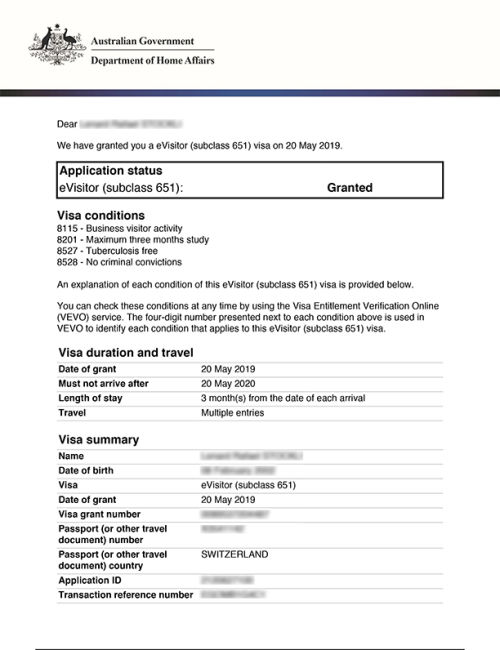 What is next after I finish my application form?
After you submit your application , just wait for your eVisitor document to arrive by email in the period you selected. You won't deal with the embassy. We will do it for you.
What happens if I made a mistake on my application, can I modify my eVisitor after it's issued?
Unfortunately, no. We cannot modify any information on the ETA once it's issued. If you realize that you made a mistake before your ETA has been submitted, please contact us ASAP you have two ways to do it: via online chat or you can send an email to [email protected]
What does the Australia eVisitor allows me to do?
Your eVisitor lets you travel for both tourism and business purposes. If you are traveling as a tourist visitor, this visa allows you to cruise or spend a holiday visiting your family or friends.
If you are in Australia for business, this visa allows you to make general business or employment inquiries. Remember that you cannot work with this eVisa.
Is it safe to use iVisa to get my ETA?
Yes, for sure! We give maximum safety for your personal information and invest a lot to protect our database to provide you security and make you feel trusted. Your personal data is 100% safe in our hands. You can check what thousands of happy customers say about us in this link.
I have more doubts, where can I find more info?
If you have more questions to be answered, please click here and start chatting with one of our customer service representatives. You can find more info and FAQs here.
Getting an Australia ETA for Belgian citizens is so simple. No effort nor time is required from your part. It is a much better alternative to visiting an Australian embassy, isn't it? That's why we encourage you to start your adventure by applying to your eVisitor today by the easiest way possible and just worry about the luggage!