Have you heard about the Australian e-Visitor permit? This is an important document that you can obtain quickly by using an online application form. With this document, you can easily enter Australia with your Danish passport, as Denmark is one of the countries that's under the visa-free policy. In other words, you don't have to visit an embassy to get an Australian visa for Danish citizens, and better yet, you don't even need a Paper Visa.

What you actually need is the Australian e-Visitor, which is available at iVisa.com. We can confirm that our service is reliable and fast, so it can be pretty convenient for you, especially if you're looking for an effortless system. Our platform isn't complicated and our servers are always available, meaning that you can apply at any time without stressing it being a lengthy process.
Australia's ETA (subclass 651) program is the official name of the e-Visitor. This program began in 1996, but the latest ETA was implemented in 2013, and different nationalities can apply, including Danish citizens.
You might want to know more interesting details about the Australian visa for Danish citizens, so we suggest you continue reading the questions listed below.
Frequently Asked Questions
Do I need a visa to enter Australia if I'm Danish?
Before planning your trip to Australia, keep in mind that there's not an Australian visa for Danish citizens but an eVisitor document, which is a travel requirement that gives you valid permission to visit Australia for business and tourism.
What is an Australian e-Visitor?
The Australian e-Visitor is an online travel document that works quite similar to the ESTA in the U.S. This document is based on the ETA System that Australia activated in 1996. The Electronic Travel Authority (ETA) grants you valid permission to enter Australia thanks to its modern system that's electronically linked to your passport.
What documents do I need to apply?
Applying online is more convenient than going to an embassy, but it doesn't mean you won't need some documents first. It's much better if you put them all together before completing the online form that iVisa.com created. This is the list:
Valid passport: this is probably the most important document, and you should have it ready for any type of international travel you have in mind.
Method of payment: you have to pay for iVisa.com's services before you submit your application. Therefore, we recommend you have ready your debit/credit card or PayPal for that matter.
Email address: you need this to receive your document safely.
Once you confirm you have all the documents required, you can complete the application form. You can also contact iVisa.com's support service by chat if you have any concerns.
What are the processing times and fees?
What you're paying for on this website is iVisa.com's service fee because the Australia eVisitor is free. However, it can be tricky to get it by yourself.
If you're Danish, you can choose one of these processing times depending on the urgency you have for the Australian e-Visitor:
Standard Plan: people often choose this option because it's the most affordable as it only costs

USD $26.49

. Even so, your visa will arrive pretty fast. It takes

4 days

for your application to be ready.
Rush Plan: the Rush processing time is faster than the previous one. For

USD $47.49

, you'll have your Australian e-Visitor ready within

2 days

.
Super Rush Plan: this is the fastest available option you can find on iVisa.com. It's great if you want to apply on your way to the airport. Your e-Visitor will be ready within just

24 hours

, and it costs

USD $77.99

.
Are there any conditions to consider before applying for the Australia e-Visitor?
You only need to consider these 4 conditions before applying for the eVisitor:
Business visitor activity: You cannot engage in any work other than a business visitor activity during your journey to Australia.
Maximum of three months' study: While you stay in Australia, you shouldn't exceed more than three months of study.
Tuberculosis free: You shouldn't have tuberculosis when traveling to Australia.
No criminal conditions: You cannot have any criminal convictions.
You can read more about these conditions on iVisa.com.
How can Danish citizens apply for an Australian e-Visitor?
Application forms can be complicated, but with iVisa.com you don't have to worry about it because we offer one of the easiest online forms. It only consists of these steps:
The first step is to offer general information like name, address, passport info, and more if necessary. You have to select the processing time you want as well.
As a second step, verify your answers and correct them if necessary.
Third, attach the documents required to the application form and hit the submit button. The document will be ready in no time.
Don't forget that you can reach out for assistance while applying. iVisa.com has a fantastic support service that you can use 24/7 through the online chat page.
What does the Australia e-Visitor look like?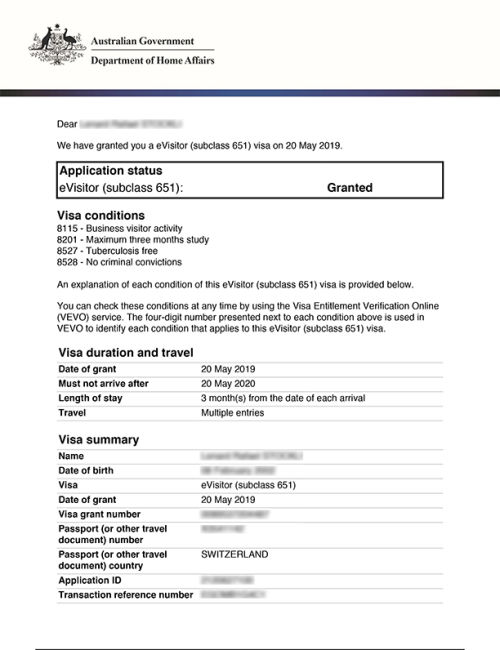 I already submitted my application form, what should I do next?
All you have to do after you send the form is wait for the e-Visitor to be delivered. This document will arrive via email in the time frame you chose. You don't have to deal with the embassy.
We recommend you present a printed version of your Australian eVisitor along with your passport once you enter Australia, even if it's already linked to your passport.
Can I work as a volunteer with an e-Visitor visa?
Unfortunately, having an Australia eVisitor doesn't mean that you can work in Australia that easily. You cannot work in this country with that document because you'd need another type of paper. However, you might be able to work as a volunteer only if:
Your main purpose in visiting Australia is tourism and voluntary work is related to it.
The work is genuinely voluntary and you are not paid for it, other than for meals and accommodation.
The work would not otherwise be done in return for wages by an Australian resident.
Is it safe to use iVisa.com to get my e-Visitor?
Yes, you can use our services to get the Australian visa for Danish citizens.
We work with a professional team that offers maximum protection for your personal data, in addition to the investment we make in the security of iVisa.com's database. You can check what thousands of happy customers say about this professional service by clicking here.
I have more unanswered questions, where can I find more info?
You might still have questions about the Australian visa for Danish citizens, so feel free to start chatting with one of our customer service representatives. On the other hand, you can find more info and FAQs here.