Australia started to allow citizens from countries of the European Union to apply for a eVisitor (subclass 651) Being Spain one of those countries, Spanish citizens can now apply online for this eVisitor. The reasoning behind this is simple: international travelers can use the web to apply for their visa and get it right away. iVisa helps you in this process to get your eVisitor as quick as in 24 hours.

Frequently Asked Questions (FAQs)
What is an Australian e-Visitor for Spanish Citizens?
It's a travel visa that gives permission to citizens from the European Union to visit Australia.
Remember! you must be outside Australia when you apply.
What documents are necessary?
Applying online is more convenient than going to an Australian embassy. However, it does not mean you won't be required to provide some documents. It is best if you put them all together before moving to filling out the form. iVisa requires just a couple of documents. Here is a list of what you need.
Valid passport – Spanish citizens traveling internationally require a passport, and Australia is no exception. Getting a passport is really easy. All you need to do is visit the issuing authority in your own country. Your passport has to be valid for at least three months from the date of entry in Australia.

Mode of payment – you will be required to pay for iVisa's services, before you can submit your application. For your convenience, iVisa accepts either credit or debit card. Additionally, PayPal payments are accepted as well.
Aside from two things listed above, you have to answer a few questions. Most are just simple question so don't worry. Simply state the reasons for your travel and among other things. It is advisable that you answer the questions accurately.
After this stage is finished, you can proceed and complete the application form. Aside from being easy, you can also contact iVisa's customer service if you have any concerns. They are available 24/7.
What are the processing time and fees for Spanish citizens?
These are discussed together because processing time depends on fees. What you're paying for is iVisa's service fee because the Australia eVisitor itself is free. The company provides three excellent options for Spanish citizens, and you can choose the most convenient for you. Keep in mind that the faster you want your application to be processed, the more expensive the service fee will be. Here is what you can choose:
Standard Processing – people often choose this option because it is the most affordable. It costs just USD $35.99. Even so, your visa will arrive pretty fast. It takes 4 days for your application to be processed.

Rush Processing – comparing it to the previous option, the Rush processing time is faster. For USD $68.99 you will have your Australia eVisitor ready within 2 days.

Super Rush Processing – this is the fastest available option iVisa can provide. It is ideal if you want to apply on your way to the airport. Your eVisitor will be ready within just 24 hours, and it costs USD $100.99.
How's the application form?
Application forms tend to be complicated, right? Well, iVisa's application form is one of the simplest that you will ever have to complete. It only consists of two easy steps.
The first step consists of general information like name, address, passport info, and so on. You must also select the processing time you want at this point.

Finally, review your answers and revise if necessary then handle payment. Finally, hit the submit button and start preparing for your trip. The eVisitor will be ready in no time.
How Long can Spain citizens stay in Australia with the eVisitor Visa?
Spain citizens can stay in Australia for a maximum of 90 days Per Entry.
What is the validity of the EVISITOR, and how many entries am I granted?
This eVisitor is valid for 1 year after arrival, you have a Multiple Entry visa.
How does an Australia e-Visitor Visa look?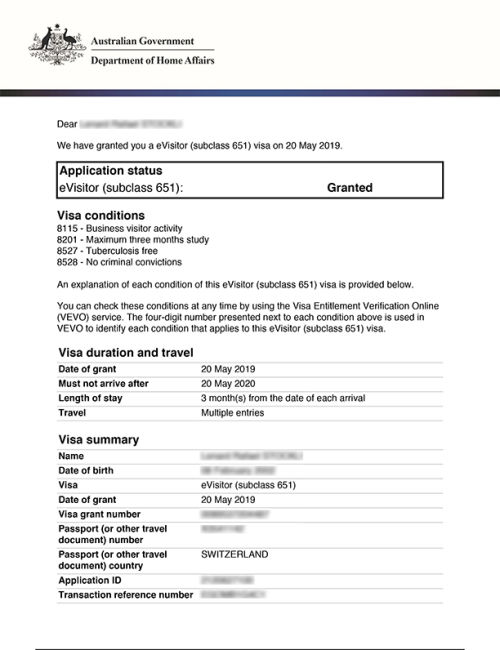 What can I do with this e-Visitor?
This eVisitor lets you travel for tourism AND business purposes only. But you cannot work with this visa.
Is it safe to use iVisa's services?
Yes, it's totally safe! iVisa offers maximum safety for your personal information, and we have invested a lot in the security of our database for our clients to feel safe. You can check what thousands of our customers say about us in our testimonials.
Where can I find more FAQs?
In case you still have questions, click here for a more faster and more private answer. Our customer service representatives will gladly help you. You can find more information here too.
It is a very pretty straightforward process to obtain an Australia eVisitor for Spanish citizens. It requires almost no effort and time on your part. Sounds like a better alternative to visiting an Australian embassy, right?