There are several visa types the Australian Government provides for travelers around the world interested in discovering this marvelous country, whether it's for business, studies, vacations, medical treatment or visiting friends and family.
Now, if the purpose of your trip to Australia is tourism, or visiting friends and family, the Australian Tourist Visa (Subclass 600), among other tourist visas available, might be the right fit for you.
Multiple questions might be going through your mind right now, but don't worry! iVisa is here to help you navigate the process and to prepare everything for getting your Australian tourist visa.
But hey, first things first. Let's start by taking a look at what the Australia Visitor Visa is.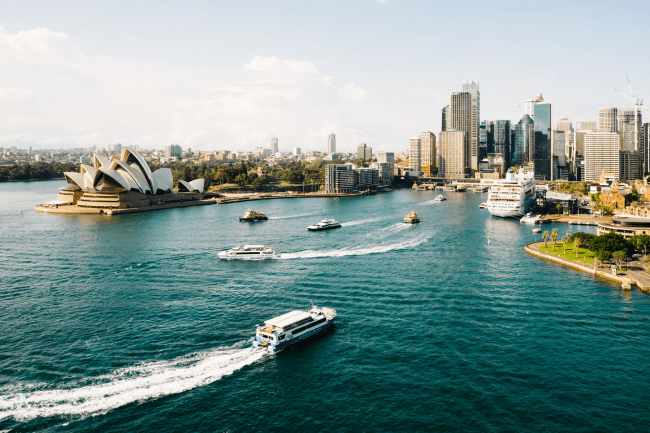 What is the Australia Visitor Visa (Subclass 600)?
It is a temporary visa, ideal for travelers whose purpose is tourism; to travel around the country, go on a cruise or visit friends and family members. It is issued by the Australian Immigration Office in the form of an official document that includes the travelers information as well as the conditions of the visa.
Some benefits of applying for this tourist visa with iVisa are:
You won't need to go to an interview (but occasionally, applicants might need to go attend a phone call)

If you are granted a multiple-entry visa, you will be able to enter and leave Australia for unlimited times during the valid period of your tourist visa. On the other hand, if you are granted a single-entry visa, you won't be able to re-enter Australia on the same visa.

With this visitor visa, you can stay in Australia for up to 12 months.
What activities are you allowed to do with the Australia Visitor Visa?
Tourism and holidays.

Visit friends.

Visit relatives and family.

Go on a cruise.

Study for up to three months.

Enroll in short courses for up to three months.

You might be able to do volunteer work.
What activities are you not allowed to do with the Australia Visitor Visa?
Business or medical treatment

You can't work.
Now that you have a bit more clarity about what this type of visa is, what are some of its benefits and the can and can't do's, let's take a look at the requirements and application process.
How to get Australia Visitor Visa with iVisa?
As with any other visa application process, you will need to start by validating if you are eligible for this type of visa. To assess your eligibility, check the requirements you need to meet below:
Have sufficient funds to cover your expenses during your stay in Australia.

Have zero debts with the Australian Government.

Be a genuine visitor, which means that you have the honest intention of staying in Australia for a limited period of time and that you will comply and adhere to any conditions granted on your visa.

Meet the health requirements: Australia has one of the best and highest health standards worldwide. Therefore, the Australian Government requires most applicants to meet their health requirements. For more information on this topic, please check the article "Meeting our health requirement".
Once you confirm you are eligible for the Australia Visitor Visa, you will need to gather all the required documents and submit them electronically or to your nearest Australian Embassy. You can also use our Visa checker tool to determine your nationalities eligibility.
What documents do you need to submit? We have built the list of required documents you must submit in order to apply for this type of visa. Please note, if your documents are not in English, you will need to translate them prior to the submission of the application.
Documents to apply:
Original valid passport if applying online, OR two copies of the personal information and photograph section of your passport if applying via post mail.

National ID (scan or image)

Scans of the passport sheets that contain immigration stamps.

Applicant's photograph.
The following, is a list of additional documents the Australian Government might request after submitting your application. To speed up the process, it is recommended to gather the additional documents that apply to your specific case and that you could be therefore asked for to enter Australia:
Financial statements (or any other sort of evidence) that prove that you can support your expenses for the period you are planning to stay in Australia.

Student or employee certifications that prove that you will return to your country.

Trip itinerary or any other evidence of your planned touristic activities in the country.

Letter from a friend or relative inviting you to visit Australia.

Other documents might be required by the Australian Government during the process.
Once you have put all the required documents together, you will be ready to submit your application. Here we will explain to you how to apply via iVisa, where you will get guidance from an expert and a manual guide to support you throughout the process.
Application process:
Applying with iVisa for your Australia Tourist Visa is very simple, just follow the 4 steps described below and you will be ready to go:
Application form: fill in the simplified application form iVisa provides you with. Before proceeding with the second step, make sure all your information in the application form is correct, otherwise your process may be rejected and the processing time will be longer.

Payment: the cost of this tourist visa is 150 AUD. You might also have to pay for additional costs such as health checks, police certificates and biometrics, all of them under the discretion of the Australian Authorities. You can pay with a credit or debit card.

Health Insurance: upload the required documents to process your insurance.

You will receive a confirmation once your application is received. Wait for the Australian Authorities to approve and issue your valid Australian visa. The electronic travel authority will communicate to you their decision via email. You will be informed of your visa number, issue date, and visa conditions.
How long does it take to get the Australian Visitor Visa?
The processing times for this visa subclass (600) are as follows:
25% of applications: 16 Days.

50% of applications: 39 Days.

75% of applications: 63 Days.

90% of applications: 4 Months.
iVisa helps you throughout the process, and we will help shorten the processing times of your tourist visa, and greatly increase the chances of it being approved in less than 4 months.
Where can I find more information about the Australia Visitor Visa?
If you have questions about our services or products, please contact our customer service team or write to [email protected]. We will be willing and happy to help you 24/7.