Azerbaijan has allowed the citizens of 93 countries to apply for an electronic visa if they plan to visit. As a result, tourism has boomed, and most people are delighted about the fact the application process is simple and can be completed over the internet. This process is much more quick and convenient than having to go to your local embassy to apply for a consular visa. Using the services of iVisa you will be able to have your eVisa to Azerbaijan in as little as 4 Business Days.

Frequently Asked Questions (FAQs)
Am I eligible for an Azerbaijan eVisa?
It depends on your nationality. You can use the visa checker to check your eligibility.
What is an Azerbaijan eVisa?
An Azerbaijan eVisa is an official document that provides authorization to travel to and from Azerbaijan and is electronically linked to the traveler's passport. Citizens from over 80 countries can apply for this type of visa, which was introduced by The Republic of Azerbaijan in 2017.
How long can I stay in Azerbaijan with an eVisa?
Visitors with an Azerbaijan eVisa can enter to Azerbaijan for a maximum of 30 days in Total and you will have a Single Entry.
Also, this visa has a validity of 90 days after issued.
What are the documents required to apply?
To apply with iVisa and get your Azerbaijan eVisa, you will need:
Valid passport – the general requirement is that your passport needs to be valid for three months after your visa expires.

A passport scan – we only need the information page of your passport. Here you will find instructions on how to make the best passport scan for your application.

E-mail address – when applying with iVisa, your visa will be sent to you via e-mail, so make sure that you introduce a valid e-mail address you have access to.

The address of your destination – We will ask you the destination location name and street address.

Means of payment – iVisa accepts multiple methods of payment such as credit and debit cards. Do not forget to double-check the spelling before submitting your application.
What are the processing times and prices?
Three options are available for you:
Standard processing – your visa application is processed within 6 Business Days, and the price is USD $87.99 (service fees included).

Rush processing – you will receive your visa within 5 Business Days, and the total price of it is USD $139.99 (service fees included).

Super rush processing – this is the fastest option. You will get your eVisa in only 4 Business Days, and you will be charged USD $202.99 (service fees included).
Click here to start your application.
How long does it take to apply for an Azerbaijan eVisa?
The process to apply online will take you less than 10 minutes. Then, iVisa will take care of the rest. Shortly, we will notify you about the status of your application.
How can I apply for an Azerbaijan eVisa?
As for the application form itself, it consists of three easy to comprehend steps:
Step number one will ask you to fill in your basic information such as name, date of birth, passport info, and so on. You are also required to select the processing time in this step.

The second step of the application consists of a simple revision and payment. Since the information you put in is valuable, you need to check things like accuracy and spelling. Also, you need to pay for the visa itself, as well as for the services provided by iVisa. You can do that using a credit or a debit card.

The third and last stage of the application process is just as simple as the previous two. You are required to answer a set of personal questions, like the purpose of your trip and such. It should not take more than 5 minutes, depending on how fast you can type. Also, this step is reserved for photo upload.
Once you go through all three steps of the Azerbaijan visa application form, you can submit it and wait for your visa to arrive in the time frame you have chosen.
How does the Azerbaijan eVisa look like?
This is how it look like: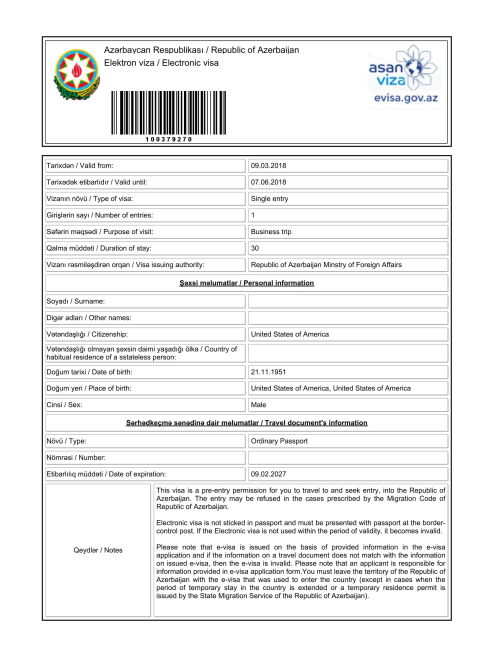 Is it safe to use iVisa to get my Azerbaijan eVisa?
iVisa provides maximum safety for your personal data, confidentiality, and we invest a lot in the security of our database. Your personal information could not be safer. You can check the testimonials of hundreds of happy customers here.
I have more unresolved questions, where can I find more info?
For a faster resolution click here and start chatting with one of our customer service representatives. Alternatively, you can find more info and FAQs here.