Residents of India may enjoy traveling across the globe to many countries, such as Bahrain. If you've ever wanted to travel abroad from India to Bahrain, you might have a few questions about the traveling process and the documentation you'll need for your trip.
You also should know that if you want to travel to this country, you have to apply for a Bahrain e-Visa, which is something effortless that will only take you a few minutes with iVisa.com.
Every country has its individual traveling rules and regulations. Here's what you'll need to know when traveling from India to Bahrain.

Frequently Asked Questions (FAQs)
Do I Need to Contact the Bahrain Embassy for Travel Arrangements?
No – there are ways to travel to Bahrain without having to contact the embassy directly. The Bahrain embassy is involved in managing the travel and visa approval, however, working with a professional visa company like iVisa.com ensures you don't personally have to reach out to any foreign embassies.
If I'm from India, am I obligated to get a visa to enter Bahrain?
You must have an e-Visa to enter Bahrain and that's it. You could also get a consular visa, but this way can be more difficult for you.
Where Do I Have to Go to Apply for a Bahrain Visa?
You don't have to leave your home to apply for a visa into Bahrain. If you're traveling from India to Bahrain, all you need to do is apply for an eVisa online with iVisa.com. The entire process is simple, quick, and will allow you to receive your visa electronically, so you don't have to go anywhere.
How Long Does it Take to Receive an e-Visa for Bahrain from iVisa?
The online application process can be done in a half hour using this online form. Your payment is also processed online. After you submit your application, iVisa will reach out to the Bahrain embassy on your behalf. You can expect your visa to be emailed to you according to how fast you want your Bahrain eVisa since there are different options for you to have it.
What Do I Need to Apply Online?
To apply online for your Bahrain e-Visa, you'll need the next documents:
Passport Personal Details Scan

Return Ticket

Proof of Accommodation

Most recent 3 months bank statements (if applicable)

Last Page of Passport (if applicable)

Justification Letter (if applicable)

GCC Residence Permit (if applicable)

Travel Authorization by Employer or University (if applicable)
Remember that your passport should be valid for the length of time you will stay in Bahrain, or at least as much as your visa allows you to. It should also have at least one blank page.
How Long is My Bahrain Visa Valid?
Your Bahrain e-Visa will last for 30 days Per Entry. If you do apply via iVisa, we'll make sure the date starts on the day of your trip, so that your visa won't expire while you're on your vacation.
How Much Does it Cost to Obtain My Bahrain e-Visa?
iVisa makes sure you get the fairest visa prices possible. Your e-visa costs USD 79.00, but the processing fees will have different prices according to how fast you want it. Here are your options:
Standard process: With this option you pay

USD 137.99

and get your visa in

7 Business Days

(service fee and visa cost included).
Rush process: If you choose this method, you'll have your e-Visa in

6 Business Days

, but you have to pay

USD 185.99

.
Super Rush process: This is your last but fastest option. You receive your e-Visa in

5 Business Days

after paying

USD 203.99

.
How long does it take to apply for this e-Visa?
You'll only spend 15 minutes or even less to apply for a Bahrain eVisa.
How can I apply for a Bahrain e-Visa?
When application forms cross your mind, you probably think of something complicated. But with iVisa, you can forget about that. We created one simple process with three steps:
The first step consists of filling in general information like name, address, passport info, etc. For this part, you also select the processing time you prefer.

The second step is a revision, especially of the information you'll send to iVisa.

The last step is to continue with the payment. After that, you can then hit the submit button and start planning your trip peacefully.
How many times can I enter Bahrain with the e-Visa?
Your Bahrain e-Visa has Multiple Entry, so you can you can enter the country more than once with no problem. Just don't forget that this e-Visa expires 30 days after issued.
Can I extend my e-Visa to stay longer in Bahrain?
If you want to extend your Bahrain e-Visa then you have to visit the National Directorate, Passports & Residence (NPRA) so they can help you with the process.
How will I know if my Bahrain e-Visa is ready?
After you finish your application form, we'll send you an email as soon as the Bahrain Government approves your visa.
Is there a sample of this e-Visa?
Yes, this is what it looks like: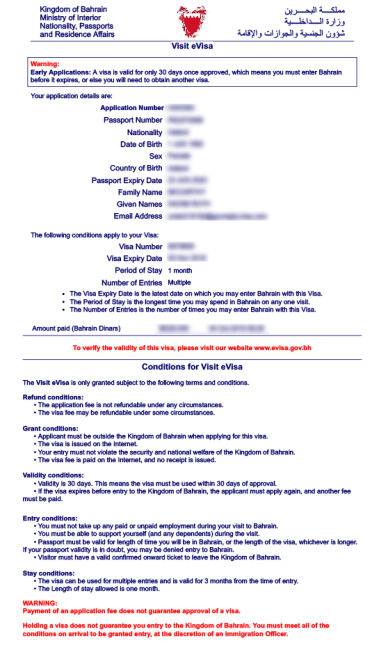 Do Indians have to enter Bahrain on the exact date specified in the e-Visa application?
Remember that the validity period of your Bahrain e-Visa starts from the date specified in your approved e-Visa document. That means that you can enter Bahrain on any date within this validity period.
How Secure is the iVisa Application Process?
iVisa.com is highly rated in security and has top-notch methods for ensuring all user accounts are private and secure. If you're worried about your personal information being exposed, you can trust iVisa to protect you.
Where can I read more information about Bahrain?
It's ok if you still have questions. You can check here for more information about Bahrain and its tourism. On the other hand, if you want to talk to one of our customer service agents, then click here, we'll be happy to assist you.
iVisa makes this e-Visa process easier than ever. It has a 9.5 'Excellent' rating from more than 17,000 reviewers on Trustpilot. You're just one click away from getting your visa just as fast as many of our clients do.
Traveling to Bahrain from India is an easy process with our help. Simply apply online and let iVisa work out the details with the Bahrain Embassy.