After being ordered to stay at home for a couple of months it's good to know that destinations like Barbados are reopening borders for outsiders. It means you will be able to travel again to this Caribbean Island and enjoy their 70 miles of beaches.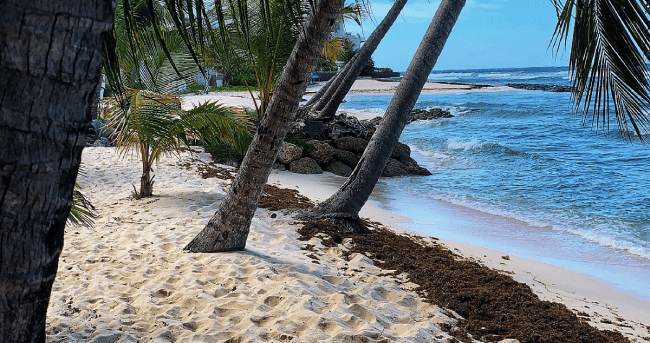 Its crystal clear waters and white sands give locals and incoming visitors a chance to spend time in the great outdoors while still keeping a distance between each other. Although not all regular tourist activities and restaurants are open to the public, most of them are taking their own measures to work but adapting to COVID-19 health regulations.
To discover the local reserves, botanical gardens, and more, visitors will only need to follow the new regulations established by the Barbados government. For one to arrive, travelers must first apply for an ED card, which is a travel authorization with the purpose of a health declaration file. It will include your current relation or contact with anyone that has had the coronavirus.
The visitors will also be required to follow the Barbados mask policy and keep their masks on at all times at the airport, on the taxi ride, on a local bus, or any place where you can closely contact with other people.
In addition to the Barbados health declaration form, you will be requested to take a COVID-19 test and show your results before departing or on arrival. Below are the most essential FAQs you will need to understand the purpose of the ED Card, and how iVisa.com can help through the application process.
Frequently Asked Questions
What is the Barbados ED Card?
The ED Card is an embarkation/disembarkation form created by the Barbados government to request needed information about the travelers that are arriving. In regards to COVID-19, it's an easy way to track how many people are coming with a low or high risk of spreading the virus.
It also serves to improve the operational process of doing business between locals, visitors, and investors. Arriving with an approved Barbados ED card is mandatory for all incoming visitors, even from the Caribbean countries.
How does the Barbados Mask Policy work?
Although Barbados has opened their doors to foreigners, there are still some requirements that incoming visitors and locals must all follow.
Travelers that want to enter Barbados must first apply for a Barbados ED card before departing and will be asked to show the document results along the way.
Additionally, when in the country, there is the Barbados mask policy to follow. This is that everyone, children included, must wear masks while being outside and in public spaces where there are too many people. You must also stay at least 1 meter (3 feet) away from other people.
Do I need a COVID vaccine or vaccination certificate to enter Barbados?
COVID vaccination passports or certificates are no longer mandatory to enter Barbados. Since information may change quickly, we advise you to follow up on the latest Barbados travel updates and/or contact your local embassy.
Do I need a COVID-19 test result to enter Barbados?
COVID testing requirements: There are no testing requirements.
Do I need to quarantine once I arrive in Barbados?
Quarantine requirements: There are no quarantine requirements.
Which citizenships need to apply for a Barbados ED Card?
All travelers that wish to stay in Barbados or arrive for transit must go through the ED card application process to embark on their flight. Every passenger must include information on their previous travels during the last 21 days to verify your contact with any COVID-19 patients, or the virus.
What changes is that citizens coming from "Bubble" countries do not need to present a COVID-19 PCR antigen test before landing in Barbados.
What do the travelers need to do upon arrival?
Part of the Barbados ED card application form requires passengers to comply with taking a COVID-19 test on arrival to the country. Once there, whether they come from a low-risk country of contagion or not, have brought their COVID-19 test from 72 hours ago, everyone has to take the test.
After taking the test, all travelers will go into quarantine at their paid accommodation or a free government facility for at least 24 hours until they receive the test results. During this time, everyone must follow the Barbados mask policy, and be using the mask the entire time at the airport, on the taxi, bus, or any place public.
Are there faster ways to get the Barbados ED Card results?
Once you submit the Barbados ED card application form, your data is checked by the Barbados systems and authorities, and you receive 2 email receipts: one from customs and one from immigration. These will be the documents you need to present on arrival or before departing.
The application process is active about 72 hours prior to your departure, and you should get your results before its 24 hours for your flight. To make the form submission and receiving results in a faster process, you can go for one of the processing speeds iVisa.com offers on their website.
Standard processing speed (

USD $29.49

-

24 hours

): the regular submission speed and process of getting files delivered.
Rush processing speed (

USD $52.99

-

4 hours

): a faster option for those who need a document for an afternoon flight.
Super rush processing speed (

USD $89.99

-

30 minutes

): the speediest processing option, to ensure you get the documents revised in a blink of an eye.
Which is the application process for the Barbados ED Card?
An ED card will allow you to freely move around the country while still following the Barbados mask policy of using it at all times while in public spaces and near people.
The application for it is straightforward and requires only five steps. The process itself can be done faster if made through the iVisa.com website.
Start by filling out the Travel Authorization form with your personal information and selecting at which iVisa.com processing speed you want your application to be sent.
Then, you must upload your PCR test results.
The following step requests your Health information, which includes the last traveled countries to in the past 21 days. With this, the Health entity can determine if you are coming from a state of a low, moderate, or high risk of contagions.
The fourth step is to make the payment for the online process.
And finally, you must sign the legal section in which you accept going into quarantine and getting tested on arrival to Barbados until results get back.
Once done, you must submit the form.
Are traveling children required the same health measures as adults?
Children 9 years old and younger do not have to take the PCR COVID-19 test. Although they must apply for a Barbados ED card, their results regarding quarantine or isolation are determined by the adults' results from these PCR tests.
During the entire time of departing, arriving, and discovering Barbados, all traveling children must follow the Barbados mask policy and wear a mask at all times.
What if my COVID-19 results are positive?
Throughout your online application for the Barbados ED card you must give proof of PCR exam results. Even with these documents, you will be asked to take a COVID-19 test at the airport and wait for results.
If your results are positive, for being in contact with someone with COVID-19 a short time ago, or being symptomatic, you are immediately taken to isolation. The quarantined or isolation process is for 14 days at your accommodation.
You will also be "marked" with an aqua electronic bracelet and will be assisted during your isolation period.
Can I trust the iVisa.com website with my info?
Sharing your information online to purchase a visa or a health declaration document abroad is just as frightening as buying a book. People do not trust the website. That is why iVisa.com uses the best security systems on the website and databases, to ensure the clients that their information is well protected during the ED Card application and after it's submitted.
Data must be protected from digital threats at all times, during, and after any online transaction with the iVisa.com services.
See what some of our clients have mentioned about our services and platform here.
Where can I find additional information about the Barbados ED Card?
If you are in search of more information about the Barbados ED card and updates on the Barbados mask policy, you can visit the iVisa.com website. Additionally, you can send us your questions regarding the topic at email at [email protected].