A couple of rough months being in lockdown has left people with sensations filled with anxiety and the need to relax. Due to a lot of effort, the Barbados Government has managed to keep the situation stabilized in the country and now has authorities prepared to receive visitors.
Citizens of Canada will now be able to enter Barbados during these Coronavirus times and get to stay at the dreamy beaches under coconut palms and see the sea painted with every color of blue.
You can also enjoy fresh food and fish at a restaurant table or while sitting on the white beach sand. Barbados food represents the diversity you can find on the island and there's no limit to how it increases your travel experience.
But how is it that the Government is allowing visitors to enter Barbados during the Coronavirus? Each of these incoming travelers must request an ED form and hold a Certificate with their COVID-19 test results. The document is relatively easy to obtain, it will only require from the traveler detailed information of their current health situation, and any possible contact they had with the virus in the last month.
Discover in this article how citizens of Canada can enter Barbados during Coronavirus and how iVisa.com can help with the online application process of an ED card.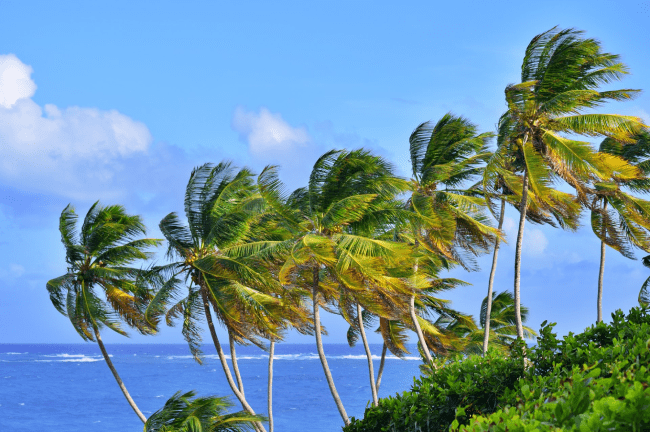 Frequently Asked Questions
What is the Barbados Embarkation/Disembarkation Card?
Barbados has recently reopened borders for foreigners to enter the country during Coronavirus. To limit the number of visitors that arrive in the country and prevent anyone from spreading the virus, the incoming passengers need to meet some requirements.
Part of these new regulations is having a Barbados ED card, which is a travel authorization in which the passenger must provide information about their previous whereabouts and their possible contact with the COVID-19 virus if any. They must also include a laboratory certificate as proof that the COVID-19 test showed negative results.
How can Citizens of Canada enter Barbados during Coronavirus?
Citizens of Canada that wish to enter Barbados during Coronavirus must comply with the Government's specifications. The current requirements to follow are:
Without these documents, passengers will most likely not be able to board the flight.
Do I need a COVID vaccine or vaccination certificate to enter Barbados?
COVID vaccination passports or certificates are no longer mandatory to enter Barbados. Since information may change quickly, we advise you to follow up on the latest Barbados travel updates and/or contact your local embassy.
Do I need a COVID-19 test result to enter Barbados?
COVID testing requirements: There are no testing requirements.
Do I need to quarantine once I arrive in Barbados?
Quarantine requirements: There are no quarantine requirements.
What information is needed for the Barbados travel authorization?
The necessary information you need to have while filling out your Barbados travel authorization are your contact details and information. Additionally, you will need to provide:
Details about your trips done in the past 21 days,
Give information about your health and details if you've been in contact with someone with COVID-19 in the past days.
Can Canadian citizens get the Barbados ED Card results faster?
It's highly recommended that passengers apply for the Barbados ED card at least 24 hours before departing and have their COVID-19 test done before flying. Although the analysis process of your application is quick, you may want to assure your documentation for travel by using the iVisa.com processing speed options.
Each processing speed will manage to get your final ED card results delivered sooner. These are the options:
Standard speed (

USD $27.49

-

24 hours

): is for the regular analysis speed of your documents and delivery of the results.
Rush speed (

USD $50.99

-

4 hours

): is for a faster option of analysis for documentation, and getting your results.
Super rush speed (

USD $81.99

-

30 minutes

): refers to the fastest processing speed of your application, and results delivered.
How does one apply for the Barbados ED Card?
The Barbados ED card is a digital travel authorization currently needed by all travelers that want to enter the country. The application is straightforward on the information requested and can be completed by following the 4 iVisa.com steps:
Begin by completing your application document with contact details, and selecting the iVisa.com processing speed to apply on your submission.
The second step is to attach your PCR or antigen COVID-19 test results and give any information regarding your possible contact with the virus in the past 21 days.
The third step is to pay the processing fee.
Your final step requires you to read and accept the legal terms. This means giving consent to taking a COVID-19 exam at the airport and staying in quarantine until having the results.
After that, you must click submit.
Can a Canadian citizen enter Barbados with COVID-19 positive results?
All travelers arriving at the island from a moderate risk country like Canada must present their Barbados ED card and COVID-19 test results to the local authorities before departing their homeland and arriving in Barbados. Once they land, they'll be requested to take a COVID-19 exam onsite, and then stay in their accommodation until results are delivered.
If your results were positive, you are immediately taken into isolation at an accommodation of your choice, at your expense, or a free facility offered by the Government. In both cases, you will have to remain isolated and monitored.
Is the iVisa.com website trustworthy with my info?
To ensure your information is secured throughout your Barbados ED card application process, iVisa.com uses a highly reliable security system on its website and databases. Once you finish your application, the data is stored safely on the database and protected from external digital threats.
Please read some of our past clients' reviews about our services here.
Where can I read more information on how Canadian citizens can enter Barbados during Coronavirus?
You can find more details on how citizens of Canada can enter Barbados during the Coronavirus on the iVisa.com website. If you have any specific questions about the topic, you may drop us a message on the website chat box to help you resolve it.