Looking to discover a laid back destination that has it all? Many travelers consider Barbados to be the Caribbean island with everything they need. The island is surrounded by beautiful warm waters, pearl white-colored beaches. The locals glow with a relaxed lifestyle, and you can always find delicious local comfort food.
This Caribbean culinary capital will have you under a spell with their local fruits and national dishes all using the freshest of ingredients. Not all restaurants and stores may be opened due to coronavirus, but there are still many open with limitations just waiting for you to stop by and grab a bite!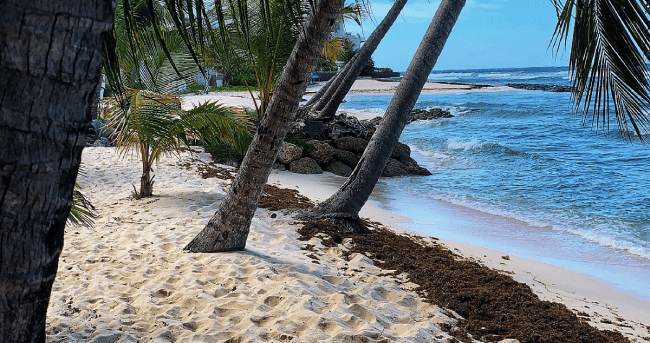 After a few months of lockdown and having all industries and activities stopped in their path, the Barbados Government approved reopening borders for incoming visitors. This is only possible because of the new requirement that every traveler must have a Barbados Embarkation/Disembarkation (ED) card before departing towards the country.
Therefore, planning your next trip to the Caribbean will require you to add applying for the Barbados ED card as part of your needed documents. To make your arrival more comfortable and spend less time waiting, you will need to arrive with a certificate and the PCR negative results. Please also be prepared to take, in Barbados, a COVID-19 test upon arrival.
Throughout the following lines, you will find useful information about the Barbados ED card for incoming travelers and its online application process. There are also details on how the Barbados COVID-19 test system works and how long you need to wait before getting results.
Frequently Asked Questions
Is the Barbados ED Card a mandatory document?
Because of the current Coronavirus situation, yes, the Barbados ED card is a mandatory document for all travelers that wish to visit. Fortunately, the online application process of this travel authorization is very simple for all applicants. It's part of the current procedure to ensure the health levels of all travelers, and have a better knowledge of the virus spread in the country by opening frontiers.
As part of the information needed on this document, the visitor must provide negative results of their PCR test before departing and will also need to undergo a Barbados COVID-19 test upon arrival.
Do I need a COVID vaccine or vaccination certificate to enter Barbados?
COVID vaccination passports or certificates are no longer mandatory to enter Barbados. Since information may change quickly, we advise you to follow up on the latest Barbados travel updates and/or contact your local embassy.
Do I need a COVID-19 test result to enter Barbados?
COVID testing requirements: There are no testing requirements.
Do I need to quarantine once I arrive in Barbados?
Quarantine requirements: There are no quarantine requirements.
Is it mandatory to take the Barbados COVID-19 test from wherever one arrives from?
Barbados has not yet been opened to all countries for arriving flights, but for now, the passengers that come in must depart with an approved ED card. The only countries that are currently exempt from taking a COVID-19 test before or after arriving in Barbados are those within "the Bubble."
Countries that are members of the Bubble are Saint Lucia, St Kitts and Nevis, Grenada, Dominica, and St Vincent and The Grenadines.
What information must be included in the Barbados ED Card?
While filling out the Barbados ED card application form, you will need to include personal contact details, as well as health information. This specific information required for the application is:
Your contact info
Information about your previous trips in the last 21 days
Health situation and contact with COVID-19 virus
As well as signing a legal declaration that states you agree to take the COVID-19 test once arrived, and will stay in quarantine until the results are in.
How long do Barbados ED Card results take to be delivered?
There is no specific time as to how long it takes the process to finish and for you to get your results delivered. It is, however, recommended that you start your Barbados ED card application process at least 24 hours before departing.
To be sure you get your results in time, you can work on your application through iVisa.com and select the processing speed of your choosing to apply to your documents.
There are three iVisa.com options:
Standard processing speed (

USD $29.49

-

24 hours

): for a regular speed of process given to your documentation.
Rush processing speed (

USD $52.99

-

4 hours

): allows your documents to be analyzed and results delivered in less time than standard.
Super rush processing speed (

USD $89.99

-

30 minutes

): is the fastest option to getting your application analyzed, and your final results sent to your email.
Can you explain the Barbados ED Card application process?
Unless you do not have the digital access to carry the Barbados ED card on your smartphone, you will need to print out the receipts sent from Customs and Immigration. Your Barbados ED card application process can be done following 4 simple steps required by iVisa.com. They are as follows:
Start by filling out your application form with your contact info and determine the processing speed you want your application to go through.
You must then, attach your negative PCR COVID-19 test results and mention any possible contact you've had with the virus in the past 21 days.
The third step is to review and accept the legal requirements which refer to your consent to getting tested upon arrival and waiting in quarantine for the test outcome.
Finally, you must proceed to checkout and pay the online process, and then click on submit.
Must children take the Barbados COVID-19 test?
Travelers planning on visiting Barbados during the Coronavirus pandemic must apply for their ED form and have a PCR COVID-19 test certificate that shows their negative results. As for children, only those 10 years old or older must have parental consent to be tested upon arrival.
Children under the age of 9 are exempt from taking the test at any point in the journey. But if the adult they are traveling with is required to go into quarantine, so will they.
What happens if a COVID-19 test is positive on arrival?
The travelers entering Barbados must arrive with their travel authorization document and the Certificate that shows the negative COVID-19 test results. On arrival, you will be asked to take another exam at the airport, and have to wait for the results.
If the results come out positive, you will be taken to isolation, even if you're asymptomatic and you will have to stay there for 14 days.
How safe is it to apply for the Barbados ED Card with iVisa.com?
The iVisa.com platform values your trust in the company as much as they value your data security. Once you start filling out your Barbados ED card application form your details are stored safely on the website and databases.
During and after your form submission, your information is well-kept with security software and far from all digital threats.
You can verify our statement by reading some of our clients reviews about our services and platform here.
Who can I contact for more info on the Barbados ED Card?
For more info on the Barbados COVID-19 test or ED card, we suggest you look through the iVisa.com website. To get more direct answers and guidance for your questions, write us an email at [email protected] to help resolve them.