Please note Brazil has discontinued the eVisa for all countries as of June 17, 2019. For US, Canadian and Australian citizens, we strongly suggest registering your trip with your embassy.
US citizens can now apply for a Brazil e-visa completely online, and you can apply from here.
Fast, easy and effective
All you need to do is fill in the Brazil e-visa online form and wait for the visa to arrive to your inbox.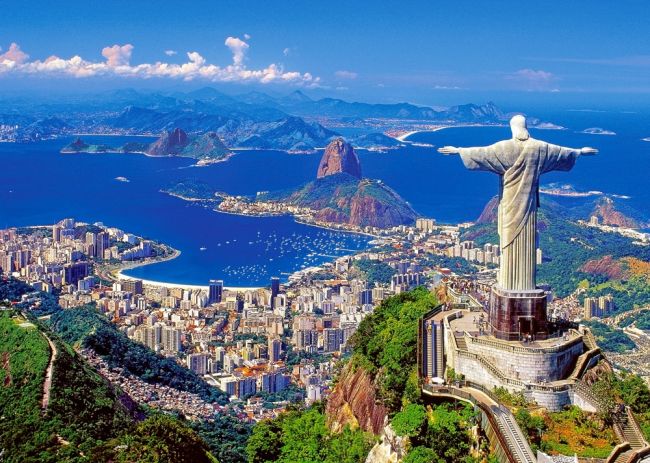 FAQ
What documents do you need to complete the application process?
A valid passport

A digital copy of your passport.

A passport photo – Against a white background with your head and shoulders centered on the camera. There should not be reflections, shadows, and glares in the picture. DO NOT appear smiling or frowning.

A valid e-mail address – your Brazil e-visa will arrive via e-mail so double-check the spelling.
PAYMENT – Credit card, debit card or Paypal account.
Immigration officers may ask you to present additional documents. You should have proof of return flights, proof of accommodation (hotel reservation)or a copy of your ID card.
The Brazil e-Visa online application form
The process is entirely online. It can be done in3 simple steps and you should be done as little as 20 minutes:
FIRST STEP Fill in personal information.
SECOND STEP Revise everything you filled in and make the payment using any of the means above.
THIRD STEP Upload additional documents. Hit submit and then wait. IF you need help, iVisa puts at your disposal a 24/7 support service.
How much does it cost?
The price of the visa itself is $44.50.
The TOTAL PRICE depends on the processing time you select when you fill in the application.
Your options are:
1. Standard processing – The cheapest option. It takes10 business days and you will pay $79.50 (the difference is a service fee for iVisa).
2. Rush processing – 6 business days. It costs $109.50.
3. Super Rush processing – 4 business days. It costs $144.50.
Can I go to Brazil on business if I have a Brazil eVisa?
NO. Only tourists are allowed to enter Brazil with an electronic visa. Any business related work is strictly prohibited while on a Tourist Brazil eVisa.
IF you want to go to Brazil for other purposes than tourism, you are required to visit Brazil's diplomatic mission in your country of origin and apply for a business/work/student visa.
Are there additional requirements if I travel with my minor child?
You, as a parent or guardian, must upload additional documents when you apply.
Copy of the passport page
Photos of both parents
Authorization letter signed by both parents.
IF you travel with your child alone (e.g. divorced,) you are required to upload an authorization form from the other parent.
IF the other parent is deceased, you need to have a death certificate.
IF you have the sole custody of your child, you need to have a legal custody document.
REMEMBER: You need to prove that you do not take the child out of the country without the other parent's knowledge.
What are the requirements for Brazil Tourist eVisa?
The term 'tourist' includes four categories of people:
People traveling to Brazil on vacation
People who go to Brazil to visit their family or friends
Unpaid participants in athletic or artistic events and competitions. You are required to have an invitation letter from the sponsoring organization in Brazil.
Unpaid participants in scientific/academic seminars or conferences sponsored by academic or research institutions. A letter of invitation from one of those institutions is also required.
REMEMBER: Your are NOT allowed to engage in any business, work, or academic activities.
The visa works for multiple entries. IF necessary, you can apply for an extension at the Federal Police of Brazil, BUT you have to submit the application before your current visa expires.
Is the Brazil eVisa a multiple entry or single entry visa?
Multiple entries. You can also apply for an extension with the Federal Police of Brazil, but make sure that your application is registered before your current visa expires.
My Brazil eVisa was denied. Can I apply again?
YES. However, you are required to go to the Brazilian embassy this time.
IF you have done everything right and still your application is rejected, you need to go for a personal interview.
How will I receive my visa?
iVisa will send you the Brasil visa via e-mail. Once you receive it, you need to print it and show it while boarding your flight.
TRAVEL TIP: Print multiple copies so that if you lose one, you have at least one spare.
Is it safe to use iVisa?
Read thousands of testimonies! with our services you guarantee a safe, fast and effective process.
APPLY FOR YOUR BRAZIL ONLINE VISA NOW!!