Many people have called this huge event the "biggest party" in South America, and it's not for less with its warm climate, crystal-clear beaches, and joyful people. The Rio Carnival is one of its kind, which is why you may be wondering How much is Rio Carnival and how to enjoy it in the safest way possible?
The price for this event varies depending on what you want to do there, how many days you're staying in, and other things like what food you're buying, etc. However, in this article, we will give you an idea of the price depending on the basics (parades, travel documents, and so on). This great event is an excellent opportunity to visit Brazil in 2022!
iVisa.com is here to give you all the noteworthy information on the above question: How much is Rio Carnival? Plus, we will explain what travel documents you need, including the Travelers Health Declaration and the eMed self-testing COVID-19 kit for your return trip. We will also let you know all you need to consider to enter Rio safely.
Note: Since May 2022, the Brazil Traveler's Health Declaration is no longer necessary to enter the country.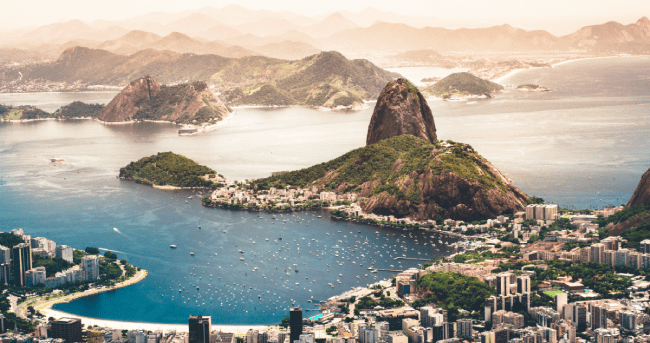 What you need to know about Rio Carnival
What is Rio Carnival?
It is the most popular festivity in Brazil, which is why it's named "The Greatest Show on Earth." Its history has transformed over the years. Once, it was honored with roots in Roman Catholic traditions taking place just before Lent. When Portuguese settlers arrived in Brazil in the early 1600s, Rio Carnival traditions changed to include small balls and masquerade dances. Also, African slaves and workers brought to this country by Portuguese settlers shared traditional customs as well by paying homage to their culture and gods. This is now witnessed through modern-day masks, costumes, and vibrant music.
If you want to understand the question How much is Rio Carnival, we recommend you continue reading below or also contact your local guide.
When is Rio Carnival?
The Rio Carnival is held every year just before Lent, a Catholic holiday. Despite its name, this celebration is held not only in Rio but the entire country. Parties usually begin a day before the formal launch, 25th February, until a day after it formally ends, which is Saturday 5th March.
How much is Rio Carnival?
The ticket prices can vary depending on their type, sector, and season. The tickets for Rio Carnival can be bought in advance through international brokers, or local travel agents in Rio de Janeiro. 'Purchase of a ticket' normally means the purchase of a voucher which is then exchangeable for the ticket close to the date.
The prices range from USD30 to USD300 for parades, but these include some benefits depending on the type. These prices are based only on the Sambadrome event, so they do not include the plane ticket, the travel document's fees, and so on.
Traveling to Rio Carnival
To travel to Brazil most nationalities are exempt from getting a tourist visa and will be granted entry on arrival. However, all foreign travelers will have to obtain the Traveler's Health Declaration before entering Brazil. We can help you get that document in a few easy steps, and save you some time and effort of filling it out yourself.
U.S. citizens don't usually need to take a PCR test to enter Brazil, but they will need a negative COVID-19 test result to enter the US again. You can simplify testing by ordering the eMed self-testing COVID-19 kit online before travel. You can self-test in the 24hour period before your flight back to the US and get a result within 15 minutes.
Frequently Asked Questions
We will answer here not only this question: How much is Rio Carnival? But also others you may have.
What is the Travelers Health Declaration?
The Brazilian Traveler's Health Declaration is an electronic document created to screen international arrivals to minimize the risks associated with the coronavirus pandemic. All travelers must apply for this form before entering Brazil.
The document is valid for a single entry and 15 days of travel in Brazil.
What are the current COVID restrictions for travel to Brazil?
Due to the continuously changing effects of the pandemic, we suggest visiting our Travelers Health Declaration product page to receive all the latest info on the vaccine, PCR test, and quarantine requirements to enter Brazil.
How do I apply for an HD with iVisa.com?
It's very easy to apply with us, you only need to visit our application page and give us basic personal information, travel, and health details. Also, be sure of having these items and documents:
Your valid passport
A digital copy of your passport information page
Your current email address
Credit or debit card to pay
Keep reading below to learn more about "How much is Rio Carnival".
What is the cost and processing time of the Health Declaration?
The prices for the Traveler's Health Declaration depend on your budget and the processing speed you choose. We have these options for you:
Standard Processing -

24 hours

-

USD $29.49

Rush Processing -

8 hours

-

USD $52.99

Super Rush Processing -

4 hours

-

USD $89.99
Can I trust iVisa.com?
Of course! We have a great reputation with our clients for providing them with hassle-free travel documents and we pride ourselves on keeping all your personal information safe. You can verify that in the customer reviews section.
I have more questions, where can I solve them?
We have amazing customer support agents available 24/7 to respond all your queries about how much is Rio Carnival, so be sure to contact them!
iVisa.com Recommends
You may already know how much is Rio Carnival and also what you need to travel to Brazil safely, but do not forget to visit the beautiful beaches in Rio to enjoy the Carnival to the fullest.
Beaches in Rio de Janeiro are an essential aspect of the Brazilian lifestyle. These places are perfect to relax, try out the local gastronomy, appreciate beautiful views, and have fun in the sand.
The Copacabana beach is probably the most famous, and it is also one of the best in Rio. It consists of a 2.5-mile line of clean sands on the southern coast, with the great Sugar Loaf Mountain in the background (which is a precious view of this place). Since it is the most famous, it's often crowded, but when the sun goes down, the beach turns into a party arena.
Ipanema Beach is another must in Rio. It is famous for its 'Girl from Ipanema' song, which is why many fashionable women decide to visit it with tiny bikinis. Its deep-blue waters blended with white-soft sand will surely make you forget about the city for a while.
Be ready to visit Rio and enjoy its fantastic carnival very soon!