While many carnivals are held around the world, none compares to the carnival of Rio de Janeiro in Brazil. This is considered one of the most amazing and beautiful events on the planet. Therefore, if you plan to travel to Brazil in 2022, you should do it during the last week of February. This way, you will be able to travel to Rio de Janeiro and enjoy the carnival and its 4 days of activities from early in the morning until late at night.
Due to the current pandemic, it is important that you prepare yourself before traveling. At iVisa.com we offer you all the important information you need to travel. As well we explain what travel documents you need, including the Travelers Health Declaration and the eMed self-testing COVID-19 kit, available for US citizens.
Rio carnival activities: What can you do? - Learn all about the Rio Carnival in this blog.
Note: Since May 2022, the Brazil Traveler's Health Declaration is no longer necessary to enter the country.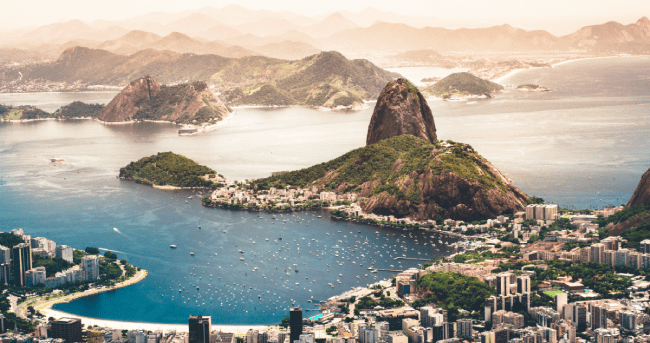 What you need to know about Rio Carnival
What is the Rio Carnival?
The Rio Carnival is a festive event held in Rio de Janeiro, Brazil. This event lasts 4 days where you can enjoy music, dances, activities, contests, parades, parties, and much more.
The Rio's Carnival is influenced by European and African traditions. Samba, the traditional dance and music in the country, was introduced by African immigrants. While the costumes and masks used during this celebration were introduced by Italian immigrants.
Rio carnival activities: What can you do? - Dance around the city and enjoy every day.
When is the Rio Carnival?
The Rio de Janeiro Carnival takes place for 4 days, from Saturday to the Tuesday before Ash Wednesday, a Catholic holiday. These celebrations invade every neighborhood with street parties, parades, dances, and free concerts. For 2022 this celebration is confirmed to take place between February 25 and March 1.
This festival is celebrated all over the country. However, the most important and famous place is the carnival of Rio de Janeiro.
Rio carnival activities: What can you do? - Celebrate this party with family and friends.
Traveling to Rio Carnival
Most nationalities wishing to travel to Brazil do not need to present a tourist visa to enter. However, all travelers must present the Traveler's Health Declaration at any of its borders to enter. At iVisa.com, we can help you obtain this document by following a few simple steps.
If you are a US citizen, you will need a PCR test to enter back to the US. However, this process can be simplified thanks to iVisa.com you can save time and order the eMed self-testing COVID-19 kit online before travel, and then you can self-test within the 24hour period before your flight back to the US at your hotel.
Rio carnival activities: What can you do? - Travel safely with all the health requirements.
Frequently Asked Questions
What is the Travelers Health Declaration?
This document is a health document that minimizes the risk associated with travel during the current pandemic. This document is mandatory for all travelers entering Brazil and is a single entry document valid for 15 days.
Rio carnival activities: What can you do? - Enter the country with your Travelers Health Declaration
What are the current COVID restrictions for travel to Brazil?
Only fully vaccinated travelers are exempt from quarantine arriving in the country. However, all visitors must present a negative PCR COVID-19 result within 72 hours or a negative COVID-19 antigen within 24 hours before traveling.
Unvaccinated travelers must quarantine arriving at the country and take a COVID-19 test on day 5 to end the quarantine. Only children under 12 traveling with an adult holding a negative test will be exempt from these restrictions.
Rio carnival activities: What can you do? - Due to the constantly changing effects of the pandemic, it is best to visit our product page for all the latest info about the health restrictions.
How do I apply for the Travelers Health Declaration?
You only need to provide us with basic personal information, travel, and health details:
Scan valid passport information, with a validity of 6 months
Current email address
Method of payment. Credit or debit card.
Rio carnival activities: What can you do? - All these documents are mandatory to apply for your travel document.
What is the cost and processing time of the Health Declaration?
iVisa.com offers the following 3 options for you to apply for the travel document:
Standard Processing -

24 hours

-

USD $24.99

Rush Processing -

8 hours

-

USD $44.99

Super Rush Processing -

4 hours

-

USD $75.99
Rio carnival activities: What can you do? - Choose your alternative depending on your travel budget and needs.
Can I trust iVisa.com?
Yes! iVisa.com has an excellent reputation due to its many years on the market. Thousands of customers have been able to make their trips thanks to us. So get to know us and trust us for your next trip.
Rio carnival activities: What can you do? - You can verify our claims in the customer reviews section.
I have more questions. Who can I talk to?
If you have any concerns about our services, you can contact our dedicated customer support agents. They are available 24/7 to answer all your questions about Rio Carnival activities.
iVisa.com Recommends
When traveling around Rio de Janeiro, do not hesitate to visit the incredible and majestic Pão de Açúcar. The undoubtedly and most remarkable places in the city. You can see the whole town, favelas, Corcovado Mountain, Christ the Redeemer to the west, and Copacabana beach to the south from the top part of this attraction.
To access the summit, you need to take two cable cars that connect to the top, at 395 meters above sea level. The first cable car ascends 215 meters to reach the Morro da Urca with souvenir stores, bars, concert halls, and heliports.
Then you can take the second cable car that goes up to Pão de Açúcar, where you can enjoy a better view and take impressive pictures. You can stay and enjoy the view for several minutes, have a coffee or eat something. If you miss one of the cable cars, don't worry, they leave every 20 minutes.
For the more adventurous travelers, climbing excursions are offered in this attraction. Morro da Urca is much easier to climb and takes about 30 minutes. However, it is a unique but exhausting experience.