Are you thinking about your Canada passport renewal UK? At iVisa.com, we help you with this process online. In this article, you will find the answers to the most popular questions about the Canada passport renewal UK. Let's start with your process!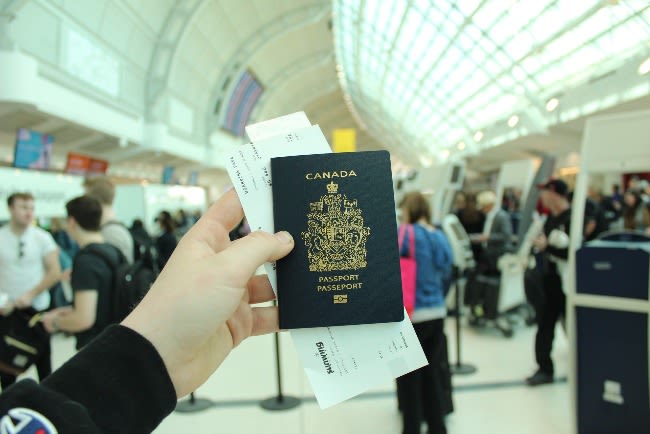 Frequently Asked Questions
Who is the service for?
This service for Canada passport renewal UK is for people who want to renew their Canadian Passport but live in England. If you live there or are a resident of the UK, you can renew your passport online.
How to apply for the Canada passport renewal?
Follow these steps to complete your Canada passport renewal UK, then iVisa.com will send you a kit with the application.
Step 1: Complete and review the application form. Next, sign it.
Step 2: You need two printed passport photos and a digital shipping label for the envelope with postage that will be sent by email. Then, follow the instructions on what to write on the back of each photo for the government to accept. (Canada Post)
Step 3: After completing this, you need to pay for the government fee and the iVisa.comservice.
What documents do I need to do this process with iVisa.com?
For the Canada passport renewal UK you will need to send the envelope with the following:
The old passport.
The signed form.
Two passport photos handwritten on the back.
A digital shipping label to the government through Canada Post.
It will take Canada Post 2 days maximum to send it to the government.
Lastly, you need a Credit/debit card to pay the fees. (Visa, MasterCard, and American Express cards are accepted.)
How much is the government fee?
The government fee is CAN$ 120 / $96.81. Your new passport will have 5 years of validity.
How much is the process for the Canada passport renewal UK?
Right now, this service is not available, but it will be soon! Please keep checking back for more information on prices and processing times.
How long do I need to wait to have my new passport?
You'll receive the new passport in 25 business days.
Your previous passport will be canceled when your new passport arrives. Our system will then make it invalid for travel.
Can I trust iVisa.com?
Of course! At iVisa.com, we have more than a decade of experience helping with visa processes for people worldwide. To feel more secure about starting this process of the Canada passport renewal UK, we invite you to know more about us in our review section.
I have other questions. How can I contact you?
If you have any other questions about Canada passport renewal UK, we have a great support team at iVisa.com. Our team will solve all your questions at any time of the day.
iVisa.com Recommends
At iVisa.com, we give you some recommendations to travel soon. If you are looking for a greener place to live, the Netherlands would be a good choice. It is the country of many tulips that bloom during spring, and it's famous for its flower market. The capital city of Netherlands Antilles is Willemstad, and the residents call themselves 'Antilleans.' The Dutch Caribbean is home to over 60,000 people, and it has two official languages; English and Dutch. Aruban florin (currency) can be used here, and the exchange rate between this currency and the US dollar is 1:1.
You may visit this land by flying to Queen Beatrix Airport, which operates 24 hours a day. In addition, several airlines fly their passengers from the USA directly to this airport, such as KLM Royal Dutch Airlines, Arkefly, and Surinaamse Luchtvaart Maatschappij. If you are looking for a cost-friendly vacation, then this country is the right choice since its people live peacefully and their economy is thriving. You may stay near the beach or in the city but considering the weather changes very fast here, it's recommended to wear warm clothes during winter. The capital city is also fascinating for its artworks and architecture since it's full of colorful buildings. There are many museums, churches, restaurants that serve delicious foods, bars, and casinos for tourists' entertainment.
As far as the Caribbean islands are concerned, Aruba is well-known for its beautiful beaches and underwater activities. This country has many places to show you, but you should allow at least 5 days to explore Aruba's attractions.
It doesn't matter where you decide to stay in the Netherlands Antilles, the capital, or another island; both will give you an unforgettable experience!