If you are thinking about traveling worldwide but need to renew your passport, this article will help you understand what you need to do to make this a reality. At iVisa.com, we help you with the entire process for Canadian passport renewal and name change.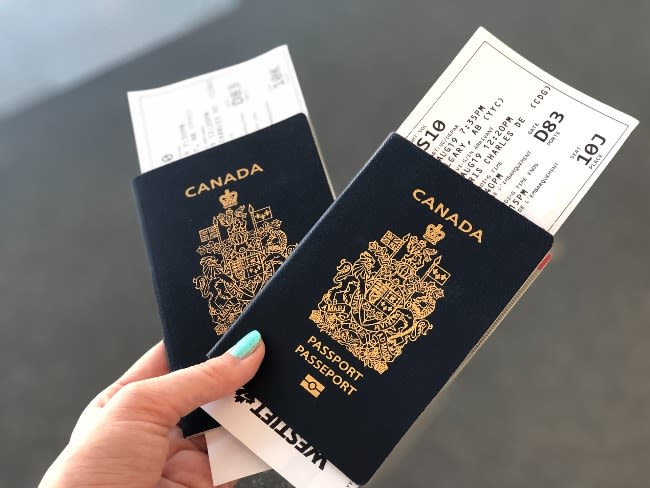 Let's start answering the most popular questions about it.
Frequently Asked Questions
Who is the service for?
This service of Canadian passport renewal and name change is for people who need to renew their old passport and are citizens of Canada, or their nationality is Canadian.
How to apply for the Canada passport early renewal?
To apply to renew your passport, you will need to follow these steps to complete your Canadian passport renewal and name change. After that, iVisa.com will send you a kit.
Step 1: You need to complete and review the application form and sign it.
Step 2: You need two printed passport photos.
Step 3: You need a digital shipping label for the envelope with postage included. Please follow the instructions about what to write on the back of each photo for the government to accept. (Canada Post)
To complete this, you need to pay for the government fee and the iVisa.comservice.
What documents do I need to do this process with iVisa.com?
For the Canadian passport renewal and name change, you will need to send the envelope with the following documents:
The expired passport.
The signed form.
Two passport photos handwritten on the back.
A digital shipping label to the government through Canada Post.
You also need a Credit/debit card to pay the fees. (Visa, MasterCard, and American Express cards are accepted.) Finally, Canada Post will ship the envelope to the government the same day, or in 2 days maximum.
How much is the government fee?
The government fee is CAN$ 120 / $96.81. Your new passport will have 5 years of validity.
How much is the process for the Canada passport renewal?
At iVisa.com, we will charge you CAN$ 40 for helping you with all the processes.
How long do I need to wait to have my new passport?
You'll receive the new passport between 6 and 11 weeks.
Important: Your previous passport will be canceled when your new passport arrives. The system will then make it invalid for travel.
Can I trust iVisa.com?
Absolutely! At iVisa.com , we have many years of experience helping with visas and passport processes. To feel more confident about taking this step for the Canadian passport renewal and name change, we invite you to know more about us in our review section.
I have other questions. How can I contact you?
If you have any other questions about Canadian passport renewal and name change, we have an amazing support team at iVisa.com who is available 24/7 for you. So feel free to write to us.
iVisa.com Recommends
If you are looking for a trip that you will remember for the rest of your life, Italy will not disappoint. From its ancient architecture to its booming modern culture and metropolitan cities, you are sure to find what makes this country an international powerhouse and something uniquely Italian.
The key is to uncover some hidden gems and the off-the-beaten-path places that attract less crowds than their more famous counterparts - unless you're traveling during peak holiday seasons when even the smallest hill becomes a tourist hotspot. Italy is filled to the brim with things to do and see - but if you are pressed for time, stick to these highlights:
Florence's Basilica di Santa Croce is a masterpiece of literature and art. Its design was inspired by Brunelleschi's famous dome in the nearby cathedral, called the Duomo. The basilica covers around 70,000 square feet and has been home to some of Italy's most brilliant literary minds, including Dante Alighieri, Giovanni Boccaccio, Niccolo Machiavelli, Giosuè Carducci, and Giacomo Leopardi.

Floating on the water in Venice, there is something that even movie stars can not resist. You can ride in one of the gondolas available for rent by exploring the beautiful labyrinth of Venice's Grand Canal or see Michelangelo's famous work at Basilica di San Marco (St. Mark).

Head to Rome, home to ancient historical sites such as the Colosseum and the Roman Forum. In addition, the Doria Pamphilj Gallery exhibits works from some of Italy's most famous artists.
This country has a lot to offer anyone who makes a trip here - so what are you waiting for?