If you are a Canadian citizen living in the USA, you must know that you can always renew your Canadian Passport from your home. At iVisa.com we offer a service that allows you to apply for this process.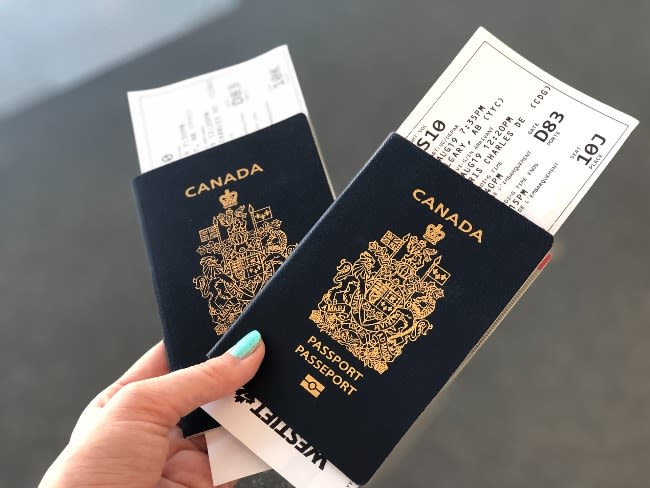 It is quite easy, you only need to follow some simple steps and then we do the rest. And the best part is that it doesn't matter where you are, you will get your new passport at home.
Canadian Passport renewal in USA - Read all about it down below in our FAQs.
Frequently Asked Questions
Who is this service for?
There are some requirements you need to fulfill to apply for this process:
You must be 16 or older.
Your passport must be in good condition with all pages intact.
The passport information must match your legal document.
The passport must be valid or expired for less than 3 years.
Canadian Passport renewal in USA - If you don't fulfill these requirements you will need to contact the embassy directly.
Why use a completely online Passport Renewal service?
The main benefit of using our service is the ease with which you will be able to obtain your new passport. You will be able to avoid long lines, car rides, and wasted time that you could be spending on yourself.
iVisa.com allows you to complete the entire process from the comfort of your home. It is the best process you can ask for to renew your travel documents.
Canadian Passport renewal in USA - iVisa.com guarantees the confidentiality of all your personal information.
How does the Passport Renewal Service with iVisa.com work?
You can apply for the new Passport by following these 3 simple steps:
Step 1: Fill all our online forms, then upload the required passport photo. When finishing reviewing that everything is correct, go and pay for the processing alternative. With all this information iVisa.com will send you your renewal kit to your home.
Step 2: Once you receive your renewal kit, you must read and follow the all detailed instructions iVisa.com gives you. When everything is completed go and send the Passport Renewal Kit to the government of Canada using the country's postal service.
Step 3: Lastly you will wait for the Canadian government to send your new passport. You can track the process from any electronic device.
Canadian Passport renewal in USA - Remember iVisa.com is the safest place for you to get a new passport.
How much does it cost to get my passport renewed?
Right now this service is not available, however, it will be soon! You can always check back for more information on prices and processing times or contact us directly at any moment.
Canadian Passport renewal in USA - Get your new passport as soon as possible with iVisa.com
How soon will I get my new passport?
The time frame for you to get your new passport is of 25 business days after the date you ship your iVisa.com Kit to the government.
However, there is a government fee depending on the passport renewal. If you are applying for the 5-year adult passport you will pay $120 CAD and if you are applying for the 10-year adult passport you will pay $160 CAD.
Canadian Passport renewal in USA - The government fee is a mandatory payment introduced by the Canadian government.
Can I trust iVisa.com?
Of course! iVisa.com meets all the quality standards to be considered one of the best companies in the processing of travel documents. We have hundreds of customers that support us to this day.
Canadian Passportrenewal in USA - You can read all our feedback on our review section.
I have some questions about the Passport Renewal process. Who can I talk to?
You can connect with our customer service experts and ask them anything you need. They are available 24/7.
iVisa.com Recommends
While you are waiting for your passport to arrive home, it is time to start planning the next destination you will visit to use it for the first time. One of the destinations we always recommend for every Canadian citizen is Peru.
If you like nature and adventure, Iquitos and the Amazon River are the perfect place for you. These destinations allow you to have intimate contact with the virgin nature of the Amazon rainforest and all its biodiversity.
Starting the tours within the city of Iquitos, then you can embark on one of the many Amazon River cruises, or you can stay in the lodges and lodges located in the middle of the jungle. This will depend on the activities you wish to do, whether it is a cruise enjoying the incredible views or if you prefer to get lost in the middle of the jungle.
Taking either of the two alternatives will allow you to reach protected natural areas such as Pacaya Samiria and Allpahuaya Mishana, reserves that contain an exuberant variety of flora and fauna, ideal for birds watching, contact with the aborigines of the Amazon, and performing traditional rituals of the region.