From the natural beauty of Niagara Falls to historic Old Quebec, it's hard not to fall in love with Canada. But besides tourism, the country also offers many opportunities for business, with a history of positive economic growth and performance. In addition, it's now easier than ever to apply for the Canada Visitor Visa through iVisa!
Whether you want to visit Canada for vacation, business, or to visit family and friends, the Canada Visitor Visa is easy to obtain for Indian Citizens. It is a multiple-entry visa, valid for ten years. You can count on the guidance from iVisa on how to apply and get your visa hassle-free.
In this article, you will find further information about the Canada tourist visa application, such as eligibility criteria, steps to apply, and requirements.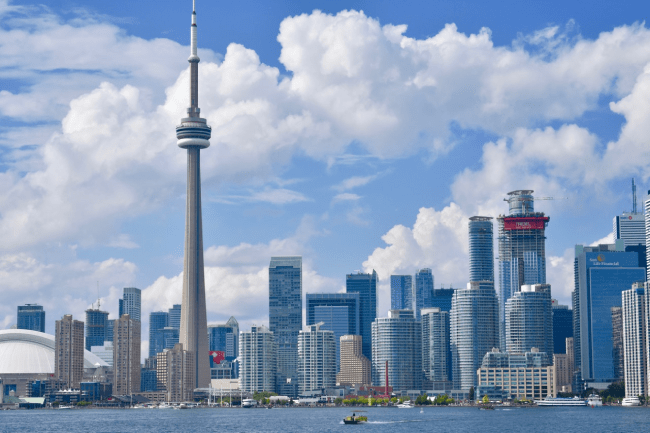 What is the Canada Visitor Visa for India passport holders?
The Canada Visitor Visa is available for Indian citizens to visit friends and relatives, for business, and tourism purposes in Canada. While a part of the application is done at your local visa application center, we will provide a simplified form, a personal visa expert, and a step-by-step PDF guide. The visit to the Canada visa application center is needed to submit your biometrics, do the payment for the government fee, and hand in the required documents.
Our expert team will also review all documents before you submit the application and will give you the instructions to book an appointment at your local application center.
This Canada visa is added to the visa applicants' passports and permits them to stay up to six months in the country.
Be aware that the government of Canada doesn't allow using this temporary resident visa as a study permit, work permit, or work visa. Applicants must contact the embassy to apply for Canadian visas for these travel purposes.
What are the requirements to apply for this Canada Visitor Visa?
The government of Canada has some requirements. Below we list the required documents and conditions that must be met to apply for this visa.
The applicant must have no criminal records or immigration-related convictions.

You don't intend to stay permanently, and you will leave Canada before your visa expires.

You must show proof of sufficient for your entire stay. The amount of money you need depends on the length of your stay, and if you will stay in a hotel or with friends or relatives. The government may request your bank statements for the past six months.
Otherwise, other factors must make the applicant ineligible for a Canada Visit Visa, such as criminal activity, human rights violations, or participation in organized crime.
Documents required to do the Canada Visitor Visa application
Here are the required documents to apply for the Canada tourist visa:
Valid passport - It must have at least six months of validity from the date of arrival in Canada.

Email address - So iVisa can communicate with you and send you updates about your application.

Payment method - A credit or debit card to pay the visa processing fee.

Digital passport-sized photo - You can count on iVisa Photo Service if you need one.
The government can ask for additional documents, such as bank statements, to prove you have enough money for your stay in Canada. In this case, iVisa will inform you and help you to get everything you need for a successful visa application.
Invitation letter for the Canada Visitor Visa
The invitation letter is not mandatory for the Canada Visitor Visa application, but it may help your process in case your travel plans include visiting a relative or close friend. This is a simple signed letter that appeals to the visa office in favor of the traveler applying for a Visitor Visa, asking to allow the person to enter the country. It's a measure to reinforce to the government of Canada that the visa applicant is not giving false information about their intentions to enter the country.
The invitation letter must come from a Canadian citizen or permanent resident to write the letter and be close to the applicant, such as a family member or close friend. The invitation letter must include the person's details such as their address and telephone number.
How to apply for a Canada Visit Visa from India
iVisa will provide all the necessary information to make this process easy and fast for any Indian citizen wanting to visit Canada. You'll have the support from our iVisa experts 24/7 and from beginning to end. The applicant must follow these steps to apply:
Step one: Fill out the Canada Visitor Visa application form with your personal information and Indian passport number.

Step two: Double-check that all the information in the Canada application form is correct to avoid any issues with your Canada application. All the details need to match your supporting documents. Once everything is right, you can pay the visa fee with a credit or debit card.

Step three: You'll receive further detailed instructions from our experts. Upload all the supporting documents.

Step four: Once we have reviewed your application, we will send you the instructions to book an appointment at your local Canada visa application center so they can take your biometric information and payment of the government visa fee.

Step five: At the application center, you will receive a receipt that contains the tracking number of your visa so you can check the visa process online.
You can contact your iVisa Expert at any time via email, WhatsApp, and even schedule a call via Calendly.
Canada Tourist Visa fees
Indian passport holders must pay a standard processing visa fee for the Canada Visitor Visa through iVisa, excluding the government fee. The processing time depends on certain factors, such as the submitted information and if you're traveling with family members.
The processing fee and government fee for this visa application are paid separately.
5 reasons to apply for a Canada Visitor Visa with iVisa
100% government-compliant: Our Visa Experts will review your answers and make sure they are 100% compliant with the government requirements.

Unlimited access to a personal iVisa Expert: At iVisa, we assign you an iVisa Expert to guide you through the entire process and answer any questions you may have about the application.

Simplified form: On iVisa, the application form is 50% shorter than the government website, with clear questions. It will be like filling out a short survey.

Apply at your own pace: Fill out the form at your own pace, make changes whenever you want, and save your progress, so you do not have to start from scratch every time you need a break.

Step-by-step guide: We give you a Didactic Manual with all the tips to answer the difficult sections of the application form, and step-by-step instructions to get your new travel document without issues.
Where can I learn more about the Canadian tourist visa?
If you have questions about Canada Visitor Visa or any other travel document for citizens of India, contact our customer support team online or by email [email protected]. They are available 24/7 to assist you in case you run into any difficulties.