Are you tired of sitting at home or working from home? Are you planning your next vacation to Chile? Before your travel, you need to understand how citizens of Peru can enter Chile during Coronavirus. Recently, Chile has announced several norms that are mandated by the government for every traveler entering the country to lessen the spread of Coronavirus in the country and improve visitors' experience. Before boarding the flight, you need to submit an Affidavit that asks for your basic information with some health data. You also need to follow the quarantine requirements while visiting the country.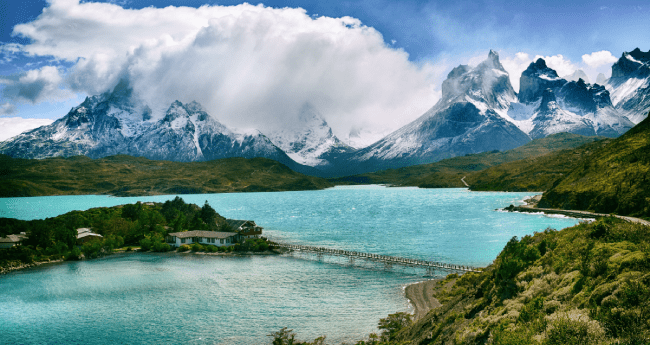 As you know how citizens of Peru can enter Chile during Coronavirus, you must be worried about the application procedure for an Affidavit. Don't worry!! Contact Us to obtain your travel-related document in the most relaxed way. IVisa.com understands how busy you are and how difficult it is for you to apply for this document while planning for your vacation. Hence, we are ready to help you. We just need a few minutes of your time to fill out an application form specially created by our experts.
How can I apply for a Health Declaration Form with iVisa.com?
With iVisa.com, you can apply for a Health Declaration Form in a stress-free and hassle-free way.
Fill out an application form available on our website with the essential details
Then double-check all the details to avoid any discrepancies and;
Pay the processing cost
Your application will be checked by our experts and you will obtain your document through email. You can provide a print out of your document or use its digital version. We offer an easy procedure that can be completed from the comfort of your home while sipping your favorite drink!
What is the need of applying in advance?
Applying in advance for your document with iVisa.com is always helpful as you can get sufficient time to submit an error-free application and get your document on time without any rush. Get Started To explore more about how citizens of Peru can enter Chile during Coronavirus, you can read the following section:
Frequently Asked Questions
Do I need a COVID vaccine or vaccination certificate to enter Chile?
Yes, Chile has been taking steps to restore travel within its borders. In order to enter Chile, you'll need to display your COVID vaccine passport or vaccination certificate.
Approved vaccines are Moderna, Pfizer, Janssen, AstraZeneca, Sinopharm, Sinovac, CanSino and Sputnik-V.
Since information may change quickly, we advise you to follow up on the latest Chilean travel updates and/or contact your local embassy.
What is the importance of a Health Declaration Form?
Every visitor traveling to Chile from Peru needs to learn about how citizens of Peru can enter Chile during Coronavirus. The most important thing that you must have while traveling to Chile during this pandemic is a Health Declaration Form. This form allows the government to get all required data about the traveler and monitor them during the quarantine period. Get Started now with iVisa.com.
Do I need to take a COVID-19 test before traveling to Chile?
COVID test prior to arrival: PCR within 72 hours for all travelers

COVID test after arrival: Mandatory PCR on arrival for all travelers

COVID test exemptions: Children under 2
Do I need to quarantine when I arrive in Chile?
Quarantine requirements: 7 days for unvaccinated travelers and until negative result from test on arrival for fully vaccinated travelers

Quarantine requirements- travelers who spent time in South Africa, Zimbabwe, Namibia, Botswana, Lesotho, Eswatini or Mozambique in the 14 days before arrival: 7 days in quarantine, regardless of vaccination status and PCR test result.
Find Out more about quarantine requirements here.
Do I need to have certain items for the application for an Affidavit?
Yes, for the application for an Affidavit with iVisa.com, you don't need a large number of items. You just need a few items that are easily available:
A valid passport with a minimum of six months of validity from the date of your departure and its scanned copy
A valid email address to obtain your form online
You can use any means of payment such as a PayPal account or a credit/debit card for the payment of the processing price
What are the processing options for the application for an Affidavit?
Using iVisa.com for the application for an Affidavit offers you three options for the processing. You can select the one depending on your requirements:
Standard Processing Time: Have sufficient time in your travel? Go for this option and get your document in a few days at a low cost:

24 hours

for

USD 20.00

Rush Processing Time: Need your document a little earlier? Choose this option to obtain your document faster at a little expensive cost:

8 hours

for

USD 35.00

Super Rush Processing Time: Need your document urgently? Apply Now with this option to get your document as soon as possible for the most expensive cost:

4 hours

for

USD 60.00
Is iVisa.com a safe option to get my Health Declaration Form?
Yes, iVisa.com is a completely safe option to get your Health Declaration Form as we utilize advanced systems for security to store your data safely.
How can I resolve my queries?
To resolve your queries, you can contact our customer care executives or visit our website.
IVisa.com Recommends
To make your journey and vacation easier and full of fun, we recommend some of the beautiful places in Chile that you cannot miss. One of those places is Valle Nevado Ski Resort that is perfect getaway for snow lovers. This amazing resort was established in 1988 and since then, it has grown its area and popularity exponentially. As this resort is located at 3000 meters above sea level, you can find clear sky and great snow all the time. Hence, you can visit this place any time of the year. This stunning resort features eleven lifts and thirty-seven trails, hence this is the best place to visit with families or for beginners. You can also find a large number of eateries, restaurants, and cafes to eat while staying there. Visit Now!