In 2019, the Beijing Organizing Committee for the Olympic Games and Paralympic Winter Games (BOCOG) published what are now the official mascots of these Olympic games. They are Bing Dwen Dwen and Shuey Rhon Rhon, who represent two important figures in China since they are a panda bear and a Chinese lantern in the shape of a child.
There's no more information available about the 2022 Beijing Winter Olympics mascot. What we can tell you is that, before going to this event, you'll need to obtain a Chinese visa to be able to enter the country without a problem.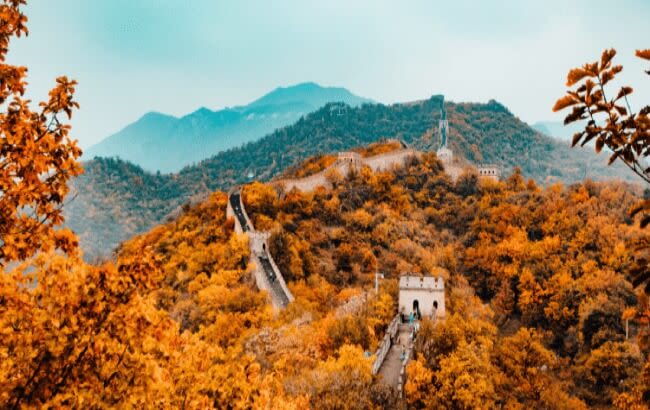 Unlike other visas, the China eVisa is quite easy to obtain because part of the process is available online. To do this, you only need to complete an online procedure at iVisa.com. Once this process is finished, you get a receipt in your email that will be used to obtain the visa itself when you go to the embassy. At the embassy, ​​you'll have to complete a personal interview that will take a few minutes.
Part of our services includes a preparation guide for this interview. As an important fact, keep in mind that at least 99% of our clients have received a Chinese visa after using our services.
Find out more about this process by reading the following information.
Frequently Asked Questions - FAQs
What is a China eVisa and why is it necessary to visit this country?
Before planning your trip to China, you should know what documents could be necessary to enter the country. That's why you shouldn't overlook the China eVisa, as this might be the document you need to enjoy the 2022 Beijing winter Olympics.
The Chinese visa is a travel requirement that allows you to enter China, but to obtain it, you have to complete an online application first. This online form is available on iVisa.com, meaning that you can use our services to speed up the visa process and get ready for your Chinese visit.
After you receive the confirmation receipt we process on our website, you get all the information necessary to attend the interview at the consulate. Once you finish that interview, you receive the actual visa to enter China.
Where can I check if I'm eligible for the Chinese Visa?
You can check if you're eligible for the Chinese visa on iVisa.com. Once you enter this website, use the visa checker tool by filling in the relevant section with your nationality and 'China' as the destination. The results will confirm if you need a Chinese visa or not. You'll also see if you can apply for other types of Chinese eVisas.
Depending on your nationality and your travel plans, you could apply for a 10-year Tourist Visa, a Business eVisa on Arrival, or a Group eVisa.
How long can I stay in China with a Chinese visa?
The maximum-stay allowed will vary depending on the type of document you have, but most of the time you can stay in China 30 days after arrival. You can also enjoy multiple entries, and remember that these documents can be valid for many years. The China Paper Visa is valid for 10 years.
What requirements do I need to apply online?
On iVisa.com we can inform you about everything you need to get your Chinese visa, including the requirements to show at the embassy. However, you don't need many things to complete the online application form, only the following:
A hotel booking (or an invitation letter, depending on the type of visa).
Your valid passport and a scanned copy of the information page.
Your valid credit/debit card or PayPal for payments.
Lastly, you need your valid email address to receive the confirmation receipt.
Don't forget to click on iVisa.com to see all the documents required to get your visa.
You can also find other details about the Beijing Winter Olympics mascot on iVisa.com.
How much do I have to pay for a Chinese visa?
As for the total price of your China eVisa, it might vary depending on the type of eVisa you get. Keep in mind that by using our services, you have to pay for iVisa.com's fee, but our prices include the Government's fee as well.
You might need to pay the Government's fee at the consulate, but we'll give you the total price in advance so you can know what to pay at the consulate. You can have an idea of the prices in the following information, which includes our 3 processing times and the total price for the Chinese paper visa.
Standard Procedure Time: This is the least expensive option. Your application form is ready in

4 days

for a total price of

USD 27.49

.
Rush Procedure Time: This time you'll have to pay

USD 89.99

, but your form will be ready in

2 days

.
Super Rush Procedure Time: This is the most expensive option, as well as the fastest. You have to pay

USD 131.99

and wait only

6 hours

.
How can I apply for my China eVisa?
To receive a Chinese visa, you must attend an interview at the local embassy. However, you can use iVisa.com's online form first to speed up the process, especially if you want to save effort. On iVisa.com, we give you a pre-travel confirmation that will be required at the local embassy. To receive this confirmation, you have to do the following:
First, fill out the application form on our website and select your favorite processing time.
Second, check the information you gave in the first step and use your debit/credit card or your Paypal account to pay for the service. Remember that you pay just part of the price to iVisa.com, and the rest at the embassy.
Lastly, upload the documents and attach them to the application form before submitting it.

What do I have to do after I complete the online form?
After you finish your application form, you have to do the following:
You have to print the confirmation receipt you obtain via email inbox.
Then, you have to take this receipt to the interview. You'll have to visit your local Chinese embassy or consulate to attend this interview.
You'll have to pay the other fees (depending on the type of visa) at the consulate once the authorities ask for it.
The last thing you have to do is to wait for your actual visa.
Is it safe to use iVisa.com?
Don't worry about your personal information with us because we guarantee a reliable and strong security system that won't put any detail in danger. We also have a reliable work team that will process your online form quite fast. Click on this link to check out more than 20,000 reviews.
Where can I find more information?
If you want to receive more information about the 2022 Beijing Winter Olympics mascot, then visit iVisa.com for regular updates. Remember that on our website you can also receive more information about other travel documents. You can also contact our customer service center to receive personal attention.