Borders are reopened.
Traveling to China, a wonderful oriental place, adorned with skyscrapers and with the iconic Wall of stretching across it, is very easy. At iVisa.com you will receive expert advice about all the requirements you need, including if you are wondering: Do I need a vaccine to travel to China?. Check out the handy question and answer section below, where you are sure to find answers to any of the doubts you may have before setting off to this magical place.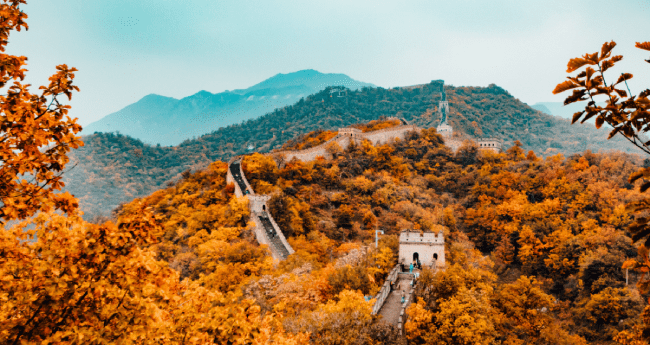 How to obtain an eVisa at iVisa.com?
You have to follow these steps to get your travel documents on our website:
Complete the online form by offering your private information.
Review your answers to ensure they are all correct, after that, select your preferred processing time and pay the relevant fee.
Upload document scans required, then hit submit. The document will be sent to your inbox when it has been approved and processed. That's all! iVisa.com makes it simple for you.
Frequently Asked Questions
Do I need a vaccine to travel to China?
China may require proof of vaccination against yellow fever to prevent any travelers from arriving with this disease and spreading it in the country. Polio may be present in some parts of China, so make sure that you are up to date with this vaccine. While individual countries determine their requirements, you can continue traveling peacefully if you take responsibility to verify these regulations before traveling to the chosen country.
So in summary, if you want to know 'Do I need a vaccine to travel to China?' then the fast answer is that you don't need any specific vaccine.
Do I need to take a PCR COVID-19 Test before traveling to China?
COVID test prior to arrival: All travelers need a negative PCR test 48 hours before departure.
Is there a quarantine requirement on arrival to China?
COVID quarantine requirements: There are no quarantine requirements.
Can iVisa.com help me process my travel documents to enter China?
Yes, our team can help you get your Chinese Group eVisa and your Business eVisa on Arrival, as well as health declarations required. However, we recommend you always check on our visa checker what documents you need to enter according to your country of origin.
Do I have to pay a fee if I want to enter China?
We recommend that you apply for a Health Declaration with iVisa.com receive your documents promptly without the stress of time-consuming government pages.
iVisa.com offers 3 processing speeds so you're covered even if your trip is tomorrow. The options are as follows:
Standard Processing : This speed is perfect for planners who are in no rush and have the lowest price

USD $35.99

-

24 hours

.
Rush Processing : When your flight is this week, but you will have to pay more.

USD $62.99

-

4 hours

.
Super Rush processing : If you just remembered to request your document and your flight is later today, choose this option, but you will have to pay a higher fee.

USD $102.99

-

30 minutes

.
You can pay the fee with a debit or credit card, as well as with Paypal.
Where can I see what documents I need to visit China?
Using the Visa.com Checker Tool is the best way to find out what you need to get to China safely. This feature was created for ease of use and to provide the maximum amount of information relevant to your unique travel situation. If you apply with iVisa.com, you have the right to spend 30 days in China with your eVisa The website can answer your concerns like Do I need a vaccine to travel to China?.
Keep in mind that most of the time you'll need at least these basic items:
Valid passport.
Email address.
**Credit/debit card for payments.
How can iVisa.com simplify the Health Declaration process?
iVisa.com aims to ensure travelers enjoy a seamless getaway, so we focus on the documentation you need to have ready when you arrive at the border. You may need to present some evidence, so at iVisa.com we offer you complete and simple advice.
It's as easy as one, two, three.
First Complete the application with your personal information.
Second Pay the processing fee, ensuring your paperwork is in the right hands.
Third Upload copies of your documents and apply.
Is it safe to use the iVisa.com platform?
We understand that users want to be sure that their procedures are in the right hands. We use the highest quality protection software to carefully protect our platform with the best security so that your data is always safe with us. You can also read some of our satisfied customer reviews to learn more about the company.
Where can I read more information?
To read more articles like this one Do I need a vaccine to travel to China? you can click on the iVisa.com website for more information. Stay up-to-date with the latest developments on the site or speak to one of the teams of experts who you can reach through the chat feature.
iVisa.com Recommends
The Chinese New Year is often celebrated in mid-February, with red lanterns lit around the country, traditional local dishes prepared in each home, and new clothes were given to younger members of the family, along with red packets or envelopes filled with money. This is probably one of the biggest festivities in the world, and a big reason to visit China each February.
But besides that, China also offers other beauties that you should not overlook. One of those is undoubtedly the Chinese Wall, an ancient fortification with more than 21,200 km in length. In China, you can also explore the Forbidden City, a palace complex located in Beijing, which was the official residence of the Emperors of China and their court, as well as the ceremonial and political center of the Chinese Government.
Additionally, China also possesses the famous Terracotta Warriors, a set of more than 8,000 life-size figurines of terracotta warriors and horses, which were buried near the self-proclaimed First Emperor of the Qin Dynasty, Qin Shi Huang. Similarly, this Asian giant has at its disposal the historic Temple of Heaven, the largest temple of its kind in the entire republic.
To fully enjoy this country, don't forget to apply for the eVisa or the Health Declaration at this link.