As of October 26, 2020, the Costa Rican government removed the Covid-19 PCR test required for entry. Nonetheless, every visitor will still be asked to show his or her Costa Rica Health Pass and pay for local health insurance. If you have your own medical plan, this must guarantee coverage for medical expenses for at least $50,000USD and minimum coverage of $2,000USD for extended lodging expenses in case of contagion of coronavirus during your stay. These entry requirements apply to both air and sea travelers.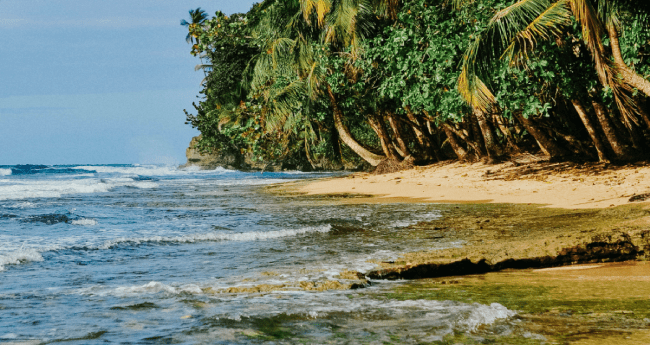 You can apply today for your Costa Rica Health Pass by simply filling the 100% online application form on iVisa.com. This Health Pass is valid for 30 days after arrival and a Single Entry.
Do I need a vaccine to travel to Costa Rica?
There are several vaccine requirements for Costa Rica and safety tips you should follow. The vaccine list can be found down below in the Frequently Asked Questions (FAQs).
A Health Pass is mandatory to enter Costa Rica in addition to the vaccine listing.
To request your Health Pass please go to iVisa.com.
Fill out the application form with all your details.
Pay the fee with a credit/debit card or PayPal account.
Upload the requested documents such as passport, photo, etc.
Submit and wait for the specialized team to process it.
Your Health Pass will be delivered to your email inbox.
Get your Costa Rica Health Pass.
Frequently Asked Questions
Which are the vaccine requirements to travel to Costa Rica?
Recommended
Hepatitis A
Hepatitis B
Typhoid
Rabies (only for people working directly with wildlife)
Required
Polio
Measles-Mumps-Rubella (MMR)
TDAP (Tetanus, Diphtheria, and Pertussis)
Chickenpox (Varicella)
Influenza
Yellow Fever (Required if traveling from a country with risk of YF virus transmission and 9 months of age.)
Do I need a COVID vaccine or vaccination certificate to enter Costa Rica?
No, you don't need a COVID vaccination certificate to enter Costa Rica. Now if you are a Covid vaccine certificate holder, you won't need to present travel insurance that covers COVID-19 disease.
Accepted vaccines are AstraZeneca, Janssen, Moderna, Pfizer-BioNTech, Sinovac, Sinopharm, Covaxin.

You are considered vaccinated if all doses of a vaccine against SARS-Cov-2 have been administered for at least two weeks before traveling.
Is the Chikungunya mosquito present in Costa Rica?
Yes, so please use insect repellent and/or cover your skin when going outside.
Fill out the application for a Health Pass.
What are the areas with a bigger risk of Malaria in Costa Rica?
Most of the Malaria cases have been found in the regions of Curtis and Pocosol in San Carlos Canton (Alajuela Province). Other provinces with reported cases are Heredia, Limón, and Puntarenas, so please ask your doctor to prescribe an antimalarial medication before the journey.
Is Dengue fever a threat for travelers in Costa Rica?
Yes, so please prevent mosquito bites when going on a jungle excursion or if you are planning on staying in a mountain resort.
Click here to request a Health Pass.
What documents do I need to get a Health Pass online?
The list of documents required will change depending on the country of origin, but most of the time we ask at least these basic items:
Valid passport.
Email address.
Valid Payment options : It can be Paypal or debit/credit card.
Can iVisa.com help me with the entry requirements for my travel?
Our services include a quick and safe process to help you get this document. We can help you at any time! All you have to do is to complete an online form.
Which are iVisa.com processing times and prices?
Standard =

USD 20.00

-

24 hours

.
Rush =

USD 35.00

-

4 hours

.
Super Rush =

USD 60.00

-

30 minutes

.
Take me to the Health Pass application form.
Is it safe to use iVisa.com to get my Costa Rica Health Pass?
Sure it is! Please read our references section to confirm you have landed on the correct site. iVisa.com's mission is to deliver a quick and secure service online.
iVisa.com's Costa Rica information page.
Where could I find more information?
iVisa.com customer service agents are available for you 24 hours a day, 7 days a week if you still have questions or doubts.
iVisa.com Recommends
ARENAL VOLCANO NATIONAL PARK
Have you ever vacationed on the foothills of a volcano? Believe it or not, some people do in Arenal Volcano National Park. Located 15 kilometers from Fortuna, a small town in the northwest part of Costa Rica, situated between the slopes of the Cordillera de Tilaran mountain range and the San Carlos plains.
Arenal volcano stayed active between 1968 - 2010 with the 1968 explosion being the most potent and devastating. The eruptions killed 87 people, buried three small villages (Tabacón, Pueblo Nuevo, and San Luís), and affected more than 232 square kilometers of land.
Nowadays, Arenal Volcano National Park is a top tourist destination with a broad offering to the visitors including lodging, nature tours, and extreme sports.
Things to do
Volcano Hiking
Trekking (trails: Heliconias, Coladas, Tucanes, Los Miradores, El Ceibo)
Swim in La Fortuna Waterfall
Hanging bridges walk
River Rafting (rivers: Toro, Balsa, and Peñas Blancas)
Rappelling
Canopy
Zip Lining
Tubing
Mountain biking
Bathe in hot springs
Take the Sky tram (cable car)
Horseback riding
Kayaking (Lake Arenal)
Boat tour (watch crocodiles, red limpets (shellfish), and birds like herons, kingfisher, and spoonbills)