Visa Policy for Croatia
The Croatia visa policy explains all the regulations you need to follow in case you decide to travel to Croatia soon. The document states what nationalities can enter Croatia without the need for a visa and which countries need to follow a specific procedure for a visa.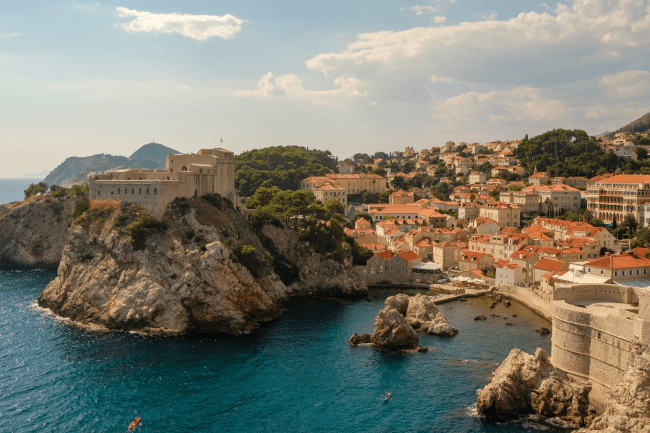 Croatia is a part of the European Union, which means that the country follows the same visa policy as other EU member states. We can confirm that Croatia isn't part of the Schengen zone yet. The country applied back in 2015, but there isn't a definitive answer at the moment.
Some nationalities have visa-exempt agreements with Croatia, which provides them free access to the country. In this case, you need to have a passport with at least a 3-month validity for a smooth entry.
If your country doesn't have this benefit, you will likely need to apply for a visa through an embassy or consulate. The process must happen regardless of the reasons for your trip or for how long you would like to stay. As the Croatia visa policy states, you will need to collect the required documentation before you make your appointment at the nearest Croatian embassy.
Continue learning more details about the Croatia visa policy. Keep reading the following lines.
Tourist Visa Policy for Croatia
The Croatia visa policy specifies certain guidelines for travelers with purposes of tourism entering Croatia. If you come from an EU state, you have freedom of movement. In other words, you only need to show your EU passport to enter Croatia without any issues.
If your nationality isn't part of the European Union, you can be granted free access for a short stay in case your country has a specific agreement with Croatia. Croatian authorities usually provide 90 days of stay within a 180-day period in the country. Around 90 nationalities have this benefit. This is the case with a residence permit from Bulgaria, Romania, and Cyprus.
Any other nationality will need to apply for a consular visa, which entails approaching a Croatian embassy or consulate with the required documentation.
Let's explore more about the Croatia visa policy in the following lines.
Tourist Visa for Croatia
You will find over 150 nationalities that need a tourist visa to enter Croatia. The tourist visa also known as a short-stay visa not only allows tourism activities in Croatia, but you can also travel for medical treatments, business, and other purposes.
The tourist visa provides 90 days in Croatia within a 6-month period. It's offered for single, double, or multiple entries.
In this case, you need to check what documents you need. After that, you must visit the closest Croatian embassy or consulate for the procedure.
The requirements for a tourist visa for Croatia are:
Complete the visa application form. The document is available in Croatian and English.
Passport. Your passport must have a minimum 3-month validity after your intended date of departure from Croatia. Bring a copy of the first page and copies of Schengen, UK, US, Australia, Canada, New Zealand, or Japan visas from the past 3 years.
A recent passport photo. You need to glue it to your application.
Medical insurance. It should cover a minimum of EUR 30,000 for your whole stay.
Hotel booking.
Flight tickets.
Letter from employer, parents, or sponsor. This document proves you have a guarantor for your expenses in Croatia.
Bank statements showing you have enough funds for your trip. You need to have at least EUR 70 per day.
If you're traveling with a minor, you should also attach the birth certificate, a consent letter from parents or legal guardians, and copies of the parents' passports.
It usually takes around 15 days to one month to process a visa application at any embassy. Make sure to apply in advance, so your visa arrives just before you start your trip.
The consulate or embassy will confirm how long it will take to have an answer about your tourist visa. The countries that need this type of visa are:
Afghanistan
Aland Islands
Algeria
American Samoa
Angola
Anguilla
Armenia
Aruba
Azerbaijan
Bahrain
Bangladesh
Belarus
Belize
Benin
Bermuda
Bhutan
Bolivia
Bonaire
Botswana
British Indian Ocean Territory
British Virgin Islands
Burkina Faso
Burundi
Cameroon
Cambodia
Cape Verde
Caymand Islands
Central African Republic
Chad
China
Christmas Islands
Cocos Islands
Comores Islands
Congo (Rep.)
Congo (Dem Rep.)
Cook Islands
Cuba
Curacao
Djibouti
Dominican Republic
Ecuador
Equatorial Guinea
Egypt
Eritrea
Eswatini
Ethiopia
Falkland Islands
Faroe Islands
Fiji
French Guiana
French Polynesia
Gabon
Gambia
Ghana
Gibraltar
Greenland
Gudeloupe
Guam
Guernsey
Guinea
Guinea-Bissau
Guyana
Haiti
India
Ivory Coast
Indonesia
Iran
Iraq
Isle of Man
Jamaica
Jersey
Jordan
Kazakhstan
Kuwait
Kyrgyzstan
Laos
Lebanon
Lesotho
Liberia
Libya
Madagascar
Malawi
Maldives
Mali
Martinique
Mauritania
Mayotte
Mongolia
Montserrat
Morocco
Mozambique
Myanmar
Namibia
Nauru
Nepal
New Caldenia
Niger
Nigeria
Niue
Norfolk Islands
North Korea
Northern Mariana Islands
Oman
Pakistan
Palestinian Territory
Papua New Guinea
Philippines
Pitcairn Islands
Puerto Rico
Qatar
Reunion
Russia
Rwanda
Saint Berthelemy
Saint Helena
Saint Martin
Saint Pierre and Miquelon
Sao Tome and Principe
Saudi Arabia
Senegal
Sierra Leone
Sint Maarten
Somalia
South Africa
South Georgia and the South Sandwich Islands
South Sudan
Sudan
Suriname
Svalbard and Jan Mayen
Syria
Tajikistan
Tanzania
Thailand
Togo
Tokelau
Tunisia
Turkey
Turkmenistan
Turks and Caicos Islands
Uganda
United States Virgin Islands
Uzbekistan
Vietnam
Wallis and Futuna
Yemen
Zambia
Zimbabwe
Aside from your tourist visa, you need to acquire the Announcement Form. This essential document allows health authorities to learn more about your current health condition. The Announcement Form is part of the health protocols to control the pandemic.
Other Visa Information for Croatia
If you want to visit Croatia for other reasons that don't include tourism, you can always apply through a Croatian embassy or consulate.
The Croatia visa policy explains the requirements for a business visa. First, you need to have a letter of guarantee form that should be signed by a Croatian legal person or entity. The letter should mention that your guarantor has enough funds for your trip to Croatia. Besides, you need an invitation letter from the company in Croatia and another letter from your employer. Your employers must mention your positions, the days you will be absent from your job, and your salary. Finally, you need to submit a cover letter indicating the purpose of your trip. Remember that you need to prove you have enough funds for the duration of your trip.
In case you want to study in Croatia, you should also follow the Croatia visa policy. You need to have an enrollment document from a Croatian educational institution, accommodation details, bank statements showing you have financial means while studying in Croatia or a scholarship, health insurance, and a cover letter explaining why you're applying for a student visa for Croatia.
Learn all about the Croatia visa policy with us and start planning your next trip to Croatia.