Important update: Because we're an American company, we at iVisa, are no longer allowed to offer the Cuban Visa. That being said, we can still help you with all the information you need to apply for your visa online correctly.
Cuba is a pearl in the Caribbean. Tourists visit this island repeatedly because of its sparkling waves, charming towns, and friendly people, among other reasons.
To enter Cuba, international travelers will need to obtain a Cuba Visa or a Tourist Card, depending on their nationality. You can use our Visa Checker Tool to find out which travel document you need to visit Cuba.
Below we'll tell you everything you need to know about these documents, the requirements, and how to get them.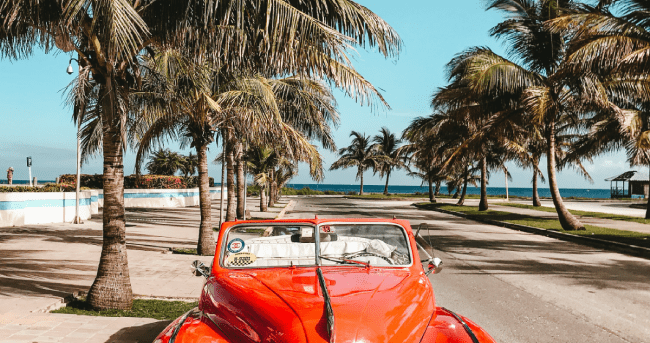 What's the difference between a Cuba Visa and a Tourist Card?
A Cuban Tourist Visa and a Cuban Tourist Card are very similar documents. They both allow you a single entry lasting up to 30 days.
However, obtaining a Cuba Tourist Card is far easier than getting a visa. You can apply for a Tourist Card online, or get one at a travel agency or at the many airlines that fly to Cuba.
Then, why would anyone apply for a Cuba Tourist Visa? Because the tourist card is not available for all passport holders. There are around 20 nationalities that can only apply for a Cuba Tourist Visa. Check if yours is one of them by using our visa checker tool.
What are the Cuba Visa Requirements?
To apply for either document, all you'll need is the following:
A valid passport - It must be valid for at least 6 months after you arrive in Cuba.

Your flight itinerary - For both to and from Cuba.

Travel Insurance - All travelers must carry their own insurance.
With these documents, you'll be able to enter Cuba once and stay there for a maximum stay of 30 days. You can extend your stay for another 30 days at an immigration office in Cuba. You may be required to present additional documentation and provide reasons for an extended stay.
If you're a Canadian citizen, you can stay in Cuba for 90 days.
Remember that neither the Cuban Tourist Visa nor the Cuban Tourist Card allows you to work in Cuba.
If you're a citizen of the US or traveling from the US, you will need to apply for a special pink visa. The requirements and duration of the visa are the same. The only thing that changes is the price. US citizens and travelers coming from the US have to pay a surcharge for their Cuban Visa or Tourist Card.
All travelers need to carry their Cuban Visa or Tourist Card, including minors.
How to apply for a Cuban Visa
As said before, you can apply through many travel agencies and airlines. But we strongly recommend that you apply online for your visa to Cuba.
The application process is straightforward. All you need to do is fill out an online form, upload your supporting documents and pay for your visa. In the online application form, you will be required to provide personal information, details of your trip, and contact information like an email address and phone number.
Once your visa is ready, you will receive it via email. Most visas are processed at the standard speed, which takes 1 week. However, you can also pay an express fee and obtain your visa in 1 business day.
Although we cannot recommend a specific visa service provider, we can tell you about many Cuba visa services online. We recommend you research them all and find the right one for you.
Pro-tip: Ensure that the government fee is already included in the service fee of your visa application.
Do I need to visit a Cuban Embassy to get a Tourist Visa or Card?
The process to obtain a Tourist Card can be completed online. However, to get a Cuban Tourist Visa, some travelers might be required to visit the embassy or consulate. If so, you will be notified via email or at the time of application.
Suppose you're looking to obtain a different visa, like a business visa or a long-term visa to work or study in Cuba. In that case, you'll need to contact the embassy to obtain more information and complete the application process.
Where can I get more information?
Reach out to our excellent customer support team via chat or email at [email protected] to get an answer to all your questions about this or any other travel document. They are available 24/7 to help you.