If you are looking to travel to Cuba then you will have to get quarantined for about a week. In addition, you will have to get a temperature screening test upon arrival to cuba. You will also need mandatory travel insurance or you will have to buy a Cuban medical insurance coverage at an airport upon arrival. Upon arrival, you will also have to take a Covid-19 PCR test. Then, foreign citizens and non-residents are required to self-quarantine at their own expense in Cuban government approved hotels until day 5 of self-isolation, when they will be required to undergo a second PCR test. Those who have tested positive will be taken to a government run facility for future treatment and testing. Travelers are also required to wear a face mask at airports.
Learn more about travel to cuba covid restrictions.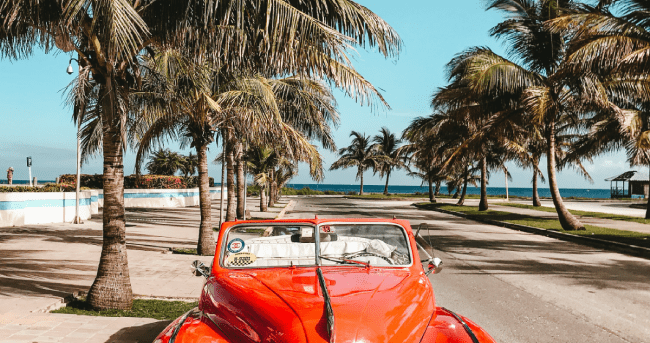 Things were a little hectic with this pandemic. But thankfully, things are getting back to normal now. With proper safety measures, you can travel as you like.
Click here to know more.
What steps should I follow to get my Visa with iVisa.com?
Check out iVisa.com application page.
Complete the application form by filling out all the details.
Choose a processing speed that suits your journey.
We will get back to you with the updates, once our experts review your application form We will send your e-visa at your registered email address which you can then show at the airport in the form of hard copy and soft copy.
To avoid last minute rush, it's always considered best to plan things ahead. This way you would be able to enjoy your trip without any worries.
Check out travel to cuba covid restrictions to learn more!
Frequently Asked Questions
What are the documents required to apply for a cuba visa?
You will need the following important documents to apply for travel to cuba under covid restrictions through iVisa.com:
A professional headshot which you can get one from iVisa.com professional service.
Your passport should have at least six months of validity.
Your Email address through which we will send your cuba visa.
Valid payment options like, Paypal or debit/credit card to pay the application fees.
How do I process my cuba visa?
There are three easy steps that you need to fulfill to process your Cuba visa:
First, visit iVisa.com application form and complete the application form. Choose a processing time that fits best your travel needs.
Second, double-check all the entered details. Pay the application fees online through debit/credit card or Paypal.
Third, The last step is to Scan and upload your passport and other required documents. Click on the 'submit' button.
What are the processing times and prices?
At, iVisa.com we offer three options process your application fees to travel to cuba during covid restrictions:
Standard processing time – this one is the cheapest option with a longer waiting period.
Rush processing time – the rush processing option comes up with a fast service with slightly expensive pricing.
Super rush processing time– Super rush processing option is the fastest option with costliest pricing.
For more information, check out travel to cuba covid restrictions.
Is it safe to use iVisa.com to get my Cuba visa?
Yes, iVisa.com you can completely rely on us as your service provider. We have a strong database that protects all your data and information. You can take a look at the customer reviews regarding our service.
I have more unresolved questions, where can I find more info?
If you have any more unresolved questions, you can always contact our customer service. We are available 24/7 to solve all your doubts. One of our customer service representatives will contact you back and will solve all your queries. To know more, check out travel to cuba covid restrictions.
iVisa.com Recommends:
In Cuba, iVisa.com recommends you to visit Maria la Gorda in Cuba. Maria la Gorda is a beach, diving centre and hotel located in Guanahacabibes National Park. Maria la Gorda means Maria the fatso but no one knows what it means. There's a rumor going on that pirates kidnapped a plus-size woman and left her alone in this region. Earlier, Maria la Gorda was the home for Indigenous people called the Guanahatabeyes. These people lived in Cuba for until the European Invasion of the Americas which killed almost all the indigenous people in the Caribbean. Before the Spanish arrived in Cuba, there were an estimated 100,000 Guanahatabeyes who are thought to be the first inhabitants of Cuba. That's why, today you can sss over 100 archaeological sites of the Guanahatabeyes people.