If you are looking for a picturesque town in the Czech Republic, then you must visit Telč. The main square is a UNESCO World Heritage Site and you can visit the precious Gothic castle, the famous St. James's Church, and go underground to walk around secret passages. We know this town sounds fantastic so start thinking about the Czech Republic as your next destination. Explore more about the travel documents you will need before arrival.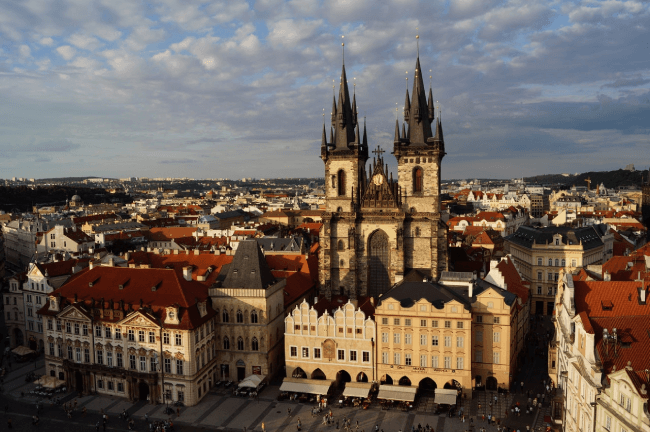 Citizens of Brazil will be required to have an ETIAS when traveling to the Schengen zone which includes the Czech Republic. The ETIAS is a new immigration guideline established by the European Union which will soon be available for non-EU visitors.
iVisa.com will offer a fast, simple, and reliable service for your ETIAS. Don't hesitate to use the iVisa.com platform for the Czech ETIAS.
We have collected all the information you need to know about Czech ETIAS so keep reading!
Frequently Asked Questions (FAQs)
What is the Czech ETIAS?
The European Travel Information and Authorization System or ETIAS will become the mandatory authorization requested to all countries visa-free to the Schengen zone. Over 60 countries in the world don't need a visa to travel to the Schengen area, one of those countries is Brazil. Therefore, citizens of Brazill will need ETIAS before traveling to the Czech Republic.
The ETIAS is an electronic form so you will only need an internet connection to complete it. ETIAS will be very simple to obtain so don't worry about this new requirement. iVisa.com will help you with the process!
Do I need an ETIAS for every country in Europe?
No, you don't need an ETIAS for every country in Europe. Check these relevant characteristics of ETIAS:
ETIAS is valid for the 26 countries in the Schengen zone. Once you acquire your ETIAS you can visit all the countries in the Schengen area, including the Czech Republic.
Not all countries in the European continent are Schengen, so be careful when planning your itinerary. Go to the iVisa.com Visa Checker for further information about travel documents you may need and also to confirm if you only need an ETIAS.
How long is the Czech ETIAS valid for?
The ETIAS document is valid for 3 years. Also, during each trip, you can stay a maximum of 90 days in the Schengen zone. The ETIAS also allows you multiple entries to the Schengen countries.
What information should I provide?
You will be required to provide information such as your name, nationality, phone number, address and place of birth, etc. Expect to answer questions about criminal background, travel history, and health records among others.
iVisa.com requires:
Your scanned passport showing your photo and details.
A valid email address, for receipt of documents.
Payment options, iVisa.com brings you two alternatives, pay with Paypal or charge the iVisa.com fee to your credit/debit card.
What are the waiting times for Czech ETIAS?
You can choose between the following options:
Standard, the moderate processing time for a reasonable fee.
Rush, quicker alternative when you are in a hurry.
Super rush, the fastest service for the highest price.
Some doubts about which one to choose? Reach out to our incredible support agents.
What are the usual steps for the ETIAS process?
Complete the online form with truthful information and select a waiting time according to your needs.
Check the answers and proceed to pay with credit/debit card or with Paypal.
Attach the passport scan and any other documents required.
iVisa.com support agents can help you if you have any doubts.
How will I receive the ETIAS?
You will receive the ETIAS document in your email inbox. iVisa.com will make sure to send you the Czech ETIAS once your application has been approved by the EU immigration. Show this document upon arrival so you don't have any issues entering Europe.
Do I need to complete an ETIAS for my children?
Yes, children also need to apply for ETIAS. There are no exemptions due to age to acquire an ETIAS, so fill out an application for every child traveling with you.
Is it safe to use iVisa.com?
iVisa.com is proud to handle tons of travel documents with the best results. iVisa.com manages top-notch platforms in the most effective way to obtain ETIAS safely. Feel free to check on our clients opinions and be sure to choose iVisa.com!
Is there more information available?
Yes! Discover more information on the application page where we explain further about ETIAS. Also, contact the support team with any questions. They are available 24/7.
Your next trip can be done easily with iVisa.com!