Prague, the Czech Republic's capital, is where you can see the famous Astronomical Clock. The clock is in the Old Town Hall, and it dates back to the 15th century. It's considered the best-preserved medieval clock. Don't miss the chance to visit the clock when it strikes an hour. The Czech Republic has so much to offer, so it's time to review the entry requirements for international visitors.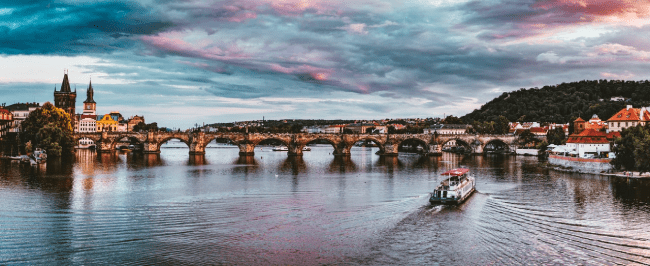 Citizens of Ukraine will need to comply with the new entry guidelines to the Czech Republic. Ukrainians will be required an ETIAS, an electronic form implemented by the European Union.
Before you start traveling, check with iVisa.com the latest information about Czech ETIAS. iVisa.com offers a simple, fast, and 100% trustworthy product. Keep reading about Czech ETIAS.
Frequently Asked Questions (FAQs)
What is an ETIAS?
ETIAS is the European Travel Information and Authorization System. Czech ETIAS is an authorization document approved by the European Union. Countries exempt from a Schengen visa will have to acquire the ETIAS before traveling to the Czech Republic. Ukraine is part of the 62 countries visa-free to the Schengen zone, so citizens of Ukraine will need an ETIAS.
ETIAS's implementation is a response to safety concerns. High crime rates and illegal immigration have forced the EU to create ETIAS. The system will collect information to detect hazards to the European countries.
Is Czech ETIAS a visa?
No, Czech ETIAS is not a visa. Visas are far more complicated because the process requires appointments at the consulates and long paper forms. Czech ETIAS is an easy process as you only need WIFI access to fill out an electronic questionnaire. Without leaving your home, you can have the ETIAS easily.
Citizens of Ukraine don't need a Schengen visa, for this reason, they only require an ETIAS before traveling. Ukraine citizens can obtain an ETIAS authorization with an Internet connection and a few minutes to complete the application.
How many countries can I visit with Czech ETIAS?
Citizens of Ukraine can visit the 26 countries in the Schengen zone with their Czech ETIAS. The ETIAS is not exclusive to the Czech Republic. In case you want to find out more about Schengen countries and travel documents, check the iVisa.com Visa Checker.
Can I use the Czech ETIAS for multiple entries?
Yes, the Czech ETIAS is valid for multiple entries, but you need to comply with the next parameters:
The ETIAS document is valid for 3 consecutive years.
You can stay up to 90 days in a 180-day period in the Schengen countries.
Any doubts about this? Get in touch with the support team.
What info do I need for Czech ETIAS?
Citizens of Ukraine applying for a Czech ETIAS have to complete an electronic questionnaire. Respond to questions about name, address, date of birth, nationality, etc. Expect to provide details about criminal records, health conditions, and previous trips to risky countries.
The next requirements are relevant too:
The scan of your passport.
A valid email address, so you can acquire the ETIAS electronically.
Payment options, iVisa.com charges a minimum fee for the service that you can pay with a Paypal account or a credit/debit card.
What are the waiting times?
Ukraine citizens can choose between the following waiting times according to their preferences:
Standard, an average waiting period to acquire Czech ETIAS.
Rush, quicker service for a fair price.
Super rush, in case you are in a hurry, pick the fastest service.
What is the process for Czech ETIAS?
Citizens of Ukraine need to follow the next steps:
First, answer the inquiries in the electronic form. Then select a waiting period (Standard, Rush, or Super Rush).
Second, check your form and pay with a credit/debit card or using a Paypal account.
Third, upload the scan of your passport.
After these three steps, you will receive your ETIAS!
How will I receive the Czech ETIAS?
The Czech ETIAS will arrive at your email inbox. iVisa.com will make sure to send it to the email address provided in the application. Citizens of Ukraine need to give a valid email address, so they can receive their Czech ETIAS safely.
How safe is Czech ETIAS with iVisa.com?
It's 100% safe. Travelers can trust iVisa.com, as the company works with the best security standards. Go to our customers' reviews and confirm iVisa.com services are the best in the market.
I have some questions, who should I contact?
Connect with any of our support agents who are available 24/7. Also, you can write to [email protected].
Apply and obtain your Czech ETIAS!