Since 1989 when the Berlin Wall fell, Central European countries have become as popular as Western Europe for all incoming travelers in the continent. From these, who wouldn't want to admire Czechia with all the art and literature scenes in every corner, four gorgeous National Parks, and their "Bohemian" culture?
Currently, Colombia is part of the Schengen visa-exempt program, which allows its citizens to easily catch a flight and head over to the Czech Republic for a short trip. You can plan one full day of tourism around the main sites, but to really get a feel of the local culture, you need a couple of days and at least one stop for fried cheese and a cold Pilsner.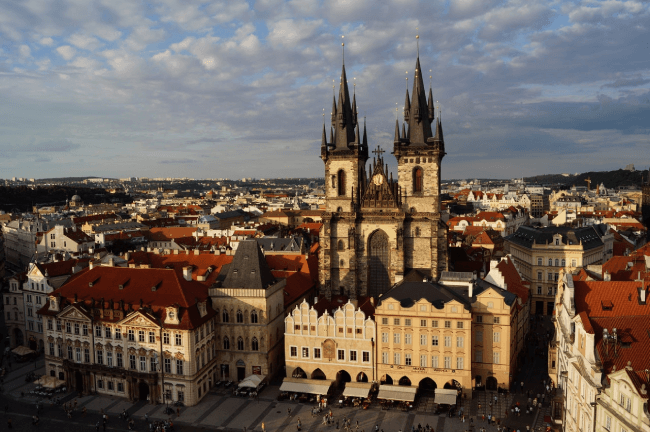 Discovering Czechia's limestone caves and medieval palaces will only continue to be possible by requesting a Czech ETIAS for citizens of Colombia and fellow foreigners. The ETIAS functions as a travel authorization to prescreen the visitors before arriving and ensuring that they aren't a threat to the Schengen Area. It's an easy document to obtain digitally, and will only need to be requested by citizens of any Schengen visa-free country.
Check out the following FAQs to understand with more details on the Czech ETIAS for citizens of Colombia, and how the online application process can be done simpler with iVisa.com.
Frequently Asked Questions
What must I know about the Czech ETIAS?
The Czech ETIAS is a travel document created by the Schengen members to help increase the countries' security, reduce illegal immigration, and reduce terrorism. To do so, ETIAS must be applied for by all visitors coming from Schengen visa-free countries. This will create a simple prescreening analysis of the travelers and ensure they're not a threat to the destinations.
Do all citizens of Colombia need an ETIAS?
The need for a Czech ETIAS for citizens of Colombia is mandatory before departing their country of origin. But, you only need to apply for the ETIAS if you are traveling for tourism or business purposes and a stay of no more than 90 days.
Adults and children are required to carry this document before boarding their flight and can request it up to 24 hours before the flight.
Can I visit any European country with the ETIAS?
Soon you will need an ETIAS authorization document to enter the Schengen countries. The ETIAS was created by and for the Schengen Area states, which is why the travel authorization will only allow you to enter any of the Schengen states. These might even be outside of Europe, and you will be able to visit them.
For how long can the Czech ETIAS be valid for citizens of Colombia?
Once you apply for the Czech ETIAS, the validity for each citizen of Colombia is determined by their submitted form. The final validity of your ETIAS document can be the length of your trip or for a total of 3 years.
No matter the extent of time your authorization is valid, you can only remain up to 90 days in any of the Schengen countries.
For how long can Colombian citizens stay in the Czech Republic with ETIAS?
After your online Czech ETIAS application, you will be informed of the total time it will be valid for you to travel. Whichever the ETIAS validity, you are allowed to stay no more than 90 days in one or more Schengen states in 180 days. During this time, you have multiple entry access to all of these countries.
Are many ETIAS applications denied?
Because the ETIAS has not been formally introduced there is no statistical analysis on the percentage of a denied application. What we can mention is that your Czech ETIAS application form is sent to a digital process through which your data is revised through many international immigration databases.
If there is any piece of information that wasn't correctly typed or if the automatic system senses that part of your data is invalid, there will be a manual revision of your application. Therefore, you must be sure you include updated and truthful information on your application form.
Which documents do I need to apply for the Czech ETIAS?
By applying for the Czech ETIAS through iVisa.com the only documents you will need are:
A valid passport, we will also require that you send us a scan of the document to verify your personal information.
Your valid email address, so we can send you the ETIAS results and any other consultation during the application process.
Method of payment, choose between your PayPal account and a debit/credit card to pay the service fee.
What is the Czech ETIAS application process for citizens of Colombia?
Your Czech ETIAS application can be made through the official webpage, or you can get an easier and faster option with iVisa.com. The iVisa.com service is not only simple to complete, but it offers you processing speeds to get your documents delivered in less time.
The iVisa.com process is done in three simple steps:
1.Answer the questions on your application form with personal data and pick a processing time for your submission.
Standard processing time - is the regular option, cheaper but slower to get your ETIAS.
Rush processing time - is a bit more expensive and speeds up the process to receive your ETIAS results.
Super rush processing time - is the most expensive option, but you will obtain the ETIAS results in less time than the rush processing time.
2.Verify that the details provided in the first step are correct, focus on the spelling, and continue to make the online payment.
3.Your third step is to make sure all requirements are ready and upload if required. You must then send the online form.
Once finished, you only need to wait for the results to be delivered on your inbox.
How safe is my data on the iVisa.com system?
The practical way of applying for an ETIAS with iVisa.com not only relies on their fast system but also on the security software used. While typing in your information, none of it is put at risk; it's safely stored on the iVisa.com platform and databases even after you submit your application.
You can go through some of our client reviews to verify it.
How can I find more data on Czech ETIAS?
If you are in search of more information about the Czech ETIAS for citizens of Colombia, you can find useful tips and data on iVisa.com's webpage. Our customer service team is ready to give you all the help needed to solve any questions you might have about ETIAS.
Find more information about ETIAS here.