The Schengen Visa is mandatory for the citizens of Bangladesh when planning a trip to the Czech Republic. Keep that in mind because the Czech Republic is one of the Schengen Member States and Bangladesh is a nation that's not under a Schengen visa-free program.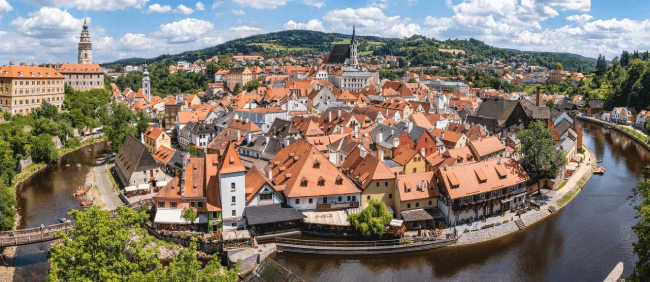 This visa has a process that might be a bit complicated, but it might change in the future thanks to the online application we're already producing at iVisa.com. By using this online form, you could receive your Czech Republic Schengen Visa for Citizens of Bangladesh in less time than completing the traditional process by yourself.
By reading this article, you'll be able to get the most important questions while applying for your Schengen Visa.
Frequently Asked Questions
What is the meaning of Schengen Visa?
Many countries have to get a Schengen Visa to travel to the Schengen Area. The exception goes for those who're part of a Schengen visa-waiver program, but sadly, Bangladesh isn't one of these countries. That's why you have to get the Schengen visa before visiting countries like the Czech Republic when you have a Bangladeshi passport.
The Schengen Visa is an authorized travel requirement that permits you to enter the Schengen area for a short-term stay (you can visit that area for no more than 6 months).
This paper visa is available only by visiting a local embassy that issues it. Nonetheless, we'll be able to help you with this topic very soon by offering you an online form.
You can find more information about the Czech Republic Schengen Visa for Citizens of Bangladesh on this link.
Can I get any type of Schengen Visa to travel to the Schengen area?
This answer will depend on the purpose of your trip as there's not only one type of Schengen Visa.
You might need a Uniform Schengen Visas (USV) if you want to travel as a tourist, but keep in mind that this visa can also be classified as a Single-entry visa, Double-entry visa, and Multiple-entry visa.
By using the USV, you can also declare if you'll be exploring the country (or the Schengen zone) for business, tourism, or other plans.
The Limited territorial validity visa (LTV) is another type of visa that's frequently requested. You can choose it if you don't have an authorized travel document (for example, your passport) but you have an emergency and you must enter the Schengen area. This visa can also be great if you have to complete the flight connections.
By checking this link you can obtain more information about other Schengen visas.
What documents and items are necessary to obtain the Schengen Visa?
To get your Schengen Visa securely, you must collect the items below first (keep in mind that it would be the same with iVisa.com's online form):
The first thing you need is an unexpired passport with a copy of the first page.
You also have to get 2 professional and recent photos.
Another thing you need is your return-ticket reservation.
A travel insurance with a minimum coverage of 30,000 €.
A Flight schedule.
A Proof of reservation.
You also need a proof of sufficient financial means while you stay in the Czech Republic.
Your travel itinerary with a letter stating your travel purposes.
A valid email address to be informed about the process by email inbox.
A Paypal or debit/credit card to process the payments if you use iVisa.com's online application form.
What are the prices for the Czech Republic Schengen Visa for Citizens of Bangladesh?
We know that pricing is probably the most crucial thing when applying for a paper visa. Therefore, take into account that the price for this document is $90 for adults and no more than $45 for kids who aren't older than 6 years old. All the kids that are less than 6 years old don't have to pay.
Nevertheless, don't forget that these prices can be modified a little if we offer you an online form because we'd have to charge an extra price to prepare your document a lot quicker and thus save you time and effort.
By using our services, you can pick one of the following processing plans:
Standard Processing plan, which is the least expensive of the three.
Rush Processing plan, which has a more high-priced fee because it makes you wait for less time than the previous option.
Super Rush Processing plan, which is the most high-priced because it makes you wait for less time.
How can I get the Czech Republic Schengen Visa for Citizens Bahrain safely?
By now, you can only receive this visa at a local embassy. But at iVisa.com, we're working a lot right now to produce an online form that will make this procedure much easier.
This online form will be ready to use very soon and to take advantage of it, you'd have to do the following:
Firstly, complete the online application form and choose your processing option to obtain the Schengen Visa as fast as you wish.
Secondly, ensure that all the information you wrote in the previous step is right before proceeding with the payment.
Thirdly and lastly, upload and add the scanned documents to the application form and click on 'submit' to complete the entire procedure.
You'll get the approval letter by email, so once you get it, don't forget to print it out and take it with you once you go to the local embassy. You'd get the actual once you finish the personal interview.
How safe is iVisa.com's website?
We know that using online forms can be very dangerous for your details, but that doesn't happen with our services because we have a 100% safe system that won't compromise your information.
Besides, we have an incredible team that's always ready to assist you in case you have issues or other problems while applying for your online document. You're free to reach out to them at any time.
Where can I get more information about the Czech Republic Schengen Visa for Citizens of Bangladesh?
If you want to find out more information about the Czech Republic Schengen Visa for Citizens of Bangladesh, keep in touch with our customer service agents that are always ready to assist you with any problems you have.
Besides, you're free to check this link if you prefer to read more questions about this visa.
We invite you to stay alert to our webpage because we'll provide an easier solution to receive the Schengen Visa very soon!