While visiting the main cities in the Czech Republic you can appreciate the world-class architecture and historical places as well as experience the beer and wine culture. But then you can also explore the off-the-beaten-path and find quaint colorful houses painted in varied pastel colors, some stunning castles, monasteries, and well-preserved fortresses.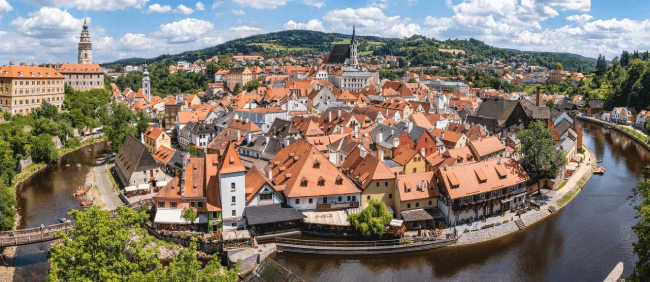 One of the many cool things you can do in the Czech Republic is to take a cycling trip. There are plenty of cycling routes for visitors or locals to explore. These routes will take you through lively and varied landscapes, flat countryside, farms and orchards, flower fields, stunning lakes, and vineyards.
If you are not much into cycling you can always road-trip along similar and alternative routes, just know that if you wish to visit this country you will need to apply for an ETIAS, a new traveling document required to enter the country. Please continue reading, in this next section, you will find essential information about the Czech ETIAS for Citizens of Malaysia, and how to apply to get yours.
Frequently Asked Questions
What is an ETIAS and why do I need one?
The ETIAS is the new European Travel Information and Authorization System, a new online document required for travelers who wish to visit the Czech Republic or any of the other countries in the Schengen area. It is a completely electronic system that resembles the US ESTA or the Australian ETA. This type of system saves time and effort for travelers, it verifies the information of the applicant in various international databases within minutes to later answer the applicant via email.
How can I confirm if I am eligible for an ETIAS?
To confirm if you are eligible to apply for an ETIAS you can use iVisa.com's Visa Checker Tool. Note that all citizens from non-EU countries who do not need a visa to enter the Schengen area at the moment will need an ETIAS. You can confirm if citizens from Malaysia are eligible for an ETIAS using the tool mentioned at the beginning of this paragraph.
How long can I stay in the Czech Republic with my ETIAS?
The ETIAS will allow you to stay for a maximum of ninety days inside the Czech Republic, or the Schengen Economical zone in general, this could be in one single country or multiple countries inside the territory. If you wish to know more about this, get in touch with our customer agents they will gladly give you more information.
What is the process to obtain my ETIAS?
The process to obtain your ETIAS with iVisa.com is smooth and secure, and can be completed in only three simple steps:
Firstly, type your personal information on the application form, this will take you just around twenty minutes.
Secondly, revise your information and confirm that all of the fields in the form are correctly filled.
Thirdly, provide the specific details required and necessary documents, then submit your application.
Do I need any specific documents for my ETIAS application?
You will need to attach along with your application form a scanned copy of your current passport and also provide the followings:
A valid email address where you will receive official information and your electronic document (ETIAS).
A payment method of your preference. It can be a credit card, debit card, or PayPal.
If I am traveling with my children, do they need to apply for an ETIAS too?
If you and your children are traveling together, each member will still need to follow the same process as indicated before and apply separately for an ETIAS. Our customer service team will provide you with detailed information on this if necessary.
What are the processing times and prices for the ETIAS application?
iVisa.com has three options with different processing times and prices, all three are great. You can choose and indicate on your application the one that works better for you according to your preferences and needs:
Standard option, pay an affordable price and wait a considerable time.
Rush option, pay a bit more and wait a bit less.
Super rush option, you can pay a higher rate to enjoy a minimum waiting time.
Is iVisa.com the right option for my ETIAS application?
Yes, iVisa.com is the right option for your ETIAS application. We guaranteed a minimum chance of rejection, a secure and simple process, and awesome customer support. You can read our customer's reviews to learn about their great experiences with our service.
Where could I find more information?
To find more information you can contact our customer service agents, they are available 24/7 and will gladly provide you with all the data you might need.
Ready to apply for your ETIAS? start here.