There are places where you stay, and there are places that stay in you. And the capital of the Czech Republic could definitely be one of those places. Prague is an amazing place with friendly and laid back people, where beer is cheaper than water in the pubs, and the seventeen bridges spread around town over the Vltava river offer great and unique views of the city.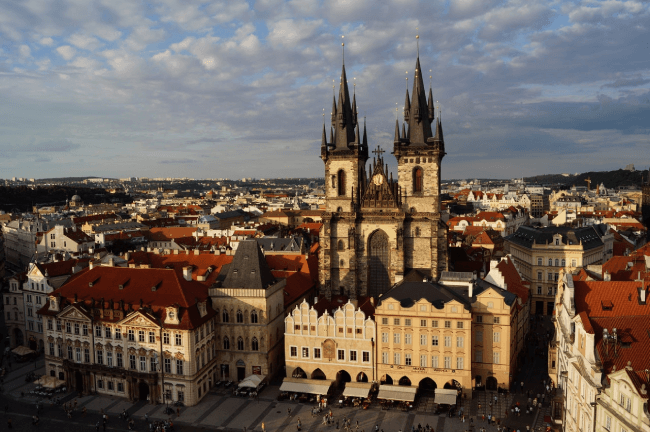 For those planning a visit to the Czech Republic, it is important to know that there is a new document required to enter the country, it is called ETIAS. We invite you to continue reading so you can find detailed information on the Czech ETIAS for citizens of the Marchall Islands.
Frequently Asked Questions
Who needs to apply for an ETIAS?
All travelers from non-EU countries, who can currently enter the Schengen area without a visa and wish to visit the Czech Republic will need to apply for an ETIAS. To confirm if Marshall Islands are part of that group of countries you can use the iVisa.com's Visa Checker Tool.
What is an ETIAS?
An ETIAS is a recently established online document required to travel to the Schengen area, it is similar to the Canadian ETA or the US ESTA. ETIAS is the acronym for European Travel Information and Authorization System, it is processed through an electronic system that simultaneously revises the information of each visitor in a series of international databases before their travel. This system helps countries in securing their borders while reducing procedures and waiting times for visitors.
How many countries can I visit with the ETIAS?
Once your ETIAS has been approved you are allowed to travel to the Schengen zone and move freely inside of it visiting multiple countries if you wish, this includes all of the twenty-six member countries. Please know that when you are entering your information on the application form you must inform them about the first country that you will be visiting in the Schengen Area, and this must go according to your actual route or else your entry could be denied by a customs officer.
How many days can I spend in the Czech republic with my ETIAS?
You can spend a maximum of ninety days on a hundred and eighty days period inside the Schengen Area. You can spend this time in one country or various of them on the same visit. If you are still a bit unsure about times please get in touch with iVisa.com's customer service team.
What is the ETIAS application process?
The ETIAS application process with iVisa.com is stress-free and trustworthy. You can apply for your ETIAS in just three steps:
First step, take 20 minutes to fill the ETIAS application form with your personal information.
Second step, after completing the first step, it is important for you to revise all of your information on the form and make sure it is correctly typed.

Third step, for this third and last step you will be required to provide the followings:

A scanned copy of your current passport.
Your email address. Where you will receive all of your ETIAS info and online documents.
A payment method. You can use a credit/debit card or PayPal.
What are the processing times and fees for the ETIAS?
Processing times and fees may vary, adjusting to your preferences and needs. And because of that, iVisa.com has three great options for you. Choose on your application form the one that suits you better:
Standard option, choose this option if you don't mind waiting a bit and prefer to pay a normal price.
Rush option, you should choose this option if you do not want to wait that long and don't mind paying a bit extra.
Super rush option, this is the option to choose if you want to wait for the least possible and are willing to pay a higher price.
How will I know if my ETIAS is approved?
After you have completed the ETIAS application form, your information will be revised and processed and after that, you will receive information on your email about your ETIAS and if it has been approved you will receive your ETIAS too.
Why should I choose iVisa.com for my ETIAS application?
If you want to have a hassle-free and secure process you should definitely choose iVisa.com. We offer awesome customer support, security, speed, and simplicity. You can always confirm this statement by reading our customer reviews.
I have some unresolved questions, where can I find more information?
If after reading this article you still have some doubts or unresolved questions, please do contact our customer agents. They are available for you 24/7.
The beauty of the Czech Republic waits, start here.